Chelsea Anne Houska has won our hearts with successful shows like Teen Mom 2 and 16 and Pregnant. She is yet again catching a lot of media attention due to the comeback of her show, Teen Mom Season 6 (which will start later in 2015) as well as her new and improved looks. Despite being a mother of a sweet girl Aubree Skye, who is turning 6 this year (2015) and was fathered by Chelsea's ex-boyfriend Adam Lind, Chelsea is still looking like a smoking hot diva.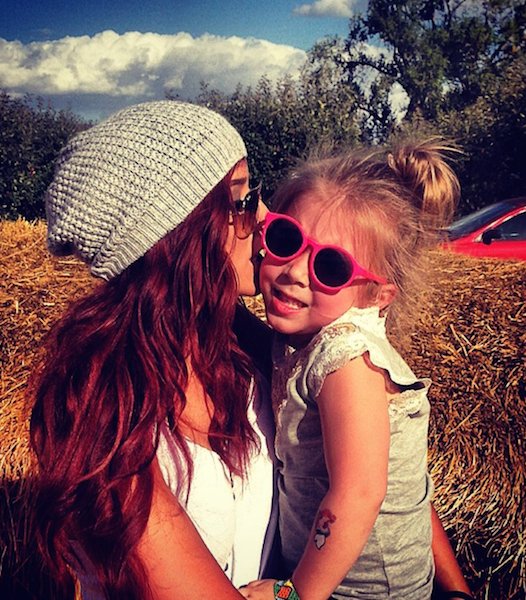 Some people assume that her new figure is a result of being with her equally hot boyfriend Cole DeBoer (who incidentally also opted for CrossFit training like Chelsea around the same time and is now showing off his big guns quite often). Though it may be true to some extent, but the real credit goes to her determination to stick to plans and not give up. We have collected information on how she is pulling off her new look by digging through various resources like OK Magazine. Do read on and enjoy.
Knowing Where to Start
Most of the people seeking ways to improve their health don't know where to start. Chelsea seems to know what she is up to as she has increased the intensity of her workouts and modified her eating habits drastically in the last few months.
Supplements are not too Bad
Houska has admitted that she takes help of MaxPro diet supplements such as protein powder and Max ARM that allows her to be an active person.
Workout Preferences
The sexy lady dedicates at least 3 days a week to CrossFit training and 2 days to kickboxing. Both are high intensity workouts that help her to stay in shape and shed off extra calories.
Diet Changes
Most of her fans already knew that she had a special liking for junk food and beers in the past. But now, the starlet has changed her diet habits and rarely indulges in unhealthy foods. Mostly, she sticks to high-protein and low-carb foods that help her look magnificent.
Chelsea has also been sticking to Paleo Diet. It's a diet, where people don't get to eat delicious foods like pizza, beefaroni, and every single entree at Olive Garden. She is also staying away from carbs, legumes, added sugars and dairy products.
Not Obsessive about her Waist
Like most of the celebrities, the talented actress is yet to be bitten by the celebrity waist-training bug as she has not admitted to following one, till date. After seeing her recent pictures, we can only admit that her way is also pretty good as her waist seems narrower every time we look at her. Don't you think so?
Making the Sacrifices
Apart from sticking to a strict diet, the versatile actress is also dedicated to trying time tested healthy experiments. She posted this message on Instagram on Feb 2, 2015:
"Started The Whole30 today J woo! #itstartswithfood. (ps im very sad I won't get to eat chocolate on vday)"
The whole30 program includes sticking to eating, only healthy food items like meat, seafood, eggs, plenty of vegetables, fruits and ample amounts of healthy fats from fruits, oils, nuts and seeds. A person should avoid sugar, alcohol, grains, legumes, dairy, carrageenan, MSG or sulfites and should refrain from re-creating baked goods or junk foods with so called approved ingredients. More details of the program can be found by visiting the official website of whole30.com.
If you are interested in knowing more about the fitness initiatives taken by Chelsea, do follow her on Instagram. She keeps on sharing most of her life's secrets on instagram in order to touch base with her fans and keep them entertained.