With 22 inch tiny waist, Dita Von Teese is an impeccable beauty who doesn't fail to startle us with her hourglass figure. The Burlesque artist and actress seem to be in the best shape of her life in her forties. Her affection for healthy and slender body over skinny figure has her rely on workouts and balanced diet. Here are some of the diet and workout secrets of Dita Von Teese, which keeps her in superb shape.
Mood Transforming Pilates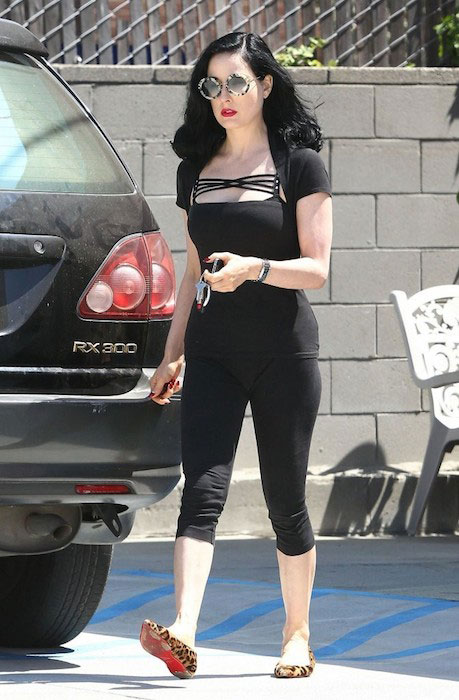 The mesmerizing beauty primarily banks on Pilates to enhance her suppleness. After having good night's sleep of nine hours, Von Teese begins her day at eight or nine in the morning. To have her enter into workout mode, she gets dressed in black Capri, white T-shirt, ballet flats, and hits the gym to execute Pilates. While devoting four to five days in a week to Pilates, she practices it for thirty to forty-five minutes in a day. Besides shaping up her body, and strengthening her muscles, Pilates also transforms her mood and makes her feel jovial. She frequently alternates Pilates training with yoga. Aside from that, the lingerie designer also performs varied complicated dance moves to make her body lither.
Vegan and Clean Morning Diet
Von Teese shares that she was seldom this concerned and prudent about her diet in her twenties as she is now. With alternation in her eating habits, great changes have taken place both on her skin and body. She consumed fizzy, soda drinks, alcohol, fast foods, cigarette etc. in her younger days, and felt very sluggish throughout the day. However, with the elimination of these foods and beverages, not only has her energy level boosted, her body too has acquired sleeker shape.
The ravishing beauty begins her day with green smoothie made up of 70 percent veggies and 30 percent fruits. She refers green smoothie as detox drink which weeds out all the harmful toxins and radicals from her body. While being reliant on clean and vegan foods in the morning, she consumes high protein animal foods such as fish, meat, eggs etc. in her dinner.
Von Teese keeps fueling her with nutrient-laden foods after every two to three hours. Here is one typical day diet regime of Dita Von Teese.
Breakfast – Toasted millet, rice bread with avocado etc.
Snacks – Blueberries, papaya, celery sticks, raw almonds, sliced avocados, coconut water etc.
Lunch – Mixed salad with green and leafy veggies, sushi etc.
Dinner – Grilled fish, poached meat etc.
Disciplined Eating Habits
Von Teese's enthralling figure testifies her discipline and dedication to healthy eating habits. To keep her figure in willowy shape, she has swept away foods such as sugary foods, coffee, tea etc. from her diet. She also steers clear from white bread, pasta, dairy products, high carb foods etc. The pretty star restrains her cravings and forbids the consumption of desserts after meals. However, when her craving for sugar is beyond control, she eats small piece of dark chocolate. And to beat her craving for salty foods, she eats eggs with truffle salt or smoked sea salt. Since your body and skin reflect what you feed to it, you can transform them by altering your eating habits. The flawless beauty consumes proportionate amount of lean proteins, complex carbs, and healthy fats. Foods opulent in saturated fat such as pizza, hamburger, sausages etc. being foe of healthy body are avoided by her.
Some Healthy Tips
Here are some healthy tips which will aid you in acquiring trimmed waist and sleek body.
Pay in Cash
Research shows that plastic money such as credit card and debit card payment rev up your chances to buy unwholesome food items. So, if you nurture the habit of paying in cash, you can restrain the purchase of high calorie and unhealthy food items, which are usually based on instant buying behavior.
Don't Smell Foods
Highly processed foods do have numerous additives and preservatives added in them which make them smell and taste awesome. The smell of these foods instigates your craving and thus you feel captivated to buy and eat those foods. Organic and fresh foods don't have that fragrance factor which has you purchase them. So, shun the habit of smelling foods before purchasing them.
Work Standing up
Most of our time at home or work is spent in doing sitting activities. Long sitting hours not only give caveman shape to our back, it also causes numerous back problems. However, if you cultivate the habit of doing work while standing, you can shed thirty percent more calories in a day. Besides that, your posture problem too shall be resolved.
Incorporate Soup
If you wish to strip off calories without compromising with your taste, incorporate nutrient loaded soups in your snacks. Apart from being opulent in varied macronutrients, soups also have high content of water, which provides adequate hydration to your body.