Green-eyed, Drew Barrymore is an American actress, model, film director, and author. Stars being unlikely to stay immune from the glares of camera make room for hot gossips with every inch gained or lost. Having been through wide oscillation in weight, genetically voluptuous Barrymore too has always topped the celebs spicing up media buzzes.
Not being untouched by the stigma of being overweight, she has struggled with her weight for a very long time. However, in 2004, she finally defied fat and got bikini-embracing figure. And now, the stunner leaves no chance to uphold her body in curvy and enviable shape. Although she reckons, no matter how hard she tries, she can seldom afford to look akin to rail thin models, adorning the cover page of fashion magazines.
Former Hollywood's bad girl is about to hit forty. However, aging seems to have taken back seat for her because she is growing prettier, healthier, and leaner with the passage of time. The sultry actress never appreciated going under knife to put brake on aging. Having shed twenty pounds recently, the starlet indeed has grown far more captivating.
The influence of weight loss being fanciful inspires the hottie to abide by right things such as regular workouts, balanced diet, and healthy lifestyle. Instead of being driven by industry demand of being skinny, the audacious celeb lives her life the way she wants.
Drew Barrymore Diet Plan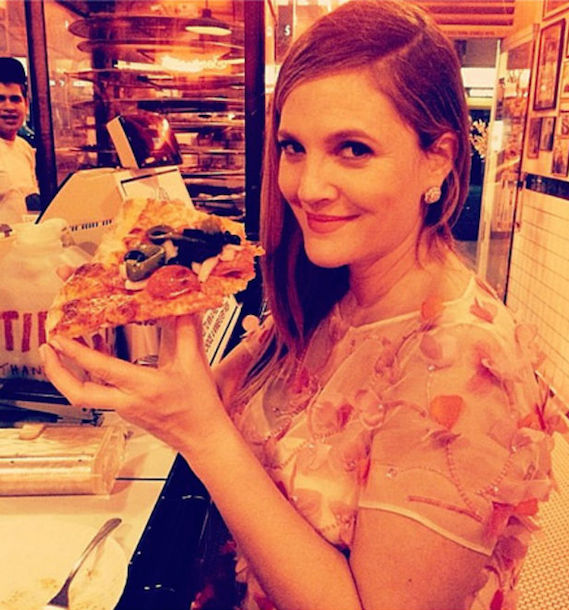 Prior to 2004, the ravishing beauty was hard-core vegan in her eating habits. However, later she turned to animal proteins to boost her muscles. Her diet being nutrient dense has her rely on organic vegetables, fruits, lean proteins etc. Since calorie deficit is the determining factor affecting your weight, she eats restrained number of calories. Diversity in workouts being the integral part of her workout regime doesn't let her feel bored.
Without being too restrictive, the charming actress eats her beloved foods to defy her cravings. However, instead of eating like a monster, she makes sure that she maintains their portion size small. Aside from that, she has figured out incredible way to beat emotional eating and that is – consumption of wholesome and low calorie foods. Besides satisfying her appetite, these foods also bestow adequate nourishment to her body.
Drew Barrymore Workout Routine
Barrymore being engaged in unhealthy eating habits and lifestyles in her earlier years was unaware of the phenomenal impacts of workouts. However, after having submitted herself to workouts, the fab actress feels that workouts have transformed her life. Now, she loves having intense sessions of exercise, for they make her feel awe-inspiring.
Barrymore workout routine consists of jogging, dancing, swimming, Pilates, yoga etc. Being an avid runner, she runs for five miles three times in a week. Among all the workouts, Pilates is her favorite. The workout strengthens her core and tones her body. Besides that, she executes bountiful exercises devised by her personal trainer, Kathy Kaehler. Her specifically designed bootcamp style workout strips off bountiful unsolicited pounds and sculpts her body. And her power yoga instructor, Mark Blanchard guides her about the correct ways of doing the most influential yoga workouts. Golf being her most adored sport also has her include it in her workout routine twice in a week.
Healthy Recommendation For Drew Barrymore Fans
Do you aspire to have curvaceous figure like your favorite star? Here are some recommendations which will help you in shedding weight.
Breakfast, which is the first and foremost meal of the day shall be healthy and nutrient dense. And bread being the most prominently used breakfast item shall be eaten while adding nutritional value to it. Use sprouted broccoli for preparing bread sandwiches. Broccoli which is a superb antioxidant sweeps away pollutants and free radicals from your body. Besides that, since they contain compound named glucoraphanin, which is effective in combating against cancer cells, not only will they shed surplus pounds from your body, but will also render you hale body.
In addition to that, you can alter your bread breakfast with egg white omelet. Apart from keeping you energized, the low carb, high-fat breakfast will cut back your chances of screwing your blood glucose level. When your blood glucose level is stable, you are unlikely of being bugged by unwanted hunger pangs, which further trim your chances of consuming snacks between breakfast and lunch.