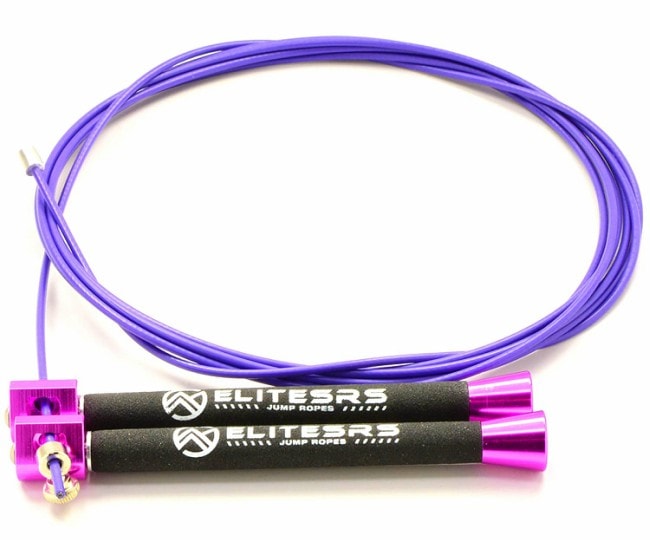 Jumping using a skipping rope is one of the simplest exercises to get into shape. If you jump regularly, slowly you will learn different tricks that will bring variation to your exercise routine and you will find the experience enjoyable. You can do side swings, skiers, double unders, triple unders, crisscross, and more tricks with the jump rope. You can also try hopping on one foot or tapping your toes or heels.
To get the best results from jump ropes, you should buy the right rope. First, you should consider the length of the rope. The rope must be appropriate for your height and it must be adjustable. If you are a beginner, then the space between your head and the rope must be more. But, if you are an expert, then you will be looking for more speed and that's why the space between the head and rope shouldn't be that much. You should then consider the rope materials and the condition of the handles.
The Elite Surge 2.0 Jump Rope has been a popular choice among fitness enthusiasts. This rope has earned a good reputation for being durable and highly effective. Here we are going to review this skipping rope.
Design
This skipping rope is designed for boxing, cross fitness, and Muay Thai. It can also be used by anyone who wants to improve speed, strength, stamina, and endurance. With this skipping rope, you get a lot of cable options. You can choose from 6 different types of cables that includes nylon-coated cable, PVC coated cable, and more. You get to choose from different colors as well. The handles are designed in such a way that it increases the speed of the rope and allows smooth movement. The dual ball bearings in the handles allow users to do double unders. The rope is adjustable and you can adjust it according to your height with the convenient screw system. You can also replace worn-out ropes easily.
Build Quality
The wires are USA-made and so there won't be any compromise on the quality of these wires as they are well tested and these wires are also kink resistant. The handles are made of sturdy aluminum. The ball bearing system allows 7 to 8 jumps every second. The handles are covered with soft foam that provides a comfortable grip. The handles are also anti-slip which allows you to control the rope's swing properly. The double bearings cause less friction and so you can spin faster without any obstacle. As a result, your rope won't get worn out quickly and will last longer.
You can interchange cables as there are several cable options available. The jump rope comes with a standard 3/32'' nylon coated kink-resistant cable. You can choose from various colors. You can also buy other types of cables as an extra. For example, if you want to exercise on abrasive surfaces, then the nylon coated cable won't be suitable for you. It is better to buy the 3.2mm outdoor heavy cable. If you want to take part in double under competitions, then speed matters and the non-coated 1/16'' cable or the 1.3mm ultra-thin cable will be the right choice. It is very easy to swap the spare cables and so you can use the cables according to different uses. You get a two-year warranty for the handles.
Size
This skipping rope measures 10 feet. You can buy 6 different types of wires to suit your needs. You can use a screwdriver to release the collar and then interchange the wires as needed. You can easily adjust the length of the rope according to your height.
Grip
The handles of this rope are designed in such a way that it provides speed and control in jumping. The handles are covered with foam which makes them very comfortable. Even if you sweat during workouts, your hands won't slip off. So, you will be able to jump in a hassle-free manner by using this jump rope.
Effectiveness
With this jump rope, you will be able to change the wires. You can get wires of different thickness and materials which will provide diversity in your workouts. The aluminum handles will provide durability and allow smooth rotation.
This rope is very popular for performing double unders as you can jump in high speed. The patented ball bearing system provides very smooth and efficient spinning. With this rope, you will be able to achieve 6 to 7 jumps every second. The integrated handles distribute axial load efficiently. The handles have slip-resistant foam covers and so your hands won't slip off even if you sweat. It is a perfect rope for the trainers and anyone who want to use it every day to improve their fitness.
Price
This skipping rope costs between $19.99 and $29.99 at Amazon, depending on special offers. As it's a professional-grade rope, the price you pay is minimal compared to the benefits you will get by using the rope.
 Pros
You can get this jump rope in 9 different colors.
The rope is long and can be adjusted to different lengths.
The handles are lightweight and have a comfortable foam grip.
The handles allow precision and fine motor control while spinning the rope.
It is compatible with 6 different cables.
Different cables are coated with nylon, PVC, and other materials which make them durable.
The rope is kink-resistant and tangle-free.
The dual ball bearing system provides smooth and frictionless rotation and it gives you a balanced feel.
You get 2 years warranty on the handles.
Cons
Some people have complained that the handles are not appropriate for users having large hands.
The screws are tiny which makes adjustments difficult.
The cable is at the side of the handles which some people don't like.
Final Verdict
Many people think that skipping rope is a simple tool that doesn't require much research before buying. But, the fact is that you need to find the proper rope to get the best results out of it. There are various types of ropes available in the market and you should choose one according to your height and fitness goal.
The Elite Surge 2 Jump Rope is a very demanding rope made by EliteSRS. The rope was designed by a national champion speed jumper to improve the double underscores. However, it can achieve a lot more than that. You can use it to lose weight, build up muscles, and get an overall body workout. This rope is used by the world champion speed jumpers and even the CrossFit athletes. The handles of this rope contain a patented ball bearing system that allows speed and smooth spinning.
As you can buy spare cables and interchange them, the rope can be used for both indoors and outdoors. You can choose the rope according to the surface in which you are going to exercise. This rope offers a lot of choices when it comes to color and type of cable. The rope is versatile as well and you can use it for different exercises and fitness goals. So, it is a good skipping rope to buy if you are looking for something highly functional and durable.