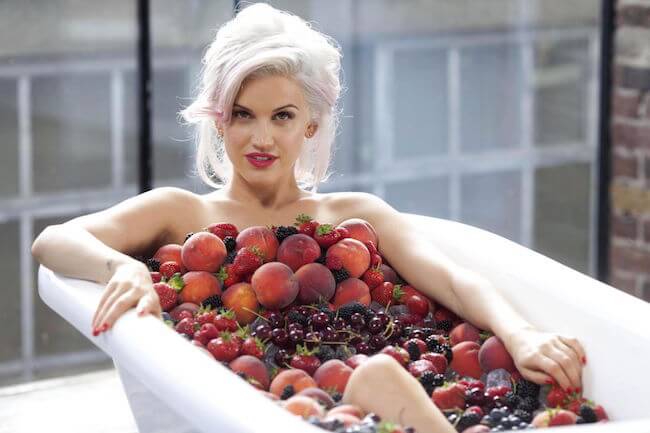 She gave seven of her best years to being a Pussycat doll. Change, however, is the only constant in her life and 2010 was the year, Ashley Roberts parted ways with her group to go solo. Five years down the line, in 2015, Men's Fitness magazine still tags her as the fittest Pussycat Doll.
Being a part of the chart-topping dance group was responsible for defining Roberts's identity, but the multi-talented TV personality did not intend to coast through life on the fame of being a former Pussycat Doll alone.
Not merely a skilled dancer, Ashley Roberts is also a choreographer, singer, songwriter, actor, model, TV host and regularly participates in high-profile adventurous reality shows. Switching from one talent to another, what keeps Ashley performing her best is her perpetual commitment towards staying strong. She tests herself with different moves and forms of exercise and chases new experiences to push her physical and mental limits.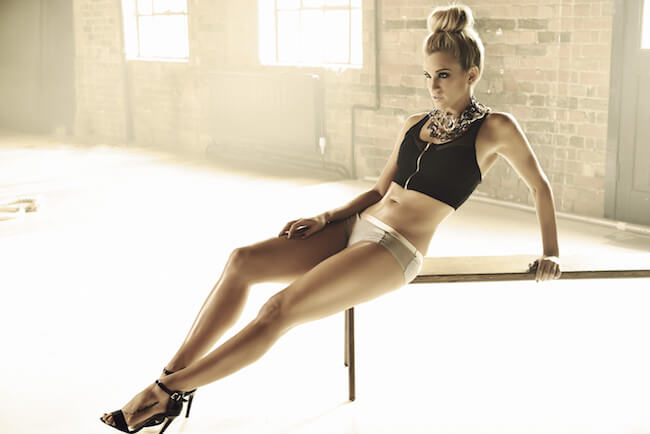 Your own fitness will always have your back
Unless a professional athlete, most people do not take their health seriously until they end up at the wrong side of 30. Foray into fitness, for Ashley Roberts, started unknowingly in her teens. She idolized and followed her mother who was an aerobics instructor and regularly earned herself dance scholarships to train with the best in the business, in Los Angeles. Having learnt ballet, tap, modern and lyrical hip-hop, she grew up to love her full day studio rehearsals of what were primarily a hardcore full body workout.
Now, at 34, expanding upon the base of her physical ability in the last two decades, Ashley sets the bar high for other women. She does not merely train for aesthetics, but also possesses unbeatable endurance, strength, flexibility and a mean survival instinct that she displayed in the reality show, "I am a Celebrity…… Get me Out of Here," by enduring a difficult stay in a rain forest all the way to the end. Catch a glimpse of Ashley's current badass training style in the following video:
 The only limitations you need to get rid of are the ones in your mind
Right after departing from the Pussycat Dolls, Ashley experienced more than a temporary fit of identity crisis and took the help of a life coach to figure the rest of her life out as an individual. In the process, she opened herself up to new experiences, new places and meeting new people.
Hence, Roberts started taking trapeze lessons and moved on to skydiving, swimming with sharks and taking motorcycle tours. Participating in the hard-line British reality show with uncompromising surroundings, "I am a Celebrity… Get me Out of Here," was a step in the new direction. Roberts claims to have surprised herself with her own staying power living amidst snakes, bugs and rats, started eating nasty food like kangaroo penis for survival, despite being vegan!
Next thing she knew, she found herself plenty of exciting new projects to re-locate to London, soaking in the rich, cultural life of the city.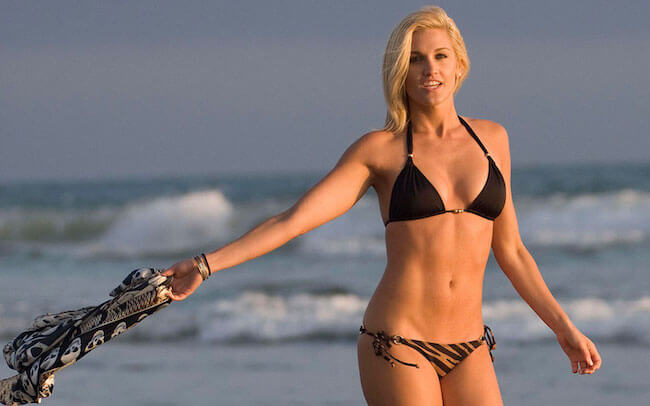 For constant improvement, the only person you need to compete with is yourself
Los Angeles being the city of the buff and chiseled, hosts the most vigorous group exercise classes. After re-locating to London, when Ashley realized her endurance capacity is way ahead of others, she decided to move on and challenge herself in a different dimension of fitness.
Roberts joined W10 gym in London, a place that offers the benefit of progressive programming using the most essential traditional strength training exercises combined with a predetermined benchmark for cardio fitness for the average individual. All the members are encouraged and coached to work towards the gym-set standards in strength and stamina while working around and overcoming their physical limitations. Ashley, herself is particularly proud of learning to squat and deadlift heavy with proper technique.
While training with weights, as much as Ashley hates getting her hands hard and callused, she considers it a small price to pay for how gorgeous her body would look while making her feel strong at the same time.
Watch Ashley flex her guns and brag about her 80kg deadlift in the following brief webisode:
At the end of the day, do not forget the Yin with the Yang
As much as Roberts is constantly working towards taking her fitness to yet another level using rigorous workouts, she never gives up practicing Yoga to cut her body some slack after heavy lifting. Ashley insists that slow, controlled movements not only help center the mind but also accelerate recovery and improve overall physical mobility. This translates to negligible surprise injuries for those leading a fast-paced life.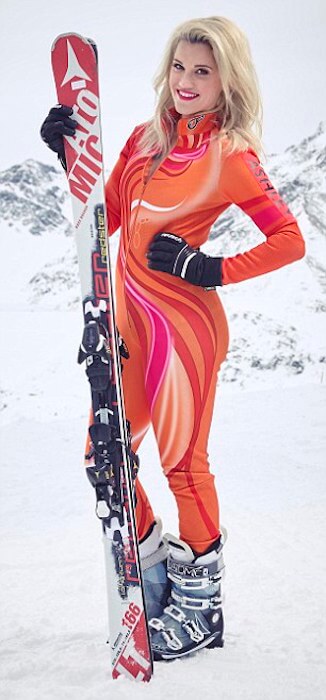 If you hate eating your veggies, a blender is your best friend
It is hard to track the quota of your five portions of fruit and vegetables every day, especially when you have so many other things in your routine to worry about. Ashley solves that problem by starting her day right with a healthy smoothie. The main ingredients include plenty of fruits like bananas, avocados, blueberries and strawberries to overpower the taste of organic greens such as kale and spinach, all blended together in almond milk. She adds a scoop of vegan protein powder to the concoction to ensure she meets her protein requirements for the day.
Finally, following are some equipment-free moves that Ashley Roberts highly recommends.
The ONE stretch to do after a heavy workout or at the end of the day for spinal flexibility:
CAT-COW stretch
The ONE weird, fun move to improve your body's coordination and balance:
CRAB WALK
The ONE style of push-up to strengthen your shoulders:
Psssst! This exercise also provides a firm fundamental foundation to beginners to work their way up to achieve the ultimate feat of mastering the hardest push-up, the handstand pushup.
Monkey push-up
The following video demonstrates the monkey push-up for a beginner.
The ONE exercise that aids to take your core training to the next level:
Valslides (also known as slide pads)
If you do not have access to these, then, a convenient hack would be to use soft hand towels under your feet to glide with equal ease on a smooth floor surface to build that core of steel. Ashley's top two favorite moves are valslide mountain climbers and plank walk.
Valslide Mountain Climber
Find the exercise demonstration in the following video:
Plank Walk
A simple plank according to Roberts is passé. With your toes resting on valslides or a pair of hand towels, challenge your core with a dynamic, functional movement by moving your body forward and backward using your hands.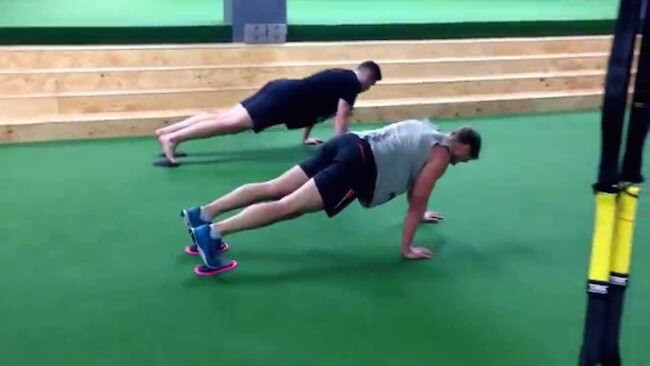 The following video demonstrates a forward plank walk with push-ups added to hike the level of core-stabilization required while performing this movement.
The ONE move to shrink your waistline and sharpen your obliques:
Side Plank Star
Hundreds of weighted side bends might end up making your waist look thick and blocky. If a simple side plank seems too boring, then raising your leg and arm to the ceiling for a hold of 5 seconds, just a few times in succession is a total game changer to build an invincible core.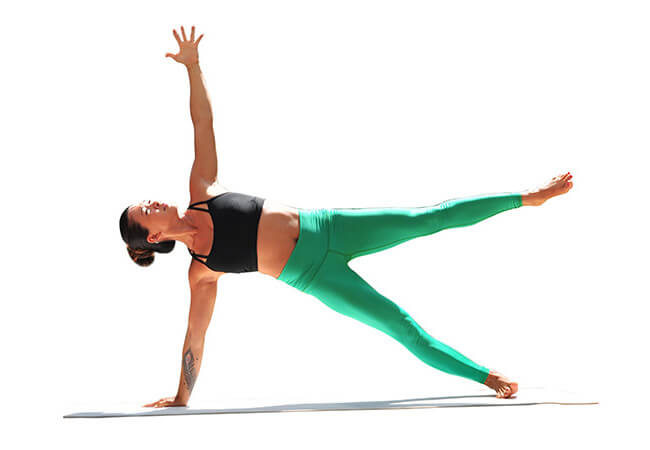 If balancing on one hand is too difficult, then use your forearm as shown in the following video.