If you are doing yoga, then you will realize that unless you are wearing comfortable clothing, you won't be able to perform well in the yoga classes. Yoga requires flexibility of movement. You need to move your feet in different ways and get the right posture and balance. You should wear pants that are comfortable and not restricting your movement. Yoga pants are specially designed pants that provide flexibility in movement. You will find various types of yoga pants in the market today. Some are leggings; whereas others have Capri style. The fabric of the pants also varies. When it comes to women's yoga pants, the manufacturers try to consider the style element in it. So, they are usually found in stylish designs and various colors. Here, we are going to review the Fengbay High Waist Yoga Pant and find out the unique features of the pant that make it popular in the market.
Design
This pant is very stylish and is perfect for your yoga classes. It controls your tummy and makes you look slimmer and attractive. It is not see-through which makes it appropriate for yoga and other exercises. There are hidden inner pocket on the waistband where you can keep your keys and the intimate outer pocket where you can keep your cell phone or other essentials. This pant has a high waist and wide waistband that contours your curves. Its unique compression and fitness technology improves blood circulation and helps to release muscle fatigue as well. So, you can work out for longer hours wearing the pant and still feel comfortable. It is lightweight, so you won't feel as if you are wearing anything extra.
Build Quality
It is a four-way stretch pant that allows greater flexibility. It has very good elasticity, so you can move your legs in any direction comfortably without feeling any friction or restriction. It is made from fabric that removes moisture from the body and keeps you dry throughout your yoga session. It has all over interlock seams that reduce irritation and eliminate chafing to allow greater comfort and wearability. The fabric feels super soft and you will feel very comfortable wearing it throughout the day. You can wear these pants in your yoga classes, for other exercises and even going out with your friends. It is designed to look good on anything you wear.
Size
You can get this pant in different sizes, making it appropriate for users with different height and waist size. The XS size is suitable for those having waist size 25''. The length of the pant will be 33''. The largest size XXL is suitable for users with waist size 33''. The length of the pant, in this case, will be 36''.
Comfort
This pant gives both compression and support. The material is thick, so it's not see-through when you bend over. It is also not that thick to make you feel hot and uncomfortable. It is so lightweight that you will feel as if it's your second skin. In every place, interlock seams reduce irritation and reduce chafing, giving you optimum comfort.
Ease of Use
This pant is designed for comfort. It is very easy to put it on before going to a yoga class or anywhere. It takes away moisture from the body and provides lightweight comfort. It provides great elasticity which allows you to stretch easily. So, you will feel comfortable working out.
Effectiveness
Yoga needs the flexibility of the body. In yoga, you have to bend, stretch, and do other things with your body. These pants are designed to be elastic and stretchable so that you can do yoga poses comfortably. The pant won't tear if you stretch too much as it has great elasticity. It wicks away sweat, so you can stay dry all the time. You will have a very comfortable yoga class experience by wearing these pants. It is versatile, so you can wear these pants in places other than your yoga class as well.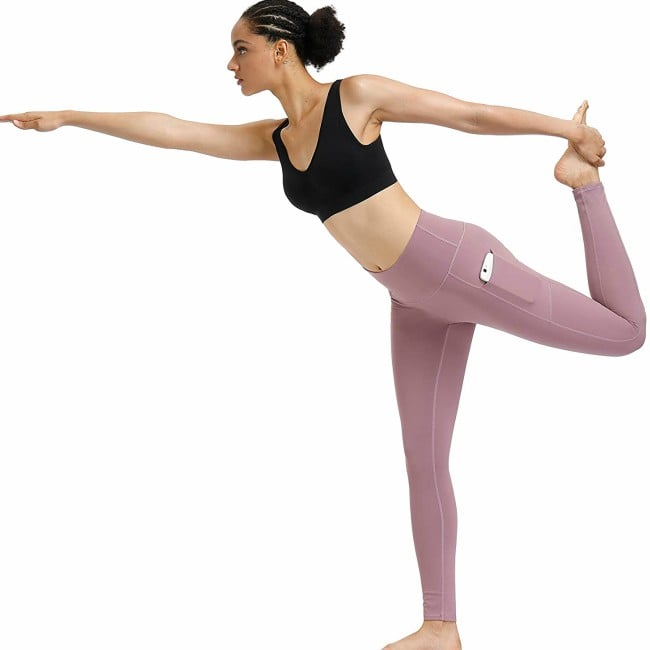 Pros
You can find these pants in different colors.
The lines on the pants contour your shape making you look attractive.
It is made of high-quality fabric that feels soft to the skin and you can wear it all day long.
It is stretchable in 4 directions so you get all the flexibility you need during your yoga classes.
It is not see-through, so you will feel confident and relaxed wearing it.
The fabric doesn't accumulate moisture, so you will stay dry even if you sweat.
It has both inner and outer pockets to keep your essentials.
It provides tummy control, making you look slimmer.
Its unique compression technology improves blood circulation and helps to relieve muscle fatigue.
It is appropriate for yoga, other exercises, and casual use also.
You get a 30-day money-back guarantee if you are not satisfied with the pant.
Cons
Some users found it to be a bit lose.
The color may fade after many washes.
The range of colors and sizes is limited.
Final Verdict
If you have to name one of the best yoga pants in the market today, then you have to mention the Fengbay High Waist Yoga Pant. This pant is stylish and functional. When you will wear these pants in your yoga class, you will see many heads turning around to look at you. Many women will be motivated to wear yoga pants like yours. You can find these pants in different colors and sizes, so you can choose the color of your choice and the right size as well. You will feel super comfortable working out wearing these pants. Both inner and outer pockets help you to keep your mobile phone, keys, and other accessories. The pant is affordable and you will get great value for money. So, without thinking further, buy one of these pants today and make your yoga classes more enjoyable and comfortable.