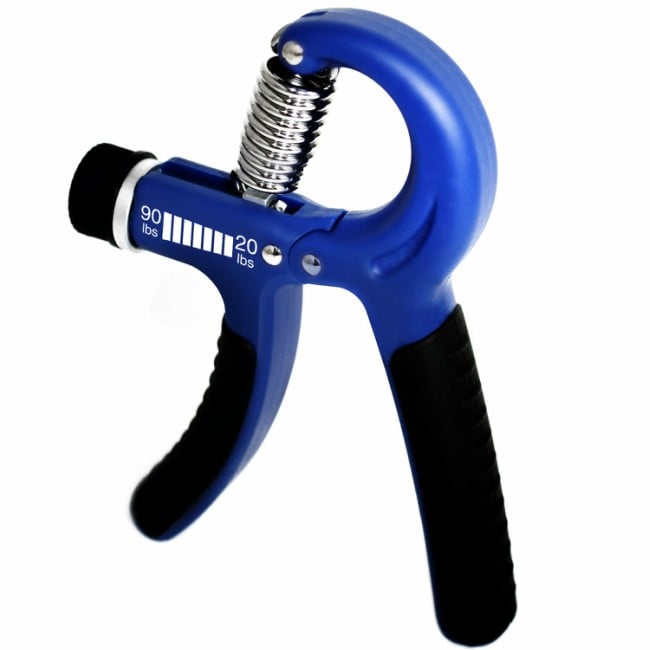 Whether you are an athlete or a climber, it is important to have a good grip strength to perform well and protect your arms from injuries. If you have strong arms, then you will find weightlifting easy and many of the gym exercises will become more convenient. To strengthen your arms, it is necessary to do some training and a hand grip strengthener is the best tool for it. This tool is very compact and you can easily carry with you wherever you go. So, you can always train your arms without any obstacle. The grip strengthener is a preferred choice for the athletes, climbers, golfers, bodybuilders, and even the musicians. Besides improving the endurance of your hands, it is good for those suffering from diseases like arthritis, carpal tunnel syndrome, and other joint pain-related diseases.
Design
It is compact and you can put it in your travel bag and carry it with you wherever you go. It is ideal for exercising your hand and finger. Sports enthusiasts can highly benefit from using this equipment. It has an ergonomic design, so it fits the hands properly and doesn't cause any strain on the hands. You can easily change its resistance level. It has a curved grip and allows you to exercise conveniently. The design of this grip strengthener is appealing, so you won't hesitate to show it off to your friends, colleagues or gym-goers. 
Build Quality
It is made of high-quality materials. The springs are made of chrome material and the body is made of hard plastic. The hinges are made of solid steel. The overall construction makes the grip strengthener durable. It is so strong that even with frequent use, it won't break or bend. The handles are anti-slip, so you will have less chance of injuries. If maintained properly, this equipment will last for a long time. It is appropriate for both beginners and advanced users. The equipment is designed to fit all kinds of hands, making it ideal for teens and senior citizens as well. 
Size
It weighs only 6.4 ounces, so you will be able to carry it around easily as it is not too heavy. As it is compact, you can store it easily as well. It will fit hands of any size, thus making it ideal for different people including teens, men, women or the senior citizens.
Ease of Use
You will be able to start using this equipment from the moment you receive it. It has an adjustable resistance system and you can easily move from lower resistance to higher resistance. It feels strong and you will be able to exercise comfortably.
Comfort
The fitness Master Hand Grip Strengthener is very comfortable to use. It is made of high-quality materials which make it strong and so feels good on the palms. The handles have cushions that protect your hands from any injury. The handles are non-slip, so you will be able to exercise for long hours even if you sweat. 
Effectiveness
If you are into bodybuilding, then you must know that having a stronger handgrip is very important. This grip strengthener encourages better blood circulation. It can be helpful for men, women, and even senior citizens. It is a good hand and finger exerciser that will help to improve the strength of your palms. You can use it as rehabilitation equipment as well. When using this equipment, you should always warm up first. Then, you should start with low resistance. You should slowly increase the number of repetitions as you get used to it. You will be able to train your flexors which will help you to make your workout more effective. Over time, you won't feel any difficulty in squeezing the grip strengthener. When you train your flexors, it improves muscle balance and improves hand health. As you become more experienced with this grip strengthener, your hands will toughen.
This hand grip strengthener works your finger, including the thumb. Most exercises work the forearms as the secondary muscle group. But, you can perform isolated exercises with this grip strengthener. By exercising regularly with this equipment, you will be able to make your forearm and fingers stronger. If you are an athlete, musician or fitness enthusiast, you will improve your performance considerably by exercising with this equipment.
Pros
With this, you can target different muscle groups.

It is safe to use for patients.

It is made of hard plastic and has a sturdy spring system.

It has a compact size that makes it easy to carry around.

It has an ergonomic design and you won't feel any strain on your hands.

It has a dial system using which you can easily adjust the resistance from 20 lbs to 90 lbs.

It is helpful for those suffering from injury arthritis or carpal tunnel syndrome.

It helps to achieve control and coordination of hands.

It is comfortable to use.

It fits on all hands.

You get a 5-year warranty for it.



Cons
It is not suitable for small hands.

It is a bit expensive.

You might find a strain on your hands.
Final Verdict
This grip strengthener works the fingers, wrists, hands, and forearms muscles. As it is compact, you can carry it anywhere. You can adjust the grip and exercise at different resistance levels. By exercising with this handgrip, the athletes can get an extra edge. If you are suffering from painful diseases like arthritis or carpal tunnel syndrome, then you should try exercising with this grip strengthener. It will help to relieve the pain in your arms. If you are looking for something more than making your arms stronger, then you must buy this hand grip trainer. It offers you a lot of things besides building forearm muscles. You will be a gainer if you buy this equipment for training your arms. Though it is a bit expensive, it's worth buying this hand grip trainer. So, buy Fitness Master Hand Grip Strengthener today!