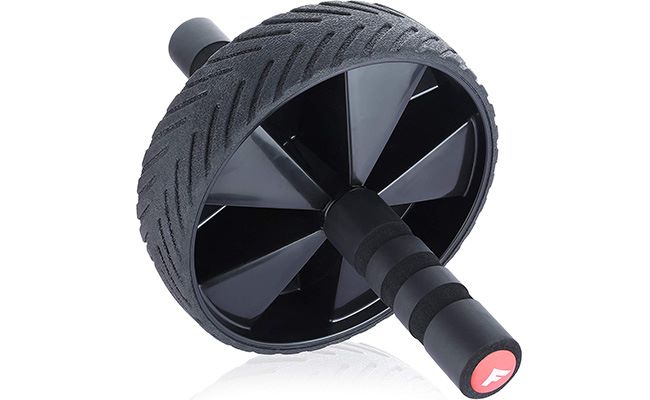 Who doesn't want a perfect body? We all do. But, getting that body is not an easy task. If you have been trying to get into shape, you would know how difficult it can be. One of the most challenging parts of our body is the abdomen. Getting rid of the fat in that area may seem impossible. People try different equipment that is advertised on TV, but not all of them are effective. Ab rollers seem to have created quite a buzz in the health industry recently. These ab rollers not only tone up your abs but also help to strengthen your core muscles.
You will now find various ab rollers in the market. Each one of them has a unique property. However, not all of them are effective. Finessery Ab Roller Wheel is one of the ab rollers in the market you can trust for getting sculpted abs within a short time. In fact, it can be your personal fitness trainer and help you to build six pack abs, stronger muscles, burn calories and improve endurance as well. Here we are going to review this product in detail.
Design
One of the main factors to consider when buying an ab roller is its stability. The roller should be stable; otherwise, you may tip over and get hurt. The Fitnessery Ab Roller Wheel has a bulky design that gives proper stability; so there is a minimum risk of falling when you roll forward. It has a wide non-slip rubber wheel which also ensures stability. As a result, you can concentrate on your workout instead of struggling to maintain your balance. The handles are robust and made of stainless steel which makes them very durable and safe to use. The handles are also ergonomically designed so that pressure is released from the handles. It comes with an ergonomically designed knee pad that gives support to the knees while exercising.
Build Quality
This ab roller wheel is made of durable and strong material overall so that it can withstand maximum weight even during the most intense workout sessions. The ab wheel and handles are made of strong stainless steel, PVC and non-slip rubber which ensures that you don't lose control while exercising. This ab roller is robust and strong, so you will be able to enjoy long workout sessions without any problem. You won't need to worry about buying another one for many years.
Grip
It has strong stainless steel handles that are durable and safe. These are made of non-slip rubber and durable PVC, so your hands won't slip because of sweat during exercise. Also, the rubber-coated handles will give better control of your movements. They also have EVA foam padding for extra comfort and so you won't feel your hands sore after the workout. You will get a comfortable knee pad along with the product. These can protect your knees from injury or pain when you exercise.
Control
The wheel doesn't skid, no matter how rough the surface is. So, you will have better control and you can prevent tipping over. The handles won't get slippery due to sweat and so helps you to be in control. You will be able to control your movements much easier using this ab roller.
Effectiveness
This ab roller has proven to be very effecting in sculpting and toning up abs. It has received a lot of positive reviews and many customers have written about the effectiveness of this equipment. They have seen results within a short time. This roller can help to strengthen your muscles, improve your arms, shoulders, and back. It can also help to burn calories. The manufacturer has used the best quality materials in making this product. They are also offering a lifetime money back guarantee.
Price
It is one of the best quality ab rollers you can get in the market at an affordable price. You can buy this for $25.99 from Amazon. You can also buy a used one for $14.85 at Amazon as well. If you compare the other products of similar price in the market, you will find that the Fitnessery Ab Roller Wheel is stronger, more durable and has better features than the others. You get a lot of accessories along with this product which includes a knee pad, a nutrition e-book, and an ab workout e-book which would total $50 if you bought them separately. So, you are actually getting free gifts worth $50 when you buy this ab roller. You won't find another company offering such high-value free gifts to the customers.
Pros
The wheel and handles constructed with stainless steel which is strong and durable.
The ab roller is strong enough to withstand your weight, even during intense exercise.
The handles are coated with padded foams that provide extra comfort.
It is easy and quick to set up.
It is lightweight, so you can carry it around easily.
It comes with a knee pad for extra comfort.
The wheels are designed to roll smoothly on any surface.
It provides a lifetime money-back guarantee.
It comes with lots of free gifts including nutrition 3-book and workout e-book as well.
Cons
The hand grips are small, which can be a problem for some people. They may find it difficult to hold and control.
If you have back pain, this product may not be ideal for you.
No instruction manual included for setting up the equipment.
Final Verdict
Nowadays the gym membership charge is a lot. Also, it's quite difficult to find the time for the gym as our lives are very busy. If you want to get a gym-like result at home then you should buy the Fitnessery Ab Roller Wheel. It will help you to lose weight, strengthen muscle and tone your body. When you roll forward, it works on your main and side ab muscles and thus helps to tone up your abs.
You will find more expensive ab roller wheel in the market. But if they cannot provide the right stability, it won't be effective. The ab roller from Fitnessery provides stability so that you can work out comfortably without hurting yourself. It can support up to 485 pounds of weight, which is simply incredible. It can also withstand very intense workout sessions. Just after exercising with it for a few weeks you will realize how effective it is. It gives better result than lots of crunches and other abs equipment in the market.
Another great feature of this product that makes it stand out from the rest is the e-books on nutrition and workout that comes free with it. You must know that taking the right nutrition is vital along with exercising. So, from this book, you will know what to eat and what not to. Also, after buying the ab roller you must know how to use it properly; otherwise, you won't get the desired result. The e-book on work out that you get free with the ab roller will help you to learn how to exercise perfectly with this ab roller. Lastly, not many manufacturers will give a lifetime money-back warranty. If you don't like the product, you can get your money back. So, you know that your money will be well spent when you buy this ab roller.
The Fitnesseary Ab Roller Wheel is small, lightweight, and inexpensive. You can store it easily on the corner of your room and just take it out when exercising. This ab roller has a very simple design which makes it attractive as well. With all these benefits, if you are looking for the best ab roller at an affordable price, then you should buy the Fitnessery Ab Roller Wheel.