5 ft 6 in, Gwen Stefani is an American fashion designer, songwriter, and actress. Who would believe that the gorgeous woman is about to hit forty-six? Earlier married to musician Gavin Rossdale, Stefani is a doting mother of three children. Despite being so busy, the stunner doesn't fail to look marvelous. The stunner with signature platinum blonde hair admits that she has to work hard daily to look smashing. Stefani shares, she, not being one of the fortunate celebs who are genetically slender has to dedicate all her attention and energy to maintain her curvy figure.
The sultry star seems totally obsessed with her figure because from the tender age of six, she being overly concerned about her weight began abiding by dieting.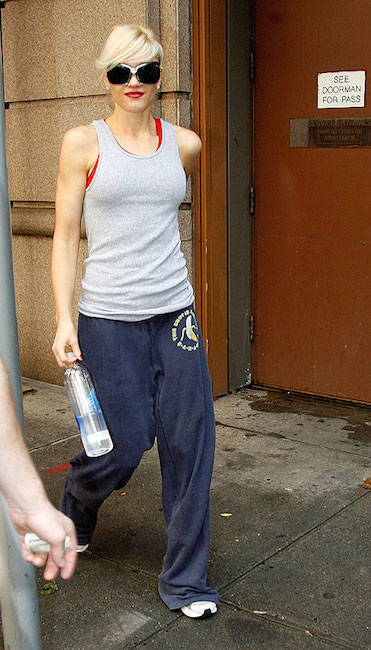 Well, we must say, you and I at that age were seldom bothered about our looks. However, unlike the fab actress, we are also unlikely to uphold our youthful skin and body for so long.
Apart from being prudent about her diet and workouts, she also renders adequate relaxation to her body by providing eight to nine hours of sound sleep at night. The glam star being a fashion designer adores designing her own outfits. Her desire to wear skinny clothes makes her feel uncomfortable when she seems to gain unsolicited pounds.
Gwen Stefani Post-Baby Weight Loss
Stefani got blessed with her third child, son Apollo in February 2014. However, within two months past his birth, she appeared on red carpet for iHeartRadio Music Awards and looked absolutely striking. Her post-baby weight loss being incredible defies the fact that she has recently given birth to a child. Stefani shares, twenty minutes of brisk walking and restrained consumption of foods helped her in retrieving her pre-baby figure. To shed post-baby weight, the stunner incorporated foods such as salads, veggies, protein shakes, etc. and swept high-calorie foods such as pasta, pizza, bread, rice etc. from her diet. Though, being vegan, she stays away from tuna, eggs diet, etc.
Gwen Stefani Workout Routine
The stunner doesn't bank on light workouts such as yoga and Pilates which usually are deemed as perfect workouts for women. She rather is more inclined to do macho and grueling workouts such as strength training, cardio workouts, boxing, squats, lunges etc. Stefani clearly understands the fact that it's impossible to sculpt your body without adhering to workouts. Without fail, the ravishing singer works out five times in a week.
Famous celeb trainers, Gunnar Peterson and Mike Heatlie are her personal trainers who help her attain her fitness goals. Peterson has also trained other celebs such as Angelina Jolie, Bruce Willis, Kim Kardashian, Sofia Vergara, and numerous others. Peterson makes her to do myriad cardio workouts and strength training which conditions her muscles and renders her flat stomach abs, pert butts, buffed legs, and arms.
Contrarily, Mike Heatlie immensely relies on introducing variety in the exercises. Multiplicity being liked by your body revs up your metabolism and keeps you from weight loss plateau. Apart from doing regular gym workouts, Stefani also loves involving herself in recreational activities such as skiing, swimming, hiking etc. She likes doing these activities while being accompanied by her family members. Since all these activities come under superb cardio workouts, besides invigorating her, they also strip off unsolicited pounds from her body.
Gwen Stefani Diet Plan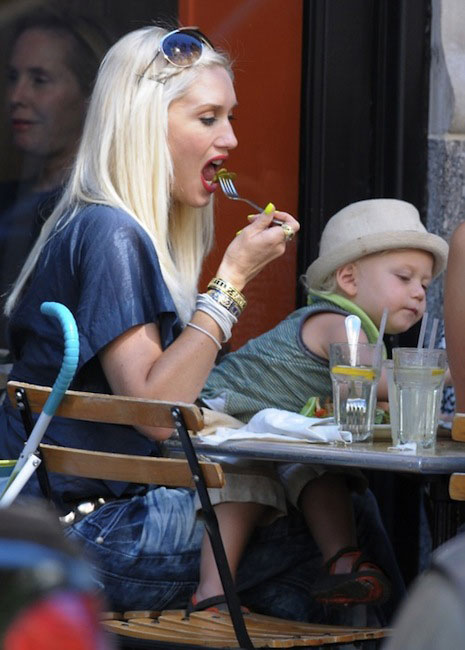 The hottie being very discreet about her health and figure forbids consumption of processed, junk, and unwholesome foods. Being vegan, she incorporates plenty of fresh and organic foods, lean proteins, and complex carbs in her diet. However, without being too harsh to herself, she allows her to savor her beloved foods such as pizza, cookies etc. once or twice in a week. She prefers buying fresh farm produced foods. Besides maintaining her slender, her discreet choice of nutrient packed foods also keep her from terrible signs of aging such as wrinkles, fine lines etc.
Healthy Recommendation For Gwen Stefani Fans
Are you one of the fans of Gwen Stefani? Does her bikini embracing figure inspire you to have figure like her?
Well, you too can fulfill your dream if you devote some time to workouts and revere healthy eating habits. Since most of the food items consumed in today's time are rich in carbs and unhealthy fats, you are likely to become victim of numerous health issues. And you cannot avoid these health problems unless you make basic changes in your eating habits.
Prefer consuming organic foods over processed foods. Though organic foods will put extra pressure on your pocket, but their consumption will save you from the heavy expenses you shall incur to recover from diseases. Processed foods are cheap but their consumption is hostile both for your body and mind. Apart from making your body bulky, they also make you become victim of stress, anxiety, depression, and numerous other psychological problems.