Hilaria Baldwin Fitness and Diet Secrets 2018
Hilaria Baldwin is not just a popular actress, she is also a mother of 4 kids and a fitness freak. Her fitness tips are a treasure for thousands of her fans all over the world and, in all honesty, the tips are worth it because she never fears to share about what helps her stay fit and her Instagram posts are nothing short of inspiring. If you are also impressed by her fitness, then you must read on to know how she keeps fit during the holidays, what kind of snacks & diet she prefers, and how she has managed to remain fit even after birthing 4 amazing babies.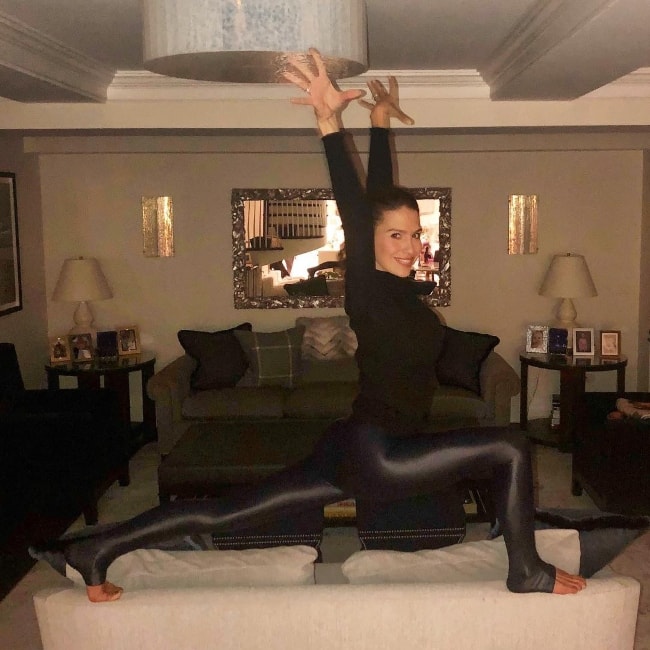 Holiday Fitness Secret
The stunner has admitted that she tries every food she likes during the holiday season. She remains fit because she never skips a workout and likes to be active every day. Her motivation to work out every day is that if she misses a workout, she would have to work harder at the gym the next day, for which she is too lazy. So, being lazy helps her stay dedicated to fitness every day (weird but true!).
Workout Secrets
As of December 2018, she is staying fit by doing moment workouts that are easily visible on her Instagram profile. As a busy mom, she hardly gets the time to visit the gym for an hour or so. So, her solution to the problem is to do 5, 3 or even 2-minute exercise sessions that add up and keep her fit.
Little Rest
When asked about how she maintains an active lifestyle, she insists that she tries to stay active even when she is feeling tired or just wants to sit down. She forces herself to stay active as much as possible by reminding herself that if she deals with a bit of discomfort now, she will be healthier in the long run.
Staying Active Through Pregnancies
The active mother agrees that staying active throughout the pregnancies, even when her body was getting bigger and she was getting slower and gaining weight, has helped her to have easy labor and deliveries. She was also able to bounce back with ease because she remained active before, during, and after her pregnancies. She suggests that women should work out every day, even when they are pregnant, and must not be afraid of their bodies. Kegel exercises have also been an important part of her routine because they help during the delivery and in pushing the baby out.
At Home Workouts
Though Hilaria doesn't often have the time to hit the gym, she considers being a mother a form of at home workout because when she lifts the kids multiple times a day, it helps her to stay fit. Even walking after the kids helps her to stay fit.
Knowing Her Body
Knowing when her body needs rest also helps her to stay fit without reaching the breaking point. She is hyperaware of how her body feels every minute of every day and it helps her to fulfill the needs of her body.
Advice for New Moms
The lovely lady agrees that getting back to a fitness routine is tough for new moms but suggests that they should start by dedicating 5, 10, 15 or 30 minutes a day towards fitness by moving their bodies. When you do that, you will feel more connected to your body and you will be more energized to look after the kids. Remember, as a new mom, you can't take care of your family if you don't know how to take care of yourself in the first place.
Healthy Snacks
The diva agrees to the fact that she is a big snack addict. She snacks throughout the day and the snacks are usually her kids' leftovers that vary from half a banana to some leftover cereal. She also has her kids eat healthy quinoa chips or kale chips or even granola bars to stay healthy. She says that she is okay with not having a single meal throughout the day if she gets healthy snacks but at nighttime, she prefers to have a proper meal.
Diet Secrets
Like many health freaks, she likes to have healthy snacks like Orgain bars & shakes, Marco bars, salads, and hummus. Drinking enough water is also vital for her.
Getting Back to Fitness
Baldwin says that she tries to get back to fitness as soon as possible after her pregnancies. She starts the routine only when her doctor confirms it because she doesn't want to risk her health. Usually, she gets back to fitness by jogging and practicing yoga and barre. She only dedicates a few minutes to any or all of these exercises regularly and doesn't exercise for long until her body is ready for it. One thing that helps her to stay fit after a pregnancy is her body's muscle memory that returns from having a baby to no longer having a child inside the body. Moderation is the key to post-pregnancy fitness according to the celebrity.
Featured Image by Hilaria Baldwin / Instagram