Hilaria Baldwin Post Baby Workout Routine and Diet Plan – 2015 Edition
Hilaria Baldwin is one of those people who believe in staying healthy and inspiring others to do so without bothering about their public image. She has recently been grabbing the news due to her ability to show off her workout while being pregnant. Even after she gave birth to her second child, Rafael Thomas Baldwin on June 17, 2015, with her husband, Alec Baldwin, she remained in the news. Why? Because she shared her post-pregnancy workout and diet and has also been sharing the pictures of her life after being a mother, the second time. So what's keeping the new mommy fit and active? Let's find out.
An Example of Her Pregnancy Fitness Ideas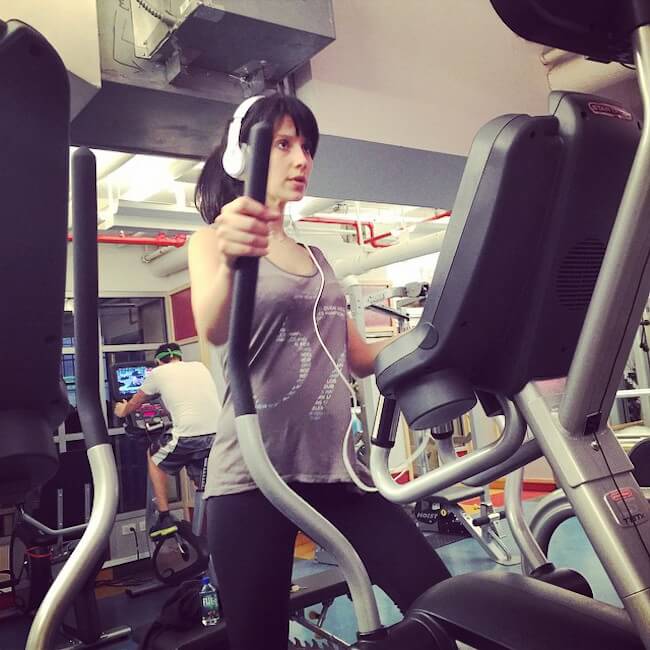 As reported by Daily Mail, the Yoga Instructor had shared her pictures while doing cardio workout around the New Year (She was pregnant then). She admitted that she was feeling very tired and wanted to increase her heart rate and by doing just 40 minutes of cardio made her day. The lady admitted that starting off with a workout is the hardest thing. Once you get started, you'll be on a roll. She also added that if you don't have a gym near you, you can start your exercises by doing jogging, bike riding, climbing the stairs or even with a brisk walk.
Her Views on Sharing Post Pregnancy Images
Even after giving birth, the hot instructor did not stop showing off her fitness efforts. She posted an image of herself, a few days after giving birth in which she showed off her bumped belly too. Some people didn't like the step but the confident woman defended her move and stated that she did that to complete the process of sharing her full journey. Hilaria wanted to stress on the fact that a woman should never be ashamed of her pregnancy and post pregnancy body shape.
Post Pregnancy Workout Routine
Hilaria has shared her workout routine in detail. She acknowledged that she doesn't work out the way she used to because she has less time now. But her workout routine is still very impressive. She starts off the week by doing a ballet barre class on every Monday and repeats the same on every Wednesday and Friday. After the ballet barre class, she jogs for around half an hour. The routine also involves doing yoga on a daily basis and running after a toddler, which in its own is a kind of exercise.
Workout Advice
The beautiful brunette realizes that people don't have much time for workout these days and still they aspire a fit body. In such a case, she recommends that one should focus on an ab workout. Once your abs are toned, your legs and arms will also be in good shape.
Quick Yoga Move
Baldwin also has an exercise recommendation for people who sit on a desk for most of the day. It's a simple yoga move that can be done anywhere and is very effective. To do this move, you need to go down on one knee like you are proposing to someone. Then you should put your hands on your knee and push your hips forward. Stay in the forward position for five breaths and then repeat the exercise with your other knee.
Diet Plan
The mother of two also shared her diet plan in detail. She starts off her day with granola, some hemp milk and a smoothie loaded with mango, blueberries, kale, peanut butter and almond milk. Her lunch usually includes having some sandwiches with tempeh. And the dinner usually consists of some fish accompanied by fresh vegetables or lentils.
Her views on a Healthy Diet
The 'Extra' Lifestyle correspondent also shared her habit of healthy eating. She confessed that she is addicted to feeling good which can only be achieved when you eat right. Her funda is not to ruin the "feel good by eating good" experience by overindulging once.
Diet Indulgences
Like most of us, Hilaria also has some diet weaknesses. She likes having a glass of wine, some Coconut Bliss non-dairy ice cream and a bit of dark chocolate when she wants to indulge a little.
Influencing Alec
The Yogi also revealed that her fitness frenzy has been influencing her husband and Alice star, Alec Baldwin a lot. The first thing that he adopted from her was the healthy eating and exercising habits. When he is with her, he eats well and exercises on a regular basis. He also started liking jogging with her after the birth of Rafael. Baldwin also disclosed that Alec lost 40 pounds since the time they started dating. But, she credits him for all the changes. She thinks that he is the one who made the changes and everyone has the same choice. It's up to them whether to choose the right path or not.
Well, after witnessing the post-baby fitness habits of Hilaria Baldwin, we can only say that the yummy mummy is really adopting a good fitness policy that should inspire all the new mums to stay fit too. What's your say on this?