Jake Gyllenhaal is the latest actor to join the long list of committed professionals who have undergone stunning body transformations to prepare for a specific role. Like Christian Bale, who after losing jaw dropping 60 pounds for 'The Machinist' went on to pack 40 pounds of muscle for 'Batman Begins,' Jake has also worked incredibly hard to get a muscular body after shedding 30 pounds for the crime thriller 'Nightcrawler.'
As revealed by his trainer Terry Claybon (former professional boxer) in an interview with Yahoo, Jake worked like a pro athlete for six months to prepare for the role of a boxer, who battles his demons and destructive behavior to return to the pinnacle of the sport. The 34 year old star spent incredible six hours a day in the gym to develop a physique that would put many professional athletes to shame.
What makes his transformation even more stunning is the fact that Jake looked particularly lean as a freelance crime reporter Lou in 'Nightcrawler,' who comes across the dark underbelly of the Los Angeles underworld. To get the trademark ripped torso of the boxer, he used to do 2,000 sit ups a day, 1,000 in the morning and another 1,000 at night.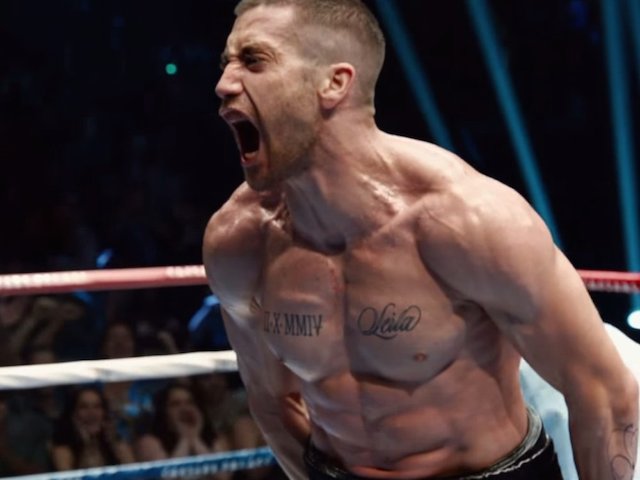 As per Claybon, they worked day by day to slowly build the stamina and endurance. Initially, they used to train three hours per day involving two workout sessions, one in the morning and another in evening, each stretching to one and a half hours. But, after two months, they switched their routine to six hours daily workout, which included around three hours of boxing in the morning, which also helped him prepare for the movie shots and three hours of cardio, strength training and conditioning in the night.
His workout routine leaned heavily on high intensity training. As part of his training, he used to run around 8 miles daily followed by boxing sessions. His core exercises included countless pull ups and a grueling squatting drill, which involved flipping a 200-pound tire across the floor of a gym.
In an interview given to the US weekly, Jake told that the workout routine and especially boxing sessions helped him to get into his character. It helped him believe in his character and assisted in getting confidence and self-assurance to play the demanding role. Claybon wanted Jake to learn boxing so that he won't have to pretend like a boxer on the sets of the movie.
Also, Claybon took him to several boxing matches including Floyd Mayweather's Las Vegas fight last spring. As part of his training, Claybon talked Jake into sparring with real boxers, which he did roughly six times.
With Jake burning so many calories a day through his training routine, he didn't have to follow a strict diet plan. However, he did stick to carbs in the morning and proteins in the evening. According to health expert Ross Edgley, Jake should have eaten a lot of fish, chicken breast and eggs to supplement his body with necessary protein to meet the grueling demands of the training regime.
Edgley also asserted that Jake would have supplemented like elite athletes, as such a workout regime puts a serious stress on your body and requires aid in recovery. He would have included Vitamin D3 and Vitamin C in his supplementation to ensure that his immune system would survive the regime and immense demands put on the body.
Jake would be seen in this ripped avatar from July 24, 2015 on the celluloid. Along with Jake, 'Southpaw' has Forest Whitaker, who will play the role of his trainer and Rachel McAdams, who will be seen in role of his wife. Other notable actors starring in the movie include Naomie Harris, Curtis "50 Cent" Jackson and Rita Ora.