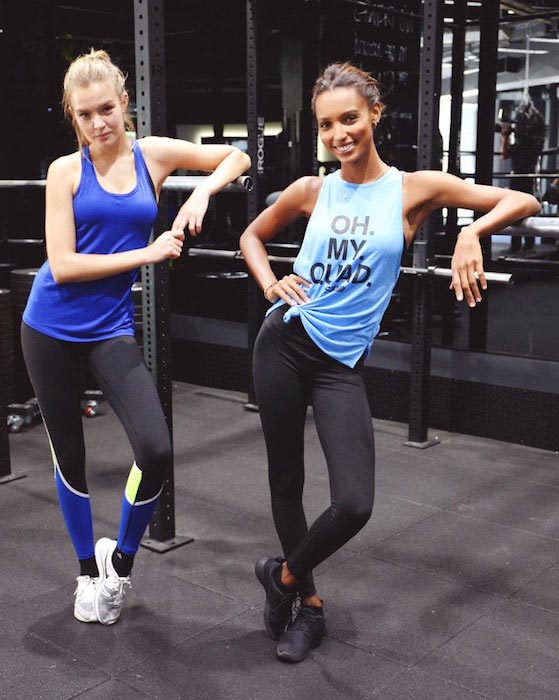 When one hot model reveals what workout and diet she follows to look so great, we feel privileged but when two super hot models share their fitness fundas, we feel like we are on top of the world. We are on cloud nine right now because two Victoria's Secret angels came together to share what exercises they love and what motivates them to stay fit. We have also dug up some past information to know all about their workout, diet, and other fitness habits. Believe us, all their fitness tips are easy to follow and anyone with enough determination to stay fit can get started by trying them asap.
Working Out Together
EOnline recently saw Jasmine Tookes and first-time angel Josephine Skriver at a gym together where they were proving that the sexy figures of models are not only a result of restricted diet but it's a result of sheer hard work in the gym. The stunners were working up some sweat at The Dogpound in NYC.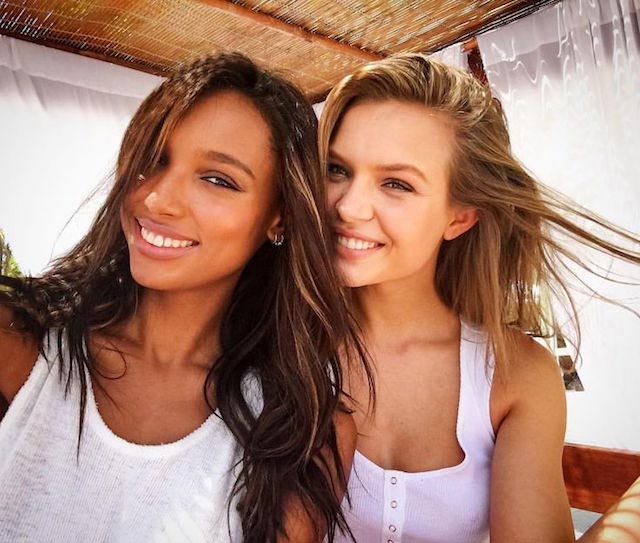 Workout Motivation
The beauties admitted that the buddy system works best for them to motivate each other to hit the gym. The models group text each other and motivate others to workout. Even when a model is not in a mood, she motivates other models by saying that you can do it, come with me. It turns working out into fun. Jasmine also admitted that the hardest thing about getting motivated is to get off the couch.
Easy Arm Moves
The dynamic duo along with the trainer Kirk Meyers shared two easy arm moves that could make an impact if you do them right.
Bicep Curls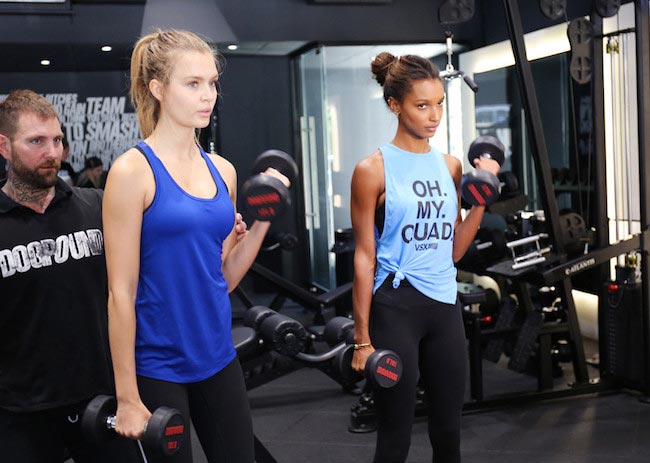 The first move, bicep curls is an easy bicep workout that can be done by lifting dumbbells. You just need to hold them right, bring them up and curl as well as squeeze at the top, said Kirk. You need to do 15 of such moves on each arm so that you do it 30 times at least. You can learn it by watching this video –
Josephine accepted that she used to hate arm workouts as she didn't want to do upper body moves but she likes them now.
Tricep Dips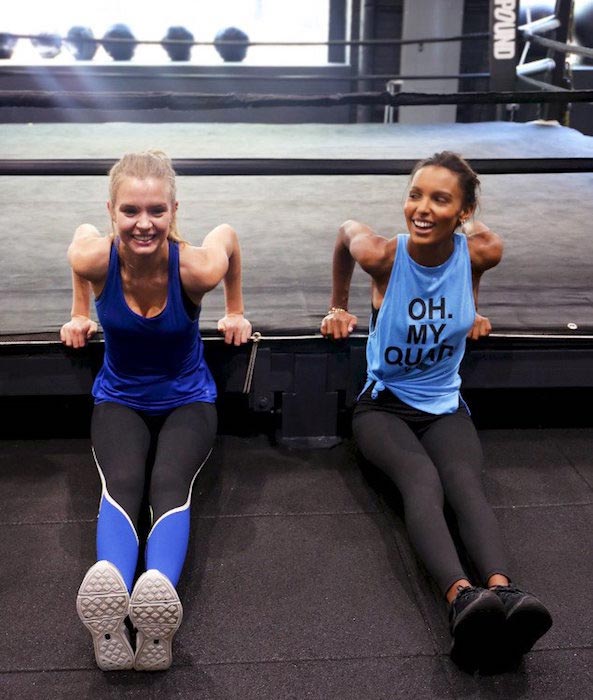 The second move is the popular exercise – tricep dips. You can do it when you wish to see the horseshoe on the backside of your arms. To do this exercise, you need to get your butt very close to the bench and then go up and down in counts of four. When you are at the top, you should breathe.
Learn how to do it correctly by watching this video –
If you are eager to know more about how Josephine stays fit, you need to keep reading.
Josephine Skriver Workout Routine
The Danish model has had an active lifestyle since she was a kid. She works out by doing exercises that are fun because if she doesn't do that she finds the gym to be a boring place. She tries to hit the gym every day and experiments with the exercise routine, reported AOL, a few months back.
She loves going to the Dogpound and says she likes it because she can do different exercises there. Some days she does boxing there and other days, she opts for weightlifting. The variation keeps her going. She also adds that Dogpound is very much like a Boot Camp.
Apart from hitting the gym, the professional model also loves outdoor exercises such as biking, hiking or anything else that gets her out and close to nature because she loves it there.
Josephine Skriver Diet Secrets
Skriver doesn't believe in any diets. She just keeps her diet healthy by opting for the right foods. Her meals usually include a lot of meats as she loves protein. She believes that you should know what works for you and stick to that diet. She also recommends eating everything in moderation. Her favorite snacking options are nuts and fruits that can be carried anywhere.
Diet Indulgence
The green eyed beauty has a big weakness for chocolates.
Now that we have had a look at Josephine Skriver's ideas of fitness, it's time to move on and know what Jasmine Tookes does to stay so fit. The gorgeous lady spilled her secrets to StyleCaster a few months back.
Jasmine Tookes Workout Routine 2016
The workout regime of the California-born is very simple. She does barre classes at Physique 57 to get a nice butt. She does it twice a week. She also does a lot of weight training and concentrates on fun exercises like squats or lunges.
Gymming Ideas
Like most of the common people, the brown eyed beauty gets gymming ideas from an Instagram called Motivation for Fitness. Whenever she scrolls through the page, the exceptional ideas motivate her to hit the gym.
Jasmine Tookes Diet Plan
The diet plan of the American model is quite simple.
Breakfast:
She likes to have a sausage, a cheese sandwich and an egg for the breakfast.
Lunch:
The lunch consists of some grilled chicken with vegetables such as zucchini and broccoli and rice. Like Josephine, Jasmine is a big fan of protein too.
Dinner:
The dinner is a steak with vegetables and mashed potatoes. She has the dinner at around 10 PM at night.
Snacks:
Apples and peanut butter are her preferred snacking options.
Healthy Restaurant
When the star wishes to eat healthy food, she visits Westville restaurant and enjoys some grilled chicken and string beans with soy sauce.
No Juices or Oysters
The girlfriend of model Tobias Sorensen does not like to have juices and she avoids having oysters or clams.
Being Salty
The amazing-looking model likes everything that has a lot of salt in it like soy sauce. She admits to being a salty person.
Her Daily Routine
Tookes starts her day by washing her face and taking her dogs for a walk. She hit the gym next and then go to the work. When she has a free day, she unwinds by sitting at home, relaxing on the couch and catching up on the TV shows. She also goes down to SoHo if the mood strikes and then for shopping or for lunch.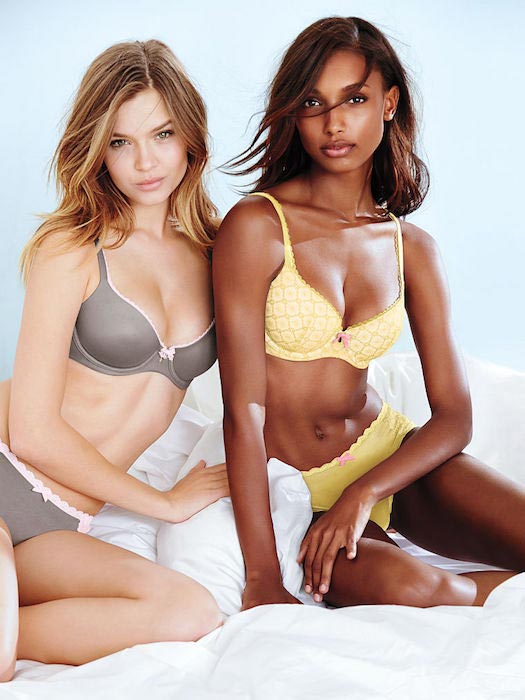 Diet While Traveling
The IMG model always carries protein bars with her when she is traveling so that she can make healthy choices. She does not like to have airport food.
Favorite Dish
The favorite dish of the supermodel is grilled chicken and zucchini.
Winter Health Tip
The winter health tip shared by the former gymnast is that you should stay hydrated in winters. She also suggests that you don't remain cooped up at home due to the cold. Just get out and get things done.
For more health tips from the VS angels, follow Jasmine on Instagram and Twitter. You can also follow Josephine on Instagram and Twitter.
If you wish to know the divas better, you can know Jasmine's previous Workout and Diet Plan.