Jennifer Love Hewitt is viral on the internet as the sources reveal that she will now completely strip for her role as Riley Parks in The Client List completely. JLH appears on the Lifetime network's TV drama show The Client List. She plays the lead role as Riley Parks, who is a masseuse. She makes her living by going to a massage parlor after her husband goes off to the office, as she is facing financial problems. Though, she has already shown enough of her body. But, in the latest season, she will bare all, according to a British newspaper – The Sun. J-Love will reveal her more secret body parts and for that, she is seeking a more toned body. She doesn't want to miss any chance to look awesome on the screen with her curvy figure.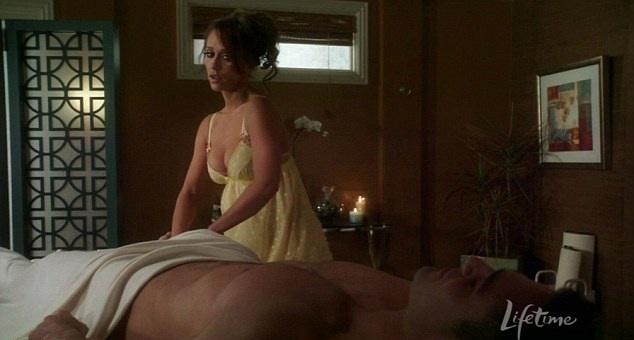 For the same reason, she is hitting the gym regularly. 4 times a week is her schedule for now. She shared her workout plan on Twitter also. Below is the screenshot of the same.
The 34-year-old actress shared her workout for that day (Monday) with her followers on Twitter.
J Love-Hewitt is also urging her Twitter followers to vote for her so that she can improve her Maxim magazine's sexiest woman status. In the upcoming issue, she dreams of coming in the top 5 positions. Her last time Maxim rank was 20.
Jennifer has already started shooting for her upcoming second season of TCL and it is believed to hit the television sets on March 10, 2013. It consists of 15 episodes.
Normally, she goes to the gym, does weight training, and lots of cardio like running, etc. But, to bring variation in her daily routine, she sometimes plays sports like tennis and does aerobics.
Jennifer Love-Hewitt Diet Plan
This damn hot star is also like most other women. Despite posing in a bikini or going n*de in the upcoming season of TCL, she finds difficulties in staying slim, fit and hot.
She recommends not to leave your day meal, i.e. the lunch. Jennifer herself is a foodie and can't stop her from binge eating. She believes that gone are those days when women with curves like Marilyn Monroe were given preference and liked by everyone. Now, most of the girls skip their diet to stay in shape.
Also, her fridge is not at all full with all the alluring stuff. She stores her food in the fridge, which is ample for only next 2 days. So, she visits the supermarket regularly. This habit of hers, makes her eat fresh foods, and avoid overeating and walking to the market is another form of exercise, which makes her legs (calves muscles) more toned.
J Love prefers to eat salad in her diet. It is a rich source of fiber and lowers your cholesterol levels, digests easily and prevents constipation. The salad would make you feel fuller, helps you in eating less, cut calories and finally helps in shedding off weight. You would actually get healthy fat.
Hewitt does not come in peer pressure and is a positive thinker, which directly impacts her health. She believes in herself and before leaving her house in the morning, Jennifer praises her by saying that she has the most beautiful eyes in the world. This gives her confidence to face the outer world.
So, be like her and never hesitate to go for something which makes you look distinct from others. Just like J Love, praise yourself like you have the beautiful face in the world. If you need to opt for some natural product you can go for that also. Hewitt does not hesitate to show her natural beauty. She posted her makeup free face on Twitter.
You can have this sample diet plan –
Morning
In the early morning, you can take tea with 1/2 tbsp sugar.
In the breakfast,
Oats – 2 tbsp
Skimmed milk – 1 cup
Fruit – like orange, apple
Afternoon
Lunch can comprise of
Whole Wheat Chapati
Veggies
Brown Rice
Green Salad
Evening
Evening snack can contain tea/coffee, according to your taste with some dry fruits.
Night Meal
Dinner can contain
Mix Veg Soup / Tomato Soup
Sprouted Grains
Salad