Jessica Simpson is one of those celebrities who have been on the media radar since they were a teenager. She acquired a lot of fame as a pop star and now she is an owner of billion dollar Business Empire. One of her assets is her voluptuous figure that she has maintained even after giving birth to two kids. Let's have a look at what the beauty does to maintain the figure that she recently flaunted on the cover of Women's Health magazine while wearing a cropped top and hot pants that showed off her toned midriff in a perfect way.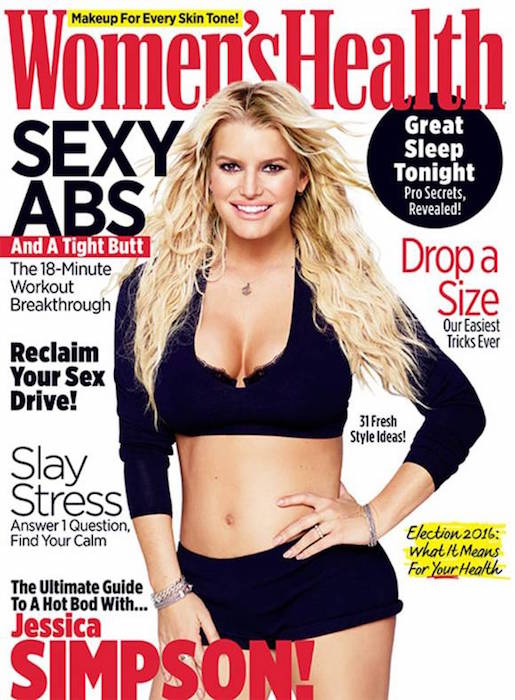 Weight Fluctuations
While talking to Women Health Magazine, the blonde star has admitted that she is so prone to weight fluctuations that she has been every size, there is.
The Benefit of Weight Fluctuations
The biggest benefit of weight fluctuations is that she now knows what looks good on a variety of body types. She also thinks that every woman can wear what a model is wearing while coming down on a runway. It seems that these factors have helped her fashion line to become a billion dollar empire.
Stop Scrutinizing a Person's Body
The singing sensation has urged the media to stop scrutinizing the body of other people. She says that it sucks and she tries very hard to avoid taking these things to the heart. Jessica adds that she never understood why people are judged on the basis of how they look. If a person has a character flaw, criticizing him or her can be somewhat justified but criticizing someone just because they look a certain way is not a good idea. Body flaws are not so important and media should understand it.
Workout Changes with Life
The mother of two says that her workouts have changed with time. When she didn't have any kids, she used to dance a lot on club tables and considered it to be a good workout. Now, her exercises include chasing after her kids and picking them up. Picking up the kids regularly is a good bicep exercise.
Workout Motivation
Jessie admits that she does not like to hit the gym. She tries very hard not to get on the treadmill or not to do the very first lunge. Still, she works out regularly because she finds that it helps in drowning out all the negative noises. Workouts make her feel awesome and she says that they are an emotional experience. When she exercises, she gets a clearer head that makes her stronger on every level.
Workout Routine
The workout routine of the stunner was recently reported by Hollywood Life. It involves doing a combination of six miles on the elliptical and plyometrics. She also makes use of bosu ball moves every other day. Interestingly, Khloe Kardashian is also a fan of bosu ball moves.
Work in Progress
The older sister of Ashlee Simpson says that she is hard on herself because she believes that everything's a work in progress. She has worked so hard to get fit and is proud of her stomach because it helped her grow her babies. She also adds that she loves her legs but her favorite body part is her nose.
No Surgeries
Inquisitr reports that the wife of Eric Johnson has considered going under the knife to reduce the size of her breasts. But then, she had her kids and accepted that though they were a bit big but she liked them anyway. She adds that they are an asset and her husband still loves them too.
Diet Secrets
She follows a healthy diet routine shared by Weight Watchers (She is also the spokesperson for the brand). When she joined the program, she lost eight and a half pounds in the first two weeks. Jessica has been on the Five Factor Diet. This diet consists of having five small meals for six days a week for five continuous weeks. It also includes doing five 25-minute workouts every week, reports Toronto Sun.
Food Cravings
The Texas-born is a big fan of corn dogs. When she makes them for her kids, she always wants to eat it from their plate. She resists by reminding herself that they are full of calories and she made it for the kids.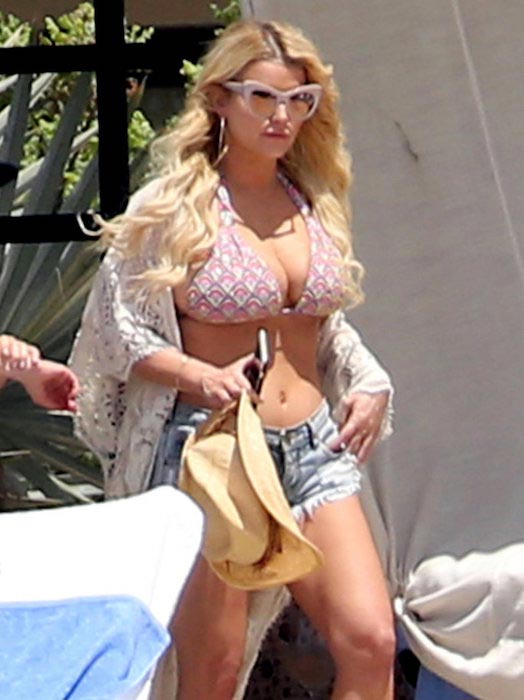 Being Fit is a Priority
The actress shares that maintaining a healthy lifestyle is vital for her. It became a priority number one when she had her kids.
If you are inspired by the fitness ideas shared by Simpson, you can have a look at her previous workout routine and diet plan.
To keep up with her fitness journey, you can also opt for visiting her official website regularly or following her on Facebook, Instagram, and Twitter.