Handsome and heartthrob TV star, Karan Singh Grover is popular for his killer look and muscular body. The iconic star considers Salman Khan, Bollywood actor as his idol. Karan used to watch his movies just to gaze his ripped body behind the shirt.
Well, Karan is in no way careless about his diet and workouts. No matter what it is, he leaves no stone unturned to keep his body in perfect shape. To him, workouts, diet, and proper sleep are the most vital ingredients to have a healthy and fit body. He gives 35% importance to workouts, 60% importance to diet, and 5% importance to other things.
Karan Singh Grover Diet Plan
Karan being very discreet about his body and workouts certainly watches what he eats. Being aware of the importance of small portion size of meals, Karan has divided his diet into four small meals.
The stud acknowledges the idea of balanced diet. He gives 5% weightage to carbs, 15% weightage to proteins, and 10% to vitamins. Proficient in cooking, Karan is professionally trained in hotel management also.
His day starts with breakfast which consists of juice and oats. His preference being on eating protein rich diet has him take boiled chicken with him to shootings. In second meal of the day, he eats fruits and egg white.
Dal chapatti and boiled chicken are the food items of his lunch. His fourth meal is comprised of protein shake and lots of fruits. Being hard core non-vegan, Karan likes to include chicken in his diet in any way possible.
While having the delicious food prepared by his mom in the dinner, Karan includes brown rice with boiled chicken, dal, or any other gravy item with a lot of salad, fruits, and papaya in his dinner.
Karan doesn't have any liking for outside food. He shares that his mom being a trained dietitian takes care of all his diet and gives him the best diet. She knows all his diet requirements such as what and when should he eat any particular diet. So, the dude doesn't have to worry about his diet.
While forbidding junk food for six days in a week, Karan eats junk food or anything, he craves in the weekends, which is just like a bonus day to him.
Karan Singh Grover Fitness Plan
Equipped with toned physique, Karan hits gym five times in a week. If he misses gym in the morning, he catches up with it in the evening. His daily workouts are divided into two parts i.e. cardio workouts and weight training.
Karan gives special heed to one particular muscle at a time for he believes in the development of individual muscles. Apart from that, he also points up bringing variation in exercises to have a fit body. The actor has allocated his days on the basis of various muscles and body parts.
Monday is for toning his back muscles; Tuesday is for chest and shoulder workouts. Wednesday is for arms and Thursday is for legs workouts.
Though Arnold Schwarzenegger and Sylvester Stallone have been his source of inspiration from very young age of 16, but the guy with most sculpted body is not crazy for six-pack abs.
The guy embraces holistic and broad approach about workouts. Karan reckons that the purpose of workouts is not just to have a good body with six-pack abs; it rather is to boost your energy and rejuvenate your body and mind.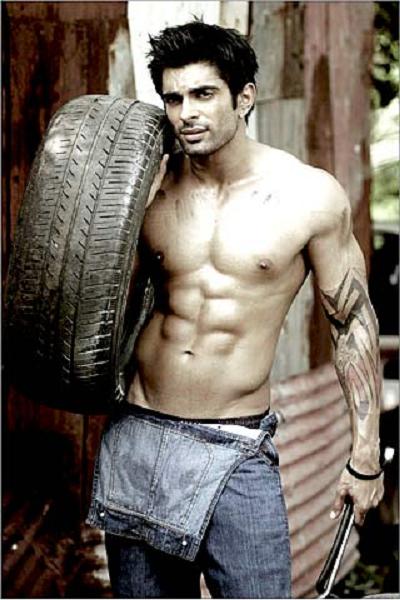 While practicing workouts, if you still feel slouchy for rest of the day, that means your workouts are not reaching their goals since workouts are not just about sculpting your outer body. In fact, they are meant to make you feel awesome at all the levels. You should feel more confident, energized, and good about yourself.
Hot and sexy Karan has really cool views about weight gain. He says that if anytime he gains weight, he has an easy trick to bring it right on the track. And his quick magic trick includes plenty of Water, lots of food rich in fiber, protein shake, for it is effective in magnifying muscles rather than calories.
Karan drinks occasionally in parties. He asserts that wine is great both for skin as well as health. But he does say; make sure your drink is not a hard drink. The guy strongly speaks against smoking and believes that smoking is a poison and its results are terribly disastrous.