Karlie Kloss is a popular American model who is a fitness inspiration too. She works out hard in the gym, follows a sensible diet plan and takes care of her skin. All these things help her to keep looking gorgeous. Here we explore all her workout, diet and beauty secrets and get inspired to be very dedicated towards fitness like her.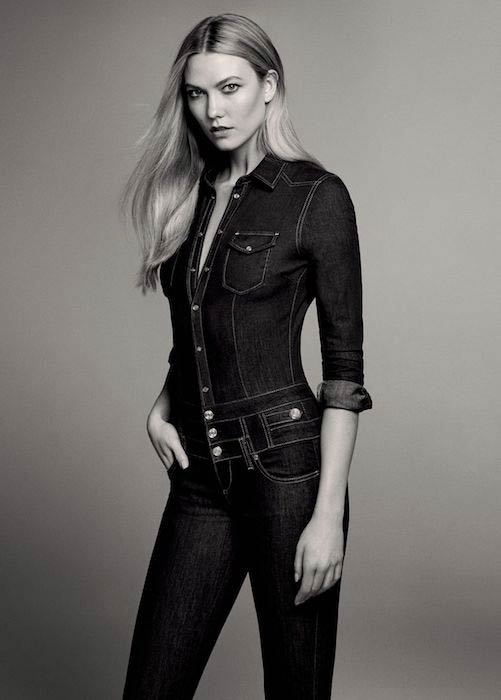 Training Goals
While talking recently to Adidas, the hot babe stated that she chases herself during training and aspires to be the best version of herself. She never stops challenging herself, no matter if she is in a gym, a classroom or on the set. While working out, she doesn't focus on numbers. Her focus is on staying active and mixing up the workout routine.
Workout When Traveling
When the stunner is traveling, she likes to keep her workout gear with her. If things don't go the way she likes, she gets a good sweat at the end of the day.
The Breakthrough Moments
The former Victoria's Secret Angel says that her breakthroughs could be big or small. It can be anything from doing an extra circuit while doing an HIIT workout or trying a new exercise, she had never done before or even motivating herself to hit the gym after a tiring day.
The Motivation
The girlfriend of businessman and investor Joshua Kushner says that she appreciates every moment, no matter how big or small it is. It keeps her going in a positive mindset. She also takes the assistance of an upbeat workout playlist to keep her going. Mixing up her fitness routine also motivates her.
Main Fitness Challenge
The pal of Taylor Swift considers fitting training into her busy schedule a major challenge. Her time outside the classes or work is so limited that she struggles to set a training schedule.
Workout Routine
Karlie likes to incorporate interval and circuit training into her workout regime. It leaves her body challenged and rewarded. She also likes doing dance cardio, Pilates, yoga, stretching and HIIT.
Every workout that has something to do with strength training appeals to her. She likes to do a workout with high reps while using light dumbbells. She sometimes does these exercises by wearing ankle weights or just body weight. Doing cardio and switching it up with light weights is also one of the approaches. She believes that adding a bit of duality in your workouts is very effective. When you use light weights, it will build more muscle and will burn more calories even when you are at rest.
Karlie feels most confident when she is strong.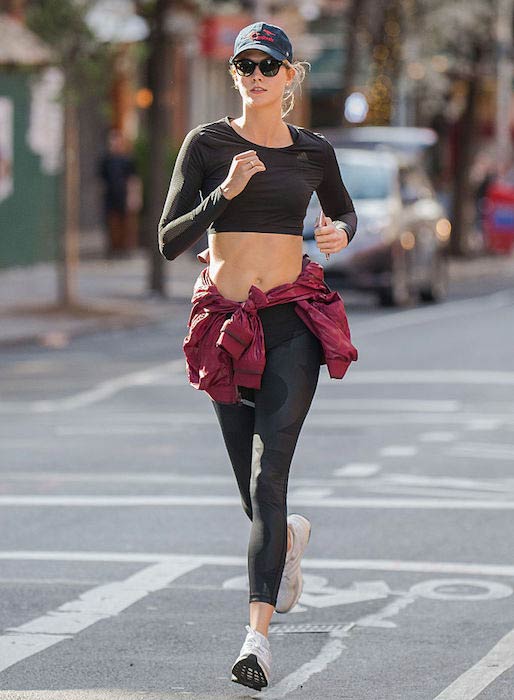 Diet Plan
The creator of Karlie's Kookie has a simple but healthy diet plan. It is mentioned over here:
Breakfast
The brunette bombshell starts her day with toasted grain bread. She also prefers buttered wholesome bread (with almond butter) and adds avocados, honey, bananas to it.
Another preference of Kloss is making 3 ingredient pancakes.
Lunch
In lunch, Karlie likes to have a salad and smoothie. It fills her up and still leaves room for an afternoon snack. If she did not have avocados in breakfast, she adds them to the lunch menu.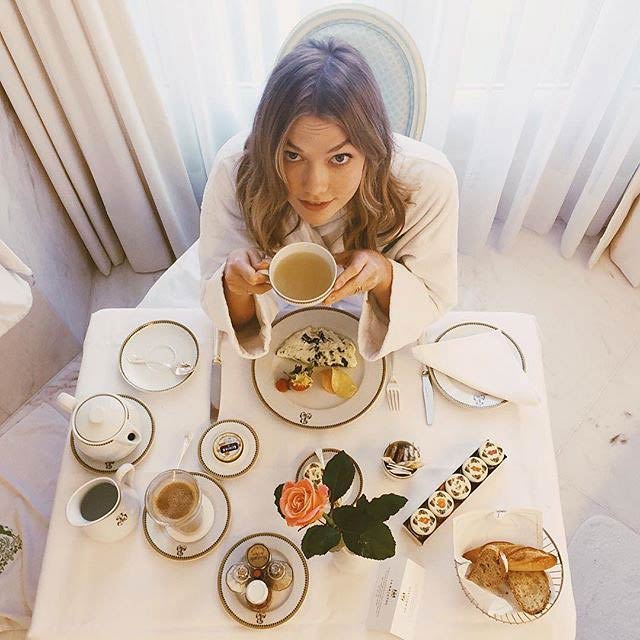 Snacks
The Chicago-born likes to have some snack throughout the day. It usually includes a banana, an apple or some yogurt. Healthy and tasty!!!
Dinner
During dinner, Kloss likes to eat a healthy steak. She loves salmon particularly and often adds fresh fruits and vegetables in it to have an exceptional meal.
Dessert
The former Ballerina has her own creation, gluten free cookies as a dessert. She makes an ice-cream sandwich by mixing two of her cookies with ice-cream. She loves indulging in some dark chocolate as well, reports Spoon University.
No Sugar Recipe
Karlie is trying to cut down on sugar. She does it by satisfying her sweet tooth in a healthy and wholesome manner. Her meals are now packed with coconut oil, avocado, homespun smoothies, and fish. She further opts for Moon Juice's lineup of health supplements and powders.
The beauty makes the morning smoothie herself by experimenting a lot. Usually, she adds
1 serving of the Moon Juice Deep Chocolate Protein
3 heaping T of Moon Juice Tocotrienols
1 T almond butter
1 teaspoon Moon Juice Cordyceps
1 T Moon Juice Brain Dust
1/4 teaspoon Moon Juice Pearl to almond milk.
She adds in all that in a blender and her smoothie is ready in a few minutes, reports Vogue.
Beauty Secrets
Though the runway model has great skin, thanks to her workout and diet plan; she also believes in taking the right care of her skin. Karlie does that to protect her skin from being destroyed by the amount of makeup she has to wear for runway shows and photoshoots. Her night beauty routine includes removing her makeup by using micellar water and then calcifying with the Clarisonic brush. Then, she uses less fragrant Argan oil on her face and hands to protect them, reports The Spec. (Seems simple enough, doesn't it?)