Hazel eyes, vibrant smile, Kate Beckinsale is hot and sexy English actress. The sizzling hot beauty made her entry into Hollywood with her debut film, Much Ado About Nothing, and acted in numerous other popular movies such as Serendipity, Underworld, The Aviator and countless others.
Ranked at #41 amongst 100 most beautiful people by People's Magazine, and acknowledged as Sexiest Woman Alive by Esquire in 2009, her impeccable panache and curvaceous bod can make any man in the world die for her.
Mostly appearing in wicked or daunting action roles, her roles seek her to be in sleek and toned body. Her roles being the biggest motivating factors to her have her remain stick to strenuous workouts and healthy diet regime.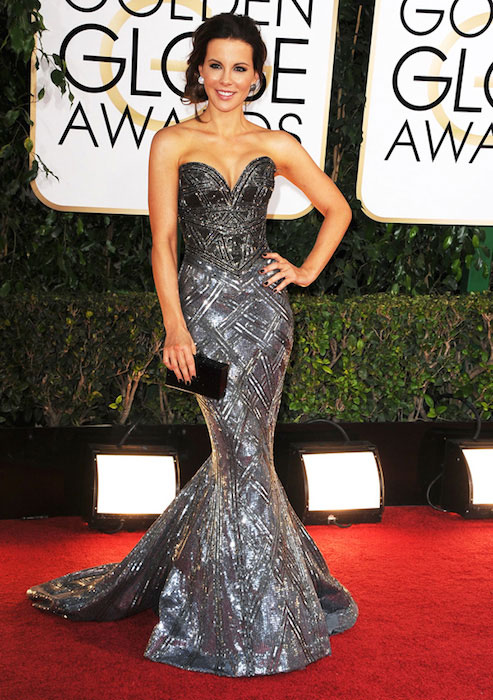 Kate Beckinsale Diet Plan
The British beauty abides by 3-2-1 diet solution orchestrated by well-known celebrity trainer, Ramona Braganza. Her diet plan being perfect amalgam of complex carbs and high protein food items nourishes her body with all the vital nutrients. The diet program allows her to eat three small meals, two snacks, and drink tons of water in a day.
Her small meals being high in protein and fiber content keep the stunner contented for longer duration. And her vigilance to her diet has her eat clean and organic foods. She in particular purges sugary, dairy, and high carb foods. Green and leafy veggies, fruits, and lean protein are the mainstream foods consumed by her. Let's have a look at one of the typical diet regimes of Kate Beckinsale.
Breakfast – She prefers having hard-boiled eggs, omelet with onion and tomato, oatmeal etc. in her breakfast.
Snacks – Her snacks items are mostly popcorn, hummus, nectarines with yogurt, kale chips, walnuts etc.
Lunch – Kate likes having chicken, veggie wrap, mixed vegetable soup, and steamed brown rice etc. in her afternoon meal.
Dinner – Her dinner is mainly composed of grilled fish, turkey, chicken, beans etc.
In addition to eating healthy foods, she points up consumption of homemade foods. Foods available in hotels and restaurant not being able to provide that much nutrition as is provided by homemade foods is usually escaped by the kick-ass beauty.
Although she remains loyal to her diet most of the time, but she does not restrain her from satisfying her sweet tooth by eating pancakes, and pastry cakes since these two are her most adored sweet foods.
Kate Beckinsale Workout Routine
Being dedicated to her workouts, the sensational beauty hits gym five times in a week and executes high intensity workouts for one hour. Unlike most of the celebs, the Brit bombshell prefers indoor workouts performed in gym over outdoor workouts since she doesn't like to be watched by people.
The brunette succumbs to 3-2-1 workouts, which is comprised of cardio workouts, circuit training, and core workouts. She executes high intensity workouts for forty five to sixty minutes. To bring multiplicity in her workouts, the phenomenal beauty alters her workouts with crunches, squats, and leg raises. She loves running on treadmill for minimum half an hour, which eliminates all the chances of fats trying to find room in her dynamite bod.
The secret of all the zeal and passion of Kate is her enviable figure. When she glances herself in the mirror, she feels awesome to see her toned figure, and the superb feeling keeps her in high spirit and committed to workouts.
Not only does her sculpted bod look fab, it also has great resilience and endurance power. Credited with lean and sexy long legs, the actress has the most enviable lower body. She tones her butts, inner thighs, legs with the aid of varied yoga postures.
While being trained by Mandy Ingber, the Brit beauty executes tough yet effective yoga posture such as warrior pose, half-moon pose, chair pose etc. All the yoga postures strengthen and amplify her lean muscles by exerting abundant strain on her legs, thighs, and butts.
Healthy Recommendation For Kate Beckinsale Fans
Should you make little alterations in your food habits, you can bring dramatic change in your health condition and body size. Since not everyone can afford to hire nutrition expert, here is one recommendation for you, which will solve your problem of what to eat.
Since veggies, meat, fish, and other foods do not lose their color, nutritional content when they are steamed, you can ensure to have healthier and happier body by nurturing the habit of eating steamed foods. This is very healthy and nutritious way of eating foods. Steaming wipes out all the fat and cholesterol content of non-vegan foods and makes them highly nutritive and safe to eat.
All you need to do is, cut the meat, fish, vegetables, or whatever food item you wish to eat in small pieces and rinse them. Dip them in one inch of water in a pot and add all the herbs and spices such as salt, garlic, peppercorns, cayenne pepper etc. Let the food items boil thoroughly and relish the low calorie yummy foods.