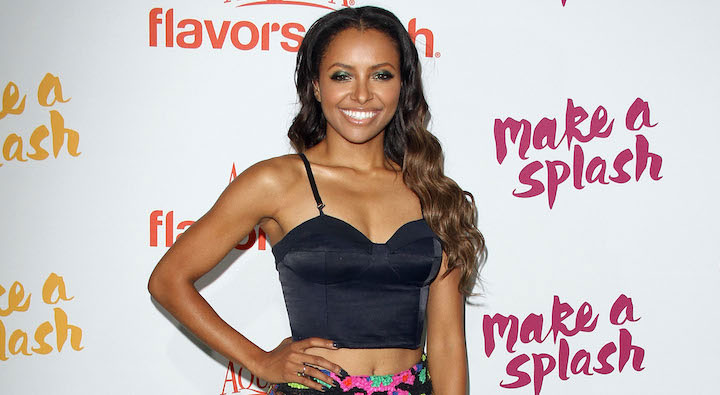 Starred in The Vampire Diaries, Katerina Graham is Swiss-born, Hollywood model, singer, dancer and actress. The attractive Katerina is credited with poised and elegant style. Perfectly sculpted body owned by the brunette simply makes her look ravishing in all kinds of figure revealing outfits. Dazzling her fans with her curves and talent, the hot star entered into entertainment industry in her childhood itself.
Katerina Graham Diet Plan
Being sensible towards her foods, Katerina doesn't eat anything just like that. She abides by healthy diet regime and practices portion control. Her diet regime normally consists of myriad wholesome foods and beverages such as fruits, veggies, lean meat, salmon, green smoothies, soymilk, Greek yogurt, blueberries etc.
The hottie admits being more inclined to sweet foods than salty ones. However, she is sentient about the impacts of sugar on body. Not only does the consumption of sugary foods on regular basis cause spike in your blood sugar level, they also trigger accumulation of fat in your body and make you grow obese.
Sugar causes aberration of cells and promotes the generation of carcinogenic or cancer cells in your body. Persistent and heavy consumption of sugar can makes your body host of myriad incurable and terrible diseases. In addition to that, sugar snatches all your beauty and makes your skin look morbid. Pimples, acne, blackheads etc. are some of the outcomes of sugar.
Being aware of all these facts, the star consumes sugary items in moderation. Apple pie, cheesecakes, strawberry flavor ice cream etc. are some of her much loved desserts. In her routine life, she mostly counts on sugar free lollipops. Low calorie food item not only boost her metabolism, it also curbs her appetite. When you stop feeling hungry every now and then, you naturally eat less, which further save you from consuming unhealthy snacks.
Katerina Graham Workout Routine

Katerina prefers outdoor workouts to indoor ones. She practices varied workouts such as running, swimming, dancing, cycling, squats, jumping jacks, burpees, crunches, push-ups etc. in her daily routine.
Green-eyed star is totally fitness freak and doesn't skip her workouts even when the weather conditions are not very amicable. Katerina has lately come up with her own fitness plan namely The Vampire Diaries Workout Game. She has circulated guidelines for the same on her Twitter page.
Workout plan prepared by the stunning star is mix of swift workouts, which will kick start fat burning process in your body. Apart from regular workouts, Katerina likes dancing. She being a trained dancer often finds herself so engrossed in dancing that she forgets everything else.
She continually dances for hours until her limbs and thighs begin paining. Agile Katerina inevitably has commendable endurance and stamina. And her toned and sexy legs indeed are testimonies of the intense and calorie burning dances practiced by her.
Healthy Recommendation For Katerina Graham Fans
Katerina Graham recommends her fans, fall in love with yourself, and allow you to cherish the goodness of life. She points up dance and considers it an incredible aerobics, which can shed bountiful pounds from your body without making you feel bored.
You can play the dance video of your favorite celeb and can endeavor to mimic their dance steps. Doing so will get you into the feeling as if you are a part of their live show. And the best part of your fancied live show is you can freely dance without being nerved of being ridiculed by anyone.
Such a fantasy will load you up with vibrant energy and your body will get exercises without being burdened by conventional and tedious exercises. Doing something with interest is far better than monotonous running on elliptical or treadmill.
Besides that, you are not supposed to carry heavy sports shoes and other accessories with you to dance. You just have to take off your shoes and get to dancing. You can opt for it even when you are in a hotel room, or several miles away from your home.
Dance being a powerful physical activity cause immense sweating. Your body release toxins in the disguise of sweats and in return get you radiant and flawless skin. However, make sure that you compensate the loss of water by drinking sufficient amount of water in the breaks.