She got a lot of fame for her role of Izzie Stevens in Grey's Anatomy (2005-Present) and now, she is gearing up for delivering a healthy baby boy. We are talking about talented American actress Katherine Heigl who is sharing her pregnancy experiences with all. The first thing she believes in is that having a nutritional diet and doing some sort of workouts is necessary for a healthy pregnancy. She also believes that indulging once in a while is fine and you must find a cure for your health issues during pregnancy instantly so that they are not prolonged.
Sharing the Experience
The stunner wrote a blog when she was 19 weeks pregnant and shared some amazing tips, reports US Magazine. She admitted that she is not an expert on pregnancy, but just wants to share her experience so that women can learn from her and improve their pregnancy experience.
Diet Changes
The first thing shared by the diva is her diet changes that were not so good for her overall health. During the first month of pregnancy, she indulged a lot. She admits to eating a lot of chocolate cake and several bowls of fettuccine Alfredo. Her excuse was that she was eating for two.
The Danger
Katherine also accepts that if she had continued eating like that, she would have put on a lot of weight and most importantly, compromised her health and the health of her baby.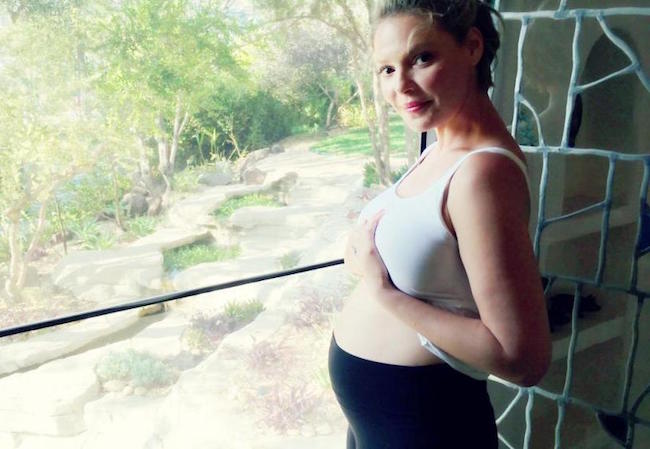 Diet Plan
The mother of two adopted daughters has found a reliable source to plan her meals. She uses the reliable Eating Well website for planning her meals. She feels that keeping her nutrition on track has helped her feel healthier.
Diet Indulgence
As the star eats healthy on weekdays, she likes to indulge in the weekends. She would even have chocolate cake if she craves it. Apart from the chocolate cakes, she also has a craving for a lot of donuts every morning as a result of her pregnancy.
Workout Routine
The wife of musician Josh Kelley says that she finds it hard to collect motivation to workout when she is not pregnant. So working out when she is pregnant is a big challenge for her. She also admits that she is not doing weight training or strenuous cardio workouts. Her workout regime involves doing yoga on a regular basis.
Changing Body Shape
The brown eyed beauty earlier admitted that her pregnancy was making her chubby and she was feeling that it was not a good thing for a Hollywood actress. She says that she has worked hard not to look chubby throughout her career, but due to the pregnancy, she can't help it. (We think she is looking cute, don't you agree?)
Health Issues and Pregnancy
The pretty blonde also shared that she is having some health issues as a result of her first pregnancy. She is dealing with the problem of a sinus headache, a stuffy nose and indigestion constantly, reports ABC News.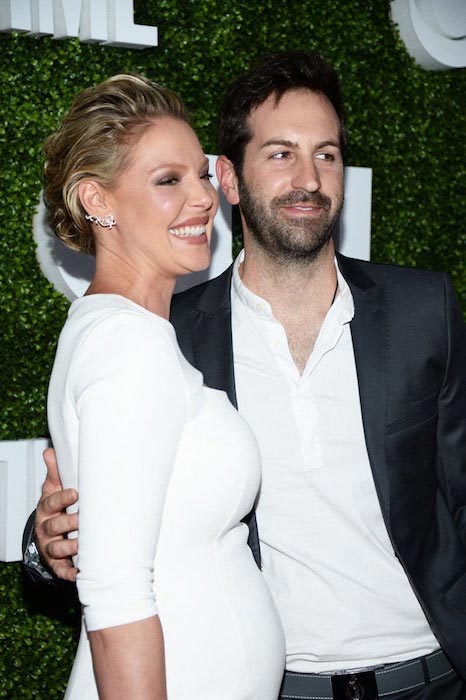 The Cures
The State of Affairs (2014-2015) actress is using only home remedies to cure her health issues. She is using apple cider vinegar, lemon juice, water and baking soda to cure her indigestion. To deal with sinus headaches, she is using a cup of coffee every morning. The coffee she drinks is from a low-acid organic brand. This method not only helped her to reduce the headaches, it also reduced the swelling around her ankles.
The Excitement
The former fashion model says that everyone in her family is feeling excited about the new addition to their family. Her adopted daughters sometimes forget about it and then they suddenly ask when the baby is coming into the world.
The husband of the animal advocate is feeling ready to have a boy, reports ET Online exclusively. She says that he is just surrounded by women including her, their daughters, her niece and even her mom. So having a baby boy would be a relief for him.
To know more pregnancy fitness ideas of Heigl, you can follow her on Facebook, Twitter, Instagram or her official website.