Kayla Itsines is an Instagram fitness sensation who helps women from different parts of the world to stay fit. Her hashtag #BBG – Bikini Body Guides is quite famous, and she has helped scores of women to get along on their fitness journey. Here, we try to explore her workout and diet secrets along with learning some fitness tips she shared.
Start reading and get motivated to change your lifestyle for the better!
Kayla Itsines 2017 Fitness Tips
Exercises for Toning Up and Building Strength
If you want to tone up a bit and build your strength as well, you should start with lat pulldowns and then move to chin-ups by making use of the cable machine. With a chin up, you can use a curved bar that needs to be pulled down and slowly released. This is an upper body workout that lets you work your arms while engaging your legs and core as well. Doing 15 reps for 3 sets is enough.
You can also add in a squat, lunge and deadlift to get the legs moving. You can even add a bent leg jackknife exercise to work your abs.
Vital Workout Move
The social media star says that she can live without burpees, but it's an essential exercise because it has many valuable variations that allow you to decide how easy or hard you want the exercise to be.
For instance, if you are not comfortable with the jumping motion, you can try the step in and step out move as it is much easier. You can also transform a burpee with a squat, tuck jump, plank or a push-up.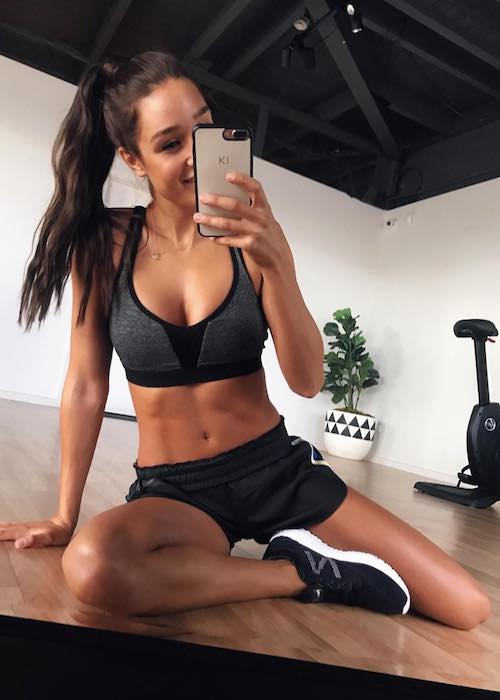 30-Minute Exercise Plan
If you always think of exercising but can't do it much because of lack of time, then you should know about BBG exercise method as it is divided into 7-minute circuits. You can do a set of 4 moves like pushups, lunges, tricep dips and ab bikes.
You can also decide how much reps you can do. After you are done with this, you can choose another 4 exercises that can be done in 7 minutes. If you don't want to experiment much, you can just repeat the first 7-minute circuit four times in a row. By using this method, you would be done with the exercise in just 28 minutes.
No Equipment Needed
There are workouts that you can do without any equipment. You can also replace the equipment with stuff like a stable chair or water bottles. When you learn to work out without any equipment, you will be able to fit in a workout at home office or a hotel room.
Here's a video of some simple exercises you can do at home:
How to Avoid a Plateau?
Many people complain that they experience a plateau after a few weeks of exercising. If you also think that you have reached a plateau, you should have a look at the workout you are doing and see if it's the same.
When you don't challenge your body by using various exercises that need different machines or muscle groups, you will stop seeing results.
You can easily avoid the plateau experience by choosing exercise plans like BBG and BBG stronger as they change every four weeks and push you more each week.
Also, stop yourself from focusing on plateauing as it's completely normal. If you were unable to exercise for a while because you were ill, you should not think that you won't be able to get fit again. Motivate yourself to hit the gym again and not ponder much about the exercise sessions you missed as you will just end up pressurizing yourself.
How to Avoid Exhausting Yourself?
It's a fact that BBG workouts are grueling so when you are doing them, you can avoid the feelings of burning out or exhaustion by taking rest days, doing everything in moderation and having the dessert you want to.
If you don't feel motivated for exhaustive workouts, you can do other things for a day, be it walking, stretching or enjoying a massage. If you look after yourself, you will feel motivated to hit the gym again.
Bikini Body Confidence
The Aussie believes that body confidence is all about being comfortable in your skin, feeling positive about yourself and not having a war with your body.
Do not pursue fitness to have a body that impresses people. Instead, you should exercise and eat right to feel self-confident. Your aim should be to be the healthiest and happiest person.
Best Diet Tip
Eat right and stick to the right combination of carbs and protein. It's also vital to eat everything in moderation and not to overdo anything.
Diet Plan
Itsines' diet plan is as follows:
Breakfast
Two pieces of toast with scrambled eggs and green tea.
Snack
Fruit or Yogurt or egg lemon soup/ avgolemono soup.
Lunch
A chicken wrap
Or
Some stuffed vegetables like okra with rice and red pasta sauce.
Or
Some crackers with tuna, salt, pepper, tomatoes and, olives.
Diet Indulgence
The stunner likes to indulge in desserts like cakes and food like pasta.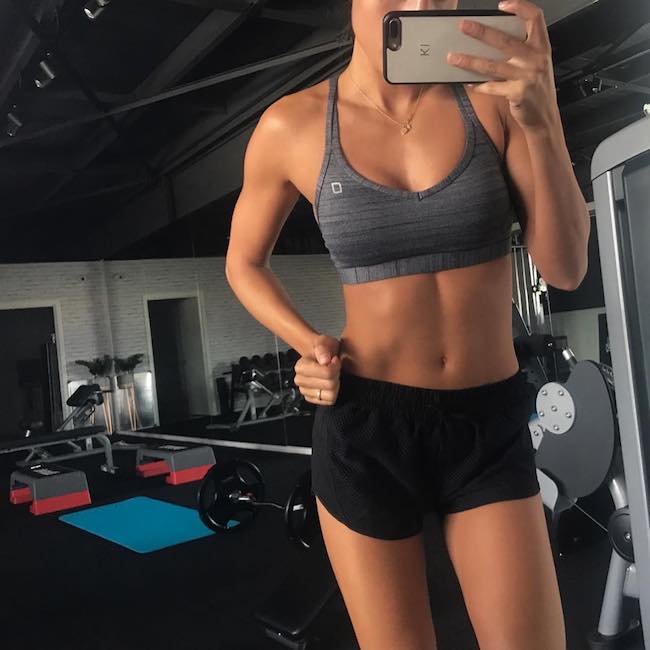 How to Avoid Overindulgence
Though indulging every once in a while is a good thing, you should stop yourself from overindulging by planning your food.
If you have apple and tuna in the fridge, you won't be tempted to binge on chocolate much. Though having chocolate every once in a while without feeling guilty is completely fine.