Kayla Itsines Pregnancy Workout Secrets and Diet Plan (2019)
When Kayla Itsines announced that she was 20 weeks pregnant, it came as a pleasant surprise for more than 10 million people who follow her on Instagram. As always, Itsines didn't stop at sharing the awesome news as she is constantly sharing her pregnancy workout secrets and diet plan with her fans along with mentioning the challenges pregnancy is throwing on her road to fitness. Sounds interesting? Read on for more.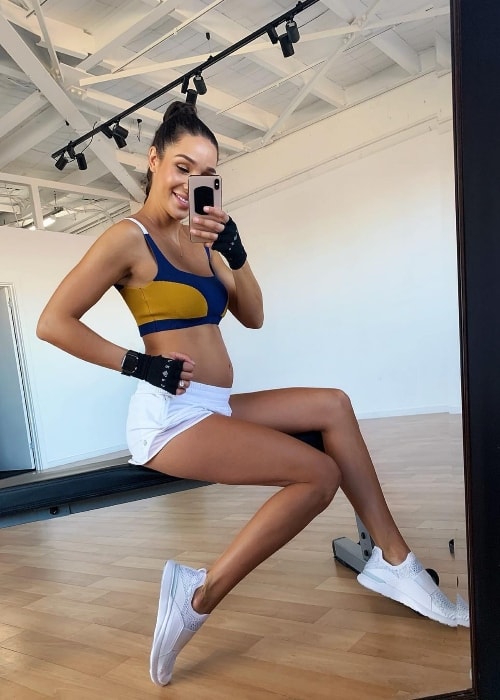 Fighting Bloating
Like most women, Kayla also wakes up bloated at times and combats it by drinking a lot of water. She also drinks fennel, licorice, and chamomile tea to calm her stomach. Her preferred brand is T2.
Diet Plan
Breakfast
Scrambled eggs with spinach
Morning Snack
Tinned crackers topped with tuna
Lunch
Fresh Vietnamese chicken summer rolls
Dinner
Rice with grilled fish and pak choi along with asparagus with olive oil, garlic, and lemon.
Workout Preference
When at the gym, she likes using the machines. Her preferred move is a seated back row in which you face forward. She wears Brooks trainers and Alo Yoga's beautiful kit for comfort and support while hitting the machines at the gym.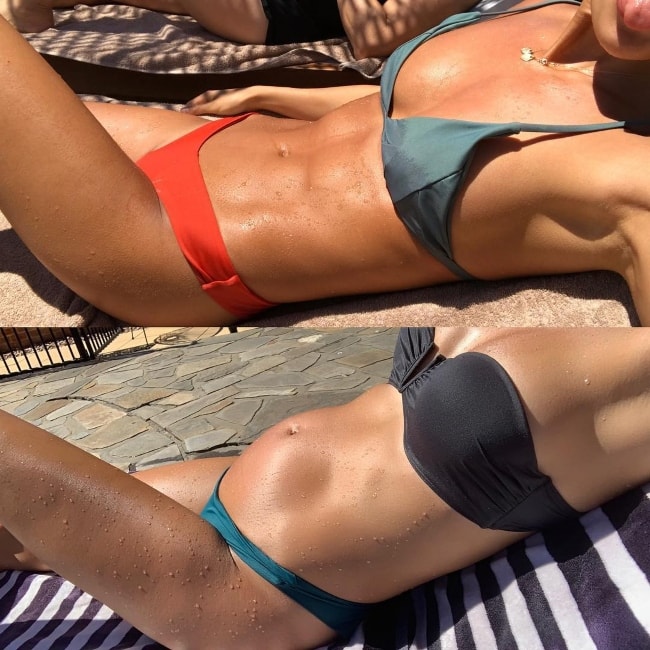 Workout Secrets
The stunner wants to stay active as much as possible during pregnancy (under the guidance of her doctor). She has modified her workouts for her condition. She is more focused on low-intensity cardio exercises and has reduced the time she used to dedicate to high-intensity exercises. Though she is still doing the #BBGStronger, a program that helps women build a bikini body, she has stopped doing ab exercises (except side planks) and exercises that involve jumping. She has also reduced the weights she used when on machines. Basically, she listens to her body when deciding on workouts and only does those exercises that feel right and comfortable.
Sharing Workouts and Body Changes on Instagram
Itsines is still sharing workouts and her body changes on Instagram and has no problem with it. In fact, she is happy to share the body changes.
Morning Sickness
During the first 4 months of her pregnancy, she dealt with a lot of morning sickness. She felt really tired and nauseous. Now, the phase has ended and she feels only happy and excited about her baby.
Appreciating the Change
The abs queen is quite delighted with the way her body is changing and is astounded by the fact that she can make a baby. She also thinks that her baby bump is very cute and feels proud to be a woman who can create a new baby.
The Challenges
Though the beauty is optimistic about the phase, pregnancy is making it difficult for her to be as active as she used to be. Pregnancy energy is different than normal energy because even a 30-minute workout is hard for her mentally. However, she still tries to do the workouts because she wants to be healthy and strong to take care of her baby.
The result of the changes is that she has exchanged her plyometric and weight training sessions for LISS (low-intensity steady state cardio). She has also modified her exercises, walks a lot, does lower weight exercises with more reps, and monitors her heart rate constantly.
Advice for Fans
Kayla wants her fans, especially women, to remember that looking at other people and being envious of their bodies won't be productive. You should learn to be happy with who you are and focus on changing your mindset, body, and life by setting achievable goals. Try to be the best version of yourself and keep working to make yourself better constantly. Also, learn to look at yourself and feel proud of what you see if you want real happiness.
Featured Image by Kayla Itsines / Instagram