Kerry Washington is not only an amazing actress, she is also the mother of two beautiful kids, daughter Isabelle, 3, and son Caleb, 8 months. But when one looks at her amazing body and shape, one can't help but wonder what her pregnancy workout secret is?
How is she still so fit that she looks like she has never even given birth to a baby? Well, the answer lies in 70s-style water aerobics that she adopted when she was pregnant. And that's not all folks as she also uses water to have amazing skin and a fit body by being hydrated.
Have a look at her love for water as a fitness tool and know whether you can benefit from it like her or not!
The Admission
Washington recently appeared on The Ellen DeGeneres Show in which she admitted that she loved doing 70s-style water aerobics throughout her pregnancies. She also did water aerobics with Styrofoam dumbbells in the water. She terms the experience as fun but also confessed that it's harder than one might think. But overall, she loved water aerobics.
Expert Opinion
Though the idea of water aerobics seems fascinating to most of the people, the fact is one must know all about a unique workout method when thinking of trying it. So if you want to try it, you might want to know the opinion of an Equinox Sports Club instructor and group fitness ambassador for their H20 workouts, CeCe Marizu. She says that when you are pregnant, you feel heavier but when you get into the water, you instantly feel lighter.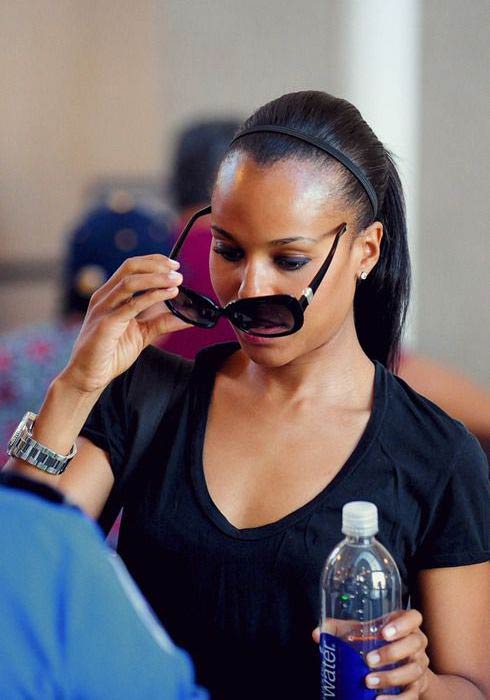 Water aerobics can also help women to get rid of minor issues like lower back pain. It can also correct the pelvic tilt of women. As swimming is one of the safest sports for all people, including pregnant women, you won't need to do many modifications. This workout method allows pregnant women to even try to be in positions that are not too safe for them when they are on land. For example, you can be on your back in the water and you can mix up the workouts more when you are in the water as compared to when you are on land.
Marizu also thinks that water aerobics is not only meant for pregnant women as everyone can give them a shot. It is especially useful for those people who have joint issues as it can be an effective workout without putting a lot of strain on the joints. Water also reduces the chances of an injury as it gives you a natural resistance that still allows you to build up your strength. Anything you are used to doing on land can be done in water.
Some of the exercises you can try are running, squats, high-knee march, etc. You can also do stuff with your arms where you pull the water down and then you can grab that buoy as a weight while adding a few tricep extensions or curls. When you are in the water, your range of motion is better than it is when you are on land.
Water is so special because it allows a person to move around all planes, says Marizu. You can work on rotation, with each sagittal plane and the frontal plane. Water also adds more natural resistance to each move to build strength.
For instance, when you do simple kicking moves in the water, you can work the hamstrings and quads. You can even work muscle groups that you don't even realize you are working when in water. You can also work multiple areas at once. An example of this is moving your arms in a figure 8 motion when you are in the water. It will help you to work your shoulders, your forearms, and your delts at the same time.
Being a Water Baby
The wife of NFL player Nnamdi Asomugha doesn't only like to work out in water. She also likes doing other stuff like maintaining her fitness and beauty with the help of water as well. She says that she was a part of the water culture as her grandparents emigrated through Ellis Island from Jamaica. In fact, the first date of her parents ended on the beach.
Her family has a lot of lifeguards as well. So, she considers water to be a vital element in her life.
She tries to drink tons of water, especially as a nursing mom. She also uses skin products that are all about hydration.
Definition of Self Love
The Scandal (2012-Present) actress thinks that self-love is all about making sure that you are taking care of yourself. For her, it's about whether she is sleeping enough, eating well to stay healthy & strong, fitting into her skinny jeans and whether she is acknowledging the good because there is a lot of good in the world.