We all know her as Olivia Pope of Scandal. But she has not restrained herself to one character. She has worked in various films and proved that she is an excellent actress. Yes, we are talking about none other than Kerry Washington who is not only an amazing actress but a beautiful woman as well. Her beauty is not limited to having a great body but to having a loving heart as well. The pretty lady is now a mother of a 17-month-old daughter Isabelle with husband, NFL star, Nnamdi Asomugha. And yet, she is very focused on being fit not only for her fans, but for her daughter as well. What's she doing to keep fit? Here's the answer.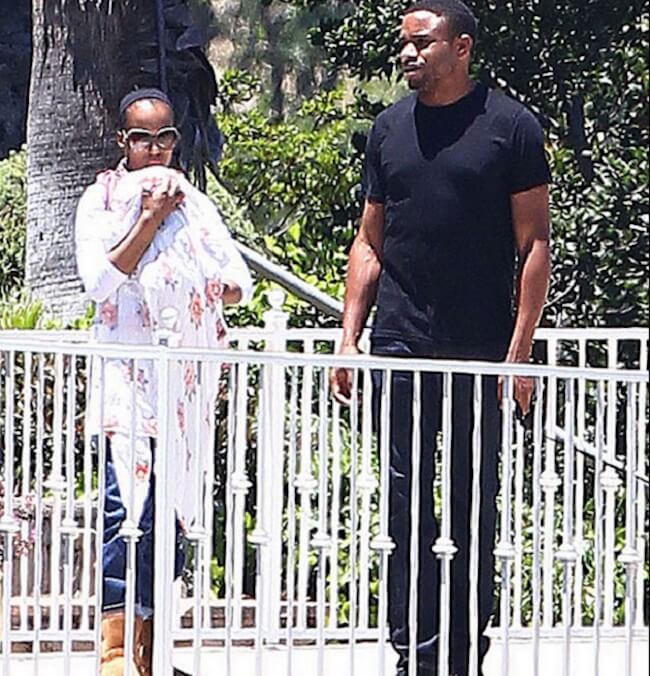 Workout Routine
As reported by PopSugar, the new mom works out six days a week despite her busy schedule. Her trainer Julie Turner helps her workout in the right manner and motivates her. The workout routine kicks off with some meditation, stretching exercises which are followed by strenuous Pilates session. She has been doing Pilates since past five years and includes two to six Pilates sessions every week.
You must be wondering that why she is so fond of Pilates. Answering the question, the star recently admitted that Pilates helps her to be her true self and assists her to push herself beyond her comfort zone.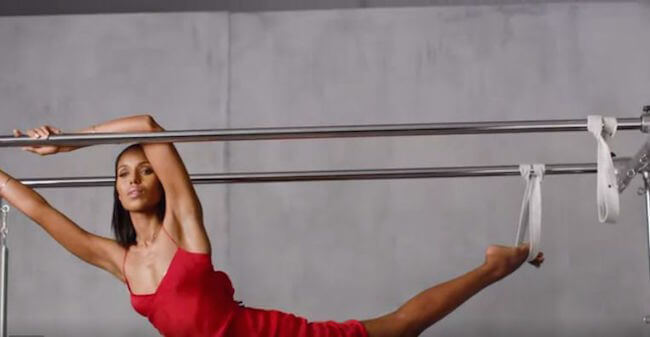 Early Workouts
The workout routine starts from 6.30 in the morning for the talented actress. She starts off so early because she wants to be with her baby doll in the mornings. The earlier she starts, the earlier she can finish.
Making Working Out Easier
As the hot actress has a very tiring schedule, she has thought of making her workouts easier by adding a small gym at the Scandal Studio. The gym has a Pilates machine, some resistance bands, a few free weights and a small quantity of blocks. This helps her to squeeze in a workout with her trainer before shooting too.
Workout Breaks
The winner of Outstanding Actress in a Motion Picture believes that it's important for a person to take rest days to revive and relax a bit. But she also said that she can't stay away from workouts for long because if she doesn't works out for three days in a row, she feels bad from the inside.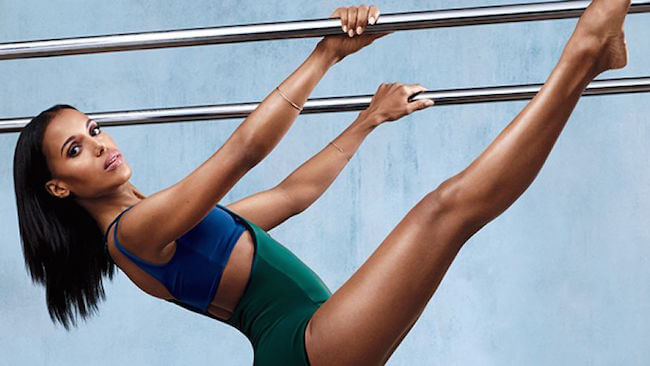 Why She Works Out?
The sexy actress wants to workout because she wants to take care of her body and live life her own way.
Working Out With Friends
While talking to Self, the Ray actress has acknowledged that she goes for hiking with her fellow actresses on a regular basis. They have made it a kind of group ritual and they hike around Los Angeles.
No Workout to Get Back in Shape
Unlike most of the new moms, the versatile actress is not working out to get her pre baby body back. She just wants to be the best version of herself. She calls her body a miracle site as it has birthed her little angel. Hence, she does not want to go back to the pre-miracle stage.
On Being a New Mom
Washington seems to be enjoying motherhood and trying to be a good mom. She recently stated that she wants to be such a mom, which her daughter wants to be, not a mom which she wants to be. Good thought, we must say.
Workout Inspiration
Her character "Olivia Pope" (from TV series Scandal) inspires Kerry to workout a lot and stay fit. Olivia inspires her to believe that she can handle any situation and has the capacity to do anything she wants. Strenuous shooting to play Olivia's character is another reason to stay fit. When Kerry has to run with three cameras on or hold a gun while wearing negligee, she really loves being flexible and strong.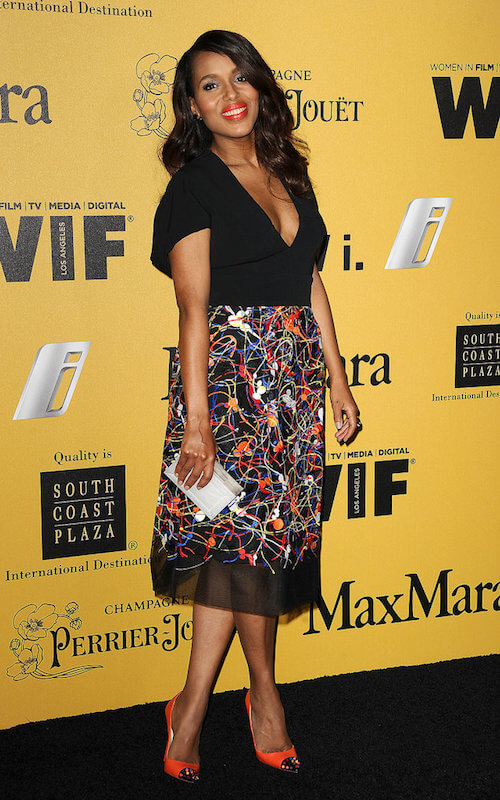 Diet Secrets
Morning Routine
Daily Mail reported that Kerry, who is one of Time magazine's 100 Most Influential People in the World (for 2014) believes in following the same morning diet plan that includes having a green smoothie that is complemented by romaine, celery and apple designed by Glow Bar. She stays away from coffee.
Diet Rules
The stunner believes in eating organic and local foods as her body demands them. She is not a vegan or vegetarian but she still keeps the quantity of animal protein to a minimum.
Less Alcohol
Alcohol doesn't suit the beautiful actress, so she takes it only when she is enjoying a holiday on a beach. And never consumes it when she has to shoot the next day.