Kym Herjavec, also known as Kym Johnson is one fit woman. She is among those celebrities who don't give up fitness attempts even when they are pregnant, and she has been taking care of her body the right way (according to doctor's orders, of course).
Read on to know her pregnancy fitness secrets and her tips for getting a DWTS body. We assure you, they are worth it.
Long Wait
The wife of renowned businessman Robert Herjavec admits that they were waiting for the pregnancy news for a few years. So, when they knew she was pregnant and they were expecting twins, they both felt incredible.
No Exercise in the Beginning
The Dancing with the Stars (2005-Present) pro was told not to work out during the first trimester as the doctors were being cautious and didn't want to risk her health. She got back to it after this three-month period.
Taking Classes
The dancer is still teaching classes at her Beverly Hills studio, THE BOD but knows that she will have to take a break from it soon. The signs that she needs to pull back from it are already there as she often gets out of breath. She even gets puffed a lot when walking up the stairs.
Kym Herjavec Pregnancy Workout Secrets
The TV performer accepts that staying fit can be quite difficult when you are pregnant. You are exhausted most of the times and in such a situation, motivating yourself to get a workout in can be a tough nut to crack. But she is not lowering her fitness goals by much. She is doing a lot of upper body strength movements to retain her muscles, and she is doing stabilization work like glute exercises on all fours as they are good for the core.
Kym Herjavec Pregnancy Diet
The Aussie likes to have salmon, scrambled eggs, salad, and leafy greens in her diet. She also snacks on dried apricots, apple slices and Greek yogurt with berries.
She is also indulging in all her pregnancy cravings like chocolate croissants and French fries from McDonald's that she never used to have before. Occasionally, she also indulges in toast and Nutella which is a safer option than baked goods (ladies, take note!). She also makes French Fries at home in an air fryer.
Advice for Young Mothers
The diva's advice to young mothers is that you should take care of your body and mind. If your body is craving something, indulge in it without feeling guilty. You can balance out the indulgence with healthy foods later on.
You should also try to stay away from processed foods, meats and any other food your doctor has restricted. It is also a good idea to be as positive and as stress-free as possible.
Future Expectations
After the birth, Kym plans to focus on her kids more, and less on herself. She will enjoy them more and care less about how to lose pregnancy weight. (And that's how it should be!)
If you are not looking for pregnancy advice and you are still dazzled by the fitness of the TV celebrity, you should learn her tips for getting a DWTS Bod.
Kym Herjavec Shares 7 Ways to Get A DWTS Bod
Find a Motivating Mantra
Choose "I can do it", "Don't Give Up" or any other mantra that motivates you and post it where you work out. It will ensure that you keep getting fit over time.
Be Body Confident
Be proud of the shape you have got and work on improvising it. Don't compare yourself to others and focus on the positive aspects of your body.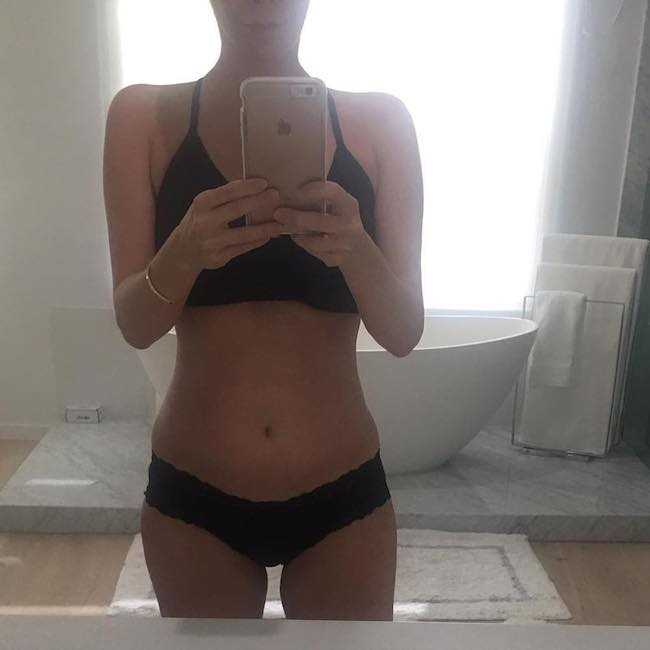 Select a Workable Routine
Find half an hour in a day and focus on cardio and sculpting exercises. Sculpt your body with light weights and do multiple reps of it. When you see the results, you will want to exercise more than half an hour.
Change Eating Habits
Toss the junk food out of your home (or better donate it to a food shelter or food bank) and buy only foods that have loads of healthy fats. It will ensure that you don't binge eat on the wrong type of foods.
Drink Up
Drink as much water you can to eat less, eliminate sugar cravings, relieve headaches and get rid of muscle cramping. Your workouts will give better results too if you are hydrated. Start your days with lemon and hot water too.
Snack All Day
If you get hungry often, don't stop yourself from snacking every few hours. Just make sure that the snacks are healthy like almonds and grapes. Remember, five or six light meals are always better than three heavy ones.
Make Moderation a Priority
Have 8 glasses of water, 7 anti-inflammatory foods, 6 colors of the rainbow, and 5 servings of protein. You can occasionally indulge but practice moderation as much as possible.
Featured Image by Kym Johnson / Instagram