Lady Gaga 2017 Workout and Diet Secrets
Lady Gaga is having an adventurous year. First, she stunned us with her amazing performance in Super Bowl, an annual championship game of the National Football League. Then, she attended Coachella in April and now, she is preparing to be her best at the Joanne tour in August. Whenever we look at any of her performances, her energy, and her looks, we wonder what workout and diet plan help her. If you have been wondering the same, then here are a few answers for you.
Workout Routine
The diva herself admitted that she works out a lot. She has a fondness for equipment like VersaClimber, TRX training straps, and Psycle, which is an indoor cycling fitness craze. When she is on VersaClimber, she sings to keep herself entertained. Hence, she mixes cardio while singing.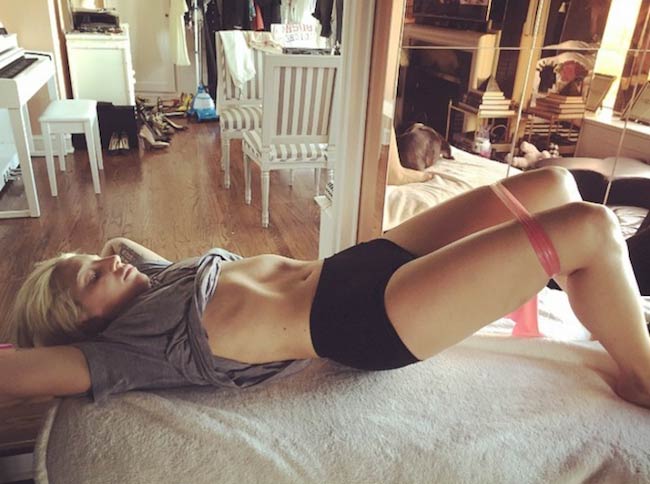 Psycle is an indoor cycling fitness craze that is used by celebs like Millie Mackintosh and Victoria Beckham. In a few words, it's a party on a bike because you are placed in a low-lit room that has multi-colored disco strobes and is sometimes plunged into darkness. Music is blaring out all the time which motivates you to perform a high-intensity workout that includes doing push-ups on a bike, weight lifting, high-resistance stretches, etc.
Rhian Stephenson, the CEO, nutritionist and lead instructor of Psycle believes that this exercise can help you burn 800 calories in one class. You just need to do it at least 3 times per week to see the results. It results in more energy, good mood, better food choices and makes you more inclined to exercise. The weights and choreography ensure that you work the whole body, build upper body strength, develop muscle tone, strengthen the core and have fun.
After this workout, you should have top quality protein as it will ensure muscle repair, carbohydrates that will replenish muscle glycogen (energy) and nutrient-rich greens which deliver sufficient vitamins & minerals. An ideal post-workout meal after a Psycle class should include some chicken or turkey, some sweet potato, brown rice and loads of vegetables. People who prefer to drink should use unsweetened plant-based milk, some protein, a few greens and a bit of fruit.
Pasternak Praises
Harley Pasternak who has been training the singing sensation for a long time now keeps praising her. He recently said that she is a proof of the fact that you always have time to work out.
Diet Secrets
The former personal chef of the actress, Bo O'Connor says that Gaga makes healthy diet choices particularly when she is on a tour. She accompanied her during her tour for Artpop where she avoided foods like Doritos as she had to put a very intense show. She depended on full-protein pasta that's made without flour, low sodium beans, and a few specified spices.
As an Italian girl at heart, Mother Monster likes red sauce or gravy and healthy version of pasta, quinoa or foods like that. During the tour for Artpop, her diet plan was as follows and we believe it would not be very different this time around.
Breakfast
Eggs or egg whites with loads of vegetables, fruits, healthy granola or occasional Greek yogurt were her breakfast options. If she craved French toast that was too sweet, the chef made a healthier version for her.
If she craved French toast that was too sweet, the chef made a healthier version for her.
Lunch & Dinner
She had options like burgers with ground turkey meat or ground chicken meat that were filled with herbs and spices to jazz it up.
Drink Preferences
To stay hydrated, the hazel-eyed beauty depended on tea and fresh coconut water. If she needed a pick me up, her childhood friend, O'Connor whipped up a hot drink with fresh ginger & turmeric and lemongrass that served as a perfect pick me up for her. She avoided processed juices and stuck to green juice made with spinach, kale, cucumbers, celery, lemon, and parsley.
Snack Preference
The songwriter liked to have GG crispbread crackers, rice crisps, pretzels, health bars, baked chips, nuts or a Bittersweet chocolate.
An Adventurous Eater
The Chef of Pomeroy Restaurant in NYC says that Gaga is an adventurous eater who is open to eating anything she likes. She also has some rare steak or a post-show whiskey. But generally, she stays away from anything that is super processed or made with white flour rather than whole wheat or whole grain.