Popular American country singer, LeAnn Rimes is in the best shape of her life. Having started singing from very young age, LeAnn was a chubby teenager. After being through wide oscillations in weight, the stunner has acquired amazing killer body. The hot babe is so much so flattered with her curvier figure that she doesn't allows to go any possibility to flaunt her pristine figure in ultra-tiny bikinis. Here are some of the diet and workout secrets of LeAnn which maintain her in trimmed and sculpted shape.
Boxing – Favorite Cardio Workout
Boxing is the favorite cardio workout of LeAnn, which she practices under the guidance of her fitness instructor. She hits gym three to four times in a week. After warming up her body with rope jumping for ten minutes, she practices boxing. Her instructor trains her about varied boxing moves which tones her butt, arms, legs, back, and stomach. Her taut stomach and pert butts testify the rewarding impacts of boxing. Besides sculpting her body parts, boxing also relieves her from stress and boosts the flow of adrenaline in her body.
Strict And Mostly Vegan Diet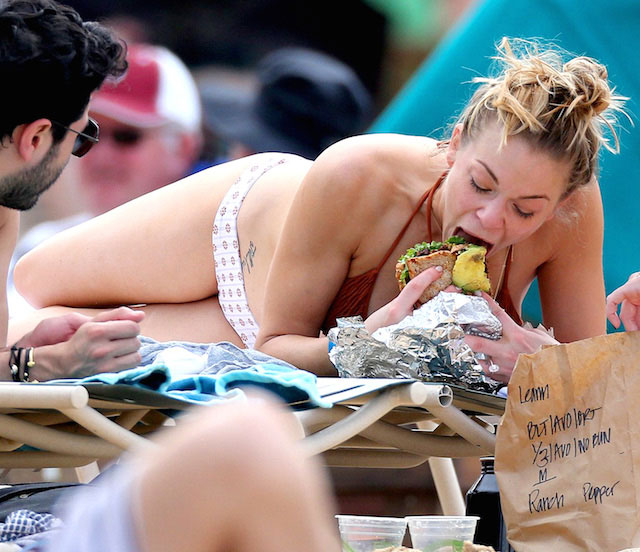 The sensational pop star swears by very strict diet regime. She mostly eats vegan foods particularly before her dinner. After banking on high fiber, green and leafy veggies for the whole day, she incorporates lean fish, chicken, salmon (fish family) etc. in her dinner. The fitness and weight conscious person doesn't consume fruits past three in the evening. She reckons, fruits being high in sugar cause spike in blood glucose. In the afternoon, since your metabolism is revved up, it doesn't face much intricacy in metabolizing sugar and high carb foods. While adhering to healthy eating habits for six days in a week, she allows her one cheat day in a week and relishes her adored foods such as pizza, fried chicken etc. on cheat days.
Workouts With Spouse
Workouts with partner can get you outstanding results. Since you both know each other in and out, you can better compete and pull each other out of your comfort zones. LeAnn adores executing workouts with her hubby, Eddie Cibrian. Working out with him makes exercise look like a fun activity to her, which besides dropping pounds from her body, invigorates her mood also. Moreover, her beau comforts her whenever she feels insecure or unhappy about her weight.
Lift Heavy Weights
LeAnn undoubtedly is a fitness enthusiast. When it comes to ripping her body through workouts, the blonde bombshell is prepared to do any exercise. She lifts heavy dumbbells to multiply the number of lean muscles in her body. Being slender and being in shape are two different things. And to LeAnn only slimming down is not sufficient, she believes in strengthening and providing shape to her body. Lifting heavier weights (along with proper diet) indeed makes fat burning and muscle formation process faster in your body.
Healthy Weight Loss Tips
Here are few healthy weight loss tips which will aid you in dropping weight faster.
Vivid Objective
Instead of making goal to shed ten or twenty pounds in a month, if you make not to overeat as your objective, you will better be able to assist your body in shedding weight. Since it's not the normal eating of unhealthy foods which cause you pack up surplus pounds, it rather is your habit of indulging in evil foods which hinder your way to losing weight.
Cautiously Pick Your Workouts
Most of us pick the workouts without mulling over them. Just like your exclusive outfits, your workouts too depict your personality. If the exercises you practice don't match with your personality, you are unlikely to reap the benefits from them. In today's time, myriad fun workouts such as hot yoga, ballet, zumba etc. are prevalent. Pick the ones which come in your fun and comfort zone. That being said, don't shun trying new workouts because you never know, some of them might actually go with your personality more than anything else.
Write Down Your Workouts
Nurture the habit of noting down your daily workouts and physical activities. If you find yourself doing fair workouts consistently for four days and more, appreciate you. However, if there is irregularity and hiatus of three days in your workouts, that shall be like a wake-up call for you. While paying attention to the signal, you shall perk up your workout routine.
Forbid Drinking Calories
Ever increasing trend of consuming high sugar and high calorie drinks not only bulk up your weight, it also screws your blood glucose. Renounce the consumption of sugary beverages such as alcohol, soft drinks, energy drinks, diet drinks, juices etc. Since sugary beverages easily break down into glucose after reaching inside your body, they are more harmful than high calorie solid foods. Instead of drinking them, drink lemon water with cayenne pepper. Besides detoxifying your body, the drink will also fire up your metabolism. With bumped up metabolism, you certainly will shed weight faster.