Refreshing and flawless beauty, Lyndsy Fonseca is an American actress. Best known for her roles in "The Young And the Restless", "Nikita", and "How I Met Your Mother," Fonseca is an outstanding actress. The stunner owns a perfectly slender and curvaceous figure. However, it's not her noble genes which maintain her in such an excellent shape.
Fonseca shares that she first encountered weight problem in her puberty. And when her bulked up body began creating obstacles in her acting career, she promptly decided to adhere to workouts to defy stubborn fat. And from that time onwards, the stunner has religiously been sticking to workouts. Fonseca doesn't deny the fact that exercises are primarily responsible for her well toned enviable figure.
The ravishing beauty being devoted to acting profession engages herself in all kinds of workouts to look smashing. For her role in Nikita, where she was playing the role of Alex, Fonseca was supposed to be equipped with immense strength and stamina. She spent numerous incessant hours in the gym. She worked out diverse workouts such as circuit training, tumbling etc. and kept doing them until her body totally surrendered. She also got formal martial art training from Jackie Chan and offered to do the heroic stunt scenes on her own.
Lyndsy Fonseca Workout Routine
Having embraced workouts from young age of nineteen, Fonseca heavily banks on workouts. Instead of executing targeted exercises, she prefers doing full body workouts. Being passionate to fitness, the kickass beauty inculcates vigorous cardio workouts such as running on treadmill, elliptical training, jogging, kettlebells, and several reps of push-ups. These cardio workouts strip off numerous pounds from her body and aid her in acquiring sleeker body. The hottie seems to be really enjoying her workouts, for she could be seen tweeting her image, in which she is running on treadmill.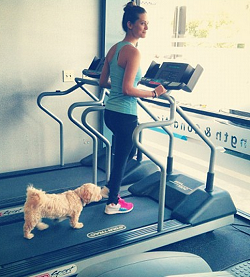 Apart from them, she also practices strength training which includes weight lifting. Strength training conditions and shapes up her muscles. When she witnesses herself in awesome curvy shape, it boosts her energy and inspires her to do them with enhanced enthusiasm.
Unlike most of the celebs, who embark on fitness regime in their early twenties, Fonseca is fond of dancing since her childhood. Her passion for dancing had her dance for eighteen hours in a week. However, since her body was addicted to the intense physical activity, she began bulking up as she stopped dancing. Among dance, tap dancing is her favorite. Apart from rejuvenating her mind, it also scorches myriad pounds from her body.
Lyndsy Fonseca Diet Plan
Since a working out body not adhering to balanced diet is unlikely to retain optimum weight, the pretty actress watches what she eats. To bestow adequate nutrition to her body, she incorporates copious low carbs, high proteins, and healthy fats in her diet. She immensely relies on big leafy salad. Apart from being high fiber food, the food item is dense in nutrients. Without piling up calories, the low calorie food item effectively beats her cravings.
Healthy Recommendation for Lyndsy Fonseca Fans
Here is one healthy recommendation for Lyndsy Fonseca fans seeking to acquire statuesque figure like her. Mostly women are disgruntled with their lower bottom and they try various kinds of workouts to hone it. However, there is one major inadequacy in their workouts which have them see no influence of their efforts. And that is – while doing workouts, they overlook the importance of strain. To shed weight, you shall experience strain on your gluteal muscles because pressure implies that your body is burning fat.
The most effective workout for toning your bottom area is bridge workout.
Procedure – Lie straight on your back and bend your legs from knees while your feet touching the ground. Now, raise your body while putting the entire strain on your butts. Keep stretching until your knees, hips, and shoulder make straight posture. Stay in the position for ten seconds and make fifteen to twenty reps. Doing workouts with correct technique add value to the workouts, and thus aid you in getting sculpted and toned body. In the same way, while doing exercises targeted to trim inner and outer thighs, you shall experience the pressure.