Bleary eyes, charming face, Malin Akerman is Sweden born Canadian model, actress, and singer. Having started her career from TV show Earth: Final Conflict, the blonde beauty acted in bountiful movies and TV shows afterwards.
The Utopian Society, Watchmen, Couples Retreat, Cottage Country etc. are some of the famed movies of Malin. The phenomenal beauty was voted as one of 99 Most Desirable Women by AskMen, and was included in the list of Hot 100 Women Ranking by Maxim magazine in 2008. She got crowned with numerous other titles like them.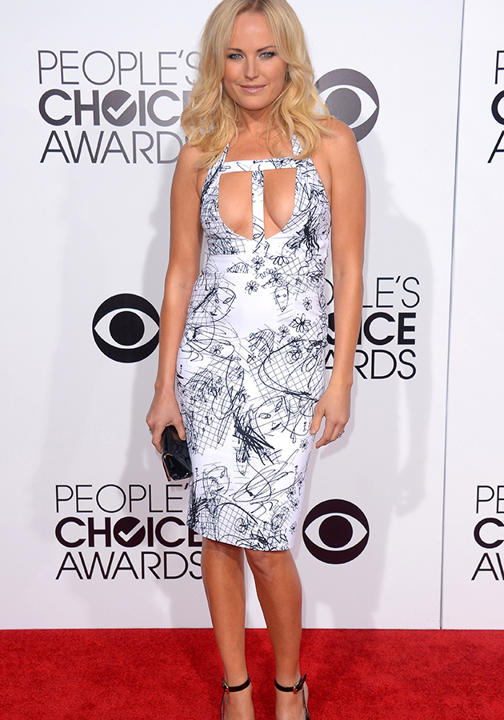 Married to Italian musician Roberto Zincone, Malin got blessed with her first child, son Sebastian Zincone in April 2013. Blessed with astonishingly sculpted bod, the sultry actress does not hesitate in giving n*de shoots.
Malin Åkerman Workout Routine
Totally in love with her svelte figure, the fab actress retrieved her figure with the aid of her regular exercise regime. Instead of embarking on new workouts, she torched pounds from her body by using the same workouts, which she used to practice prior to her pregnancy.
However, being mother certainly made her daily routine busier than it ever was. Bunch of months past the birth of her son, she began going out for brisk walking while dragging her baby in the stroller. Besides that, she also adores hiking and often went out for hiking along with her girlfriends or hubby. She usually executes her workouts thrice in a week. Without being monitored by any mentor, the actress practiced her workouts all by herself. However, she had received formal training of cross-training and other tough workouts from fitness expert in past.
Outdoor workouts undoubtedly allure the actress more than indoor ones. Among conventional workouts, she practices yoga, Pilates, running, hiking, cycling, cross training etc. Besides that, by introducing diversity in her workouts, she cut all the chances of her body stop shedding pounds. Dancing too was one of the workouts she practiced very often both to rev up her metabolism and to stimulate fat burning process.
Malin Åkerman Diet Plan
Along with workouts, diet also played a significant role in fetching the divine beauty bikini hugging figure. Just like her pre-pregnancy diet plan, she continued her healthy eating habits ever after becoming a mother. Since it didn't take the actress long to get back to work, she discreetly allocated her time to do all the pivotal things without creating a mess.
She always kept her refrigerator full to the door with fresh fruits and veggies. To keep her energized, she consumed five small meals in a day. Let's have a look at typical day diet routine of Malin.
Breakfast – Prior to breakfast, Malin began her day with nutrient dense green smoothies. The smoothies kept her invigorated and fresh until she had next meal of the day. While maintaining hiatus of twenty to thirty minutes, she had oatmeal, eggs, or omelet in her breakfast.
Snacks – She mainly had fruits, avocados, walnuts, smoothies etc. in her snacks.
Lunch – Malin consumed mixed green vegetables, lean meat, turkey, quinoa etc. in her lunch.
Dinner – The actress preferred having steamed fish, brown rice, green beans etc. in her lunch.
Despite sticking to wholesome foods, the sizzling actress cannot keep her away from chocolate, French fries, and steaks. She often eats them while maintaining their portion size small.
Healthy Recommendation For Malin Åkerman Fans
Malin recommends her fans, no matter what; endeavor to be happy in every situation. We all have our own share of bliss to celebrate, recognize them, and cherish the valuable moments spent in the company of your loved ones.
Malin shares, she is not very pleased with her unflattering legs and stomach, and she desperately aspires to taut them with exercises. However, she doesn't let these thoughts rule over her mind and allow them to make her worried all the while.
Although she does the best from her end to acquire her sought after body, but doesn't hang on to those desires so tight that they begin haunting her.  She reckons, we all have imperfections and since the word perfect doesn't belong to this planet, there is nothing wrong in being imperfect. Let go what you don't have, revere what you have, and delight will be all yours.