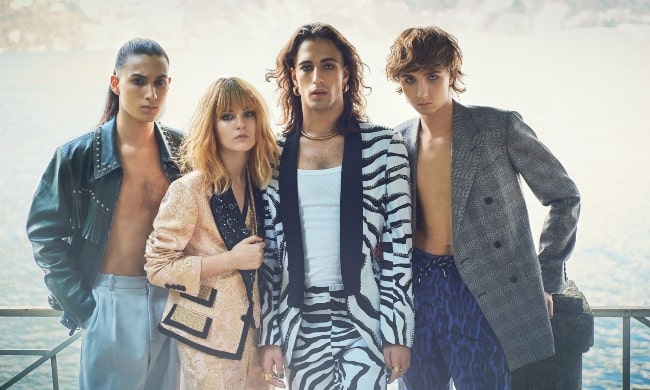 Måneskin is an Italian rock band that was formed in Rome, Italy in 2016. It was formed by vocalist Damiano David, bassist Victoria de Angelis, guitarist Thomas Raggi, and drummer Ethan Torchio. They got their big break after attaining #2nd place on the 11th season of the Italian talent show X Factor in 2017. They then went on to win the Eurovision Song Contest 2021 for Italy with the song "Zitti e buoni".
Members
Origin 
Rome, Italy
Genres
Pop rock, Alternative Rock, Glam Rock, Hard Rock, Classical Music, Black Metal
Labels
Formation Date
2016
Singing Portfolio
They released their debut studio album titled Il ballo della vita on October 26, 2018. It was released under the record label RCA Records. Some of the hit tracks from their album are Morirò da re, Torna a casa, Fear for Nobody, L'altra dimensione, and Le parole lontane.
Their style of music has been cited as "translation of the music of the past into modernity" and has been classified as pop-rock, alternative rock, glam rock, and hard rock.
The first album Il ballo della vita (2018) has a pop-rock sound with funk influences.
Their music has often been compared to the rock music of the '70s.
Måneskin Facts
Initially, Damiano, Victoria, and Thomas met one another in high school in Rome. Later, they met drummer Ethan who is from Frosinone after he had appeared in a line-up.
The band's name "Måneskin" means "moonlight".
Måneskin entered the 11th season of the Italian talent show X Factor in 2017, and they were guided by mentor Manuel Agnelli. However, they earned 2nd place behind singer Lorenzo Licitra.
After winning Sanremo Music Festival 2021, they were chosen to represent Italy at the Eurovision Song Contest 2021, which was held in Rotterdam, Netherlands, with Zitti e buoni.
The members of the band have cited their musical and fashion influences to be Led Zeppelin, Fleetwood Mac, Nirvana, Radiohead, Franz Ferdinand, David Bowie, Gentle Giant, The Rolling Stones and The Doors, Arctic Monkeys, Red Hot Chili Peppers, Harry Styles, Bruno Mars, R.E.M., Marlene Kuntz, Verdena, and Afterhours.
They appeared in their documentary titled This Is Måneskin in 2018.
In October 2021, they released their new single titled MAMMAMIA.
Featured Image by Måneskin / Wikimedia / CC BY-SA 4.0