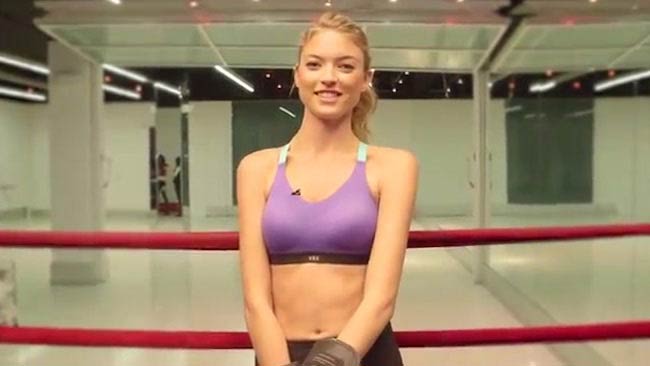 Martha Hunt is a popular model who walked in the recent Victoria's Secret show and took our breath away. If you are also impressed by her looks and confidence as a model, then you could rejoice now. We have got the details of her exercise regime and diet plan that help her look amazing on the ramp during that dazzling show. We also got to know about her workout motivators and diet indulgence secrets. Read on to know it all.
Diet Plan
Many people believe that models stop eating much food before a show and that's the secret of them looking so astounding on stage. Well, Martha has just proven them wrong. People reports that she eats more than usual during the days leading up to the show. She just focuses on eating clean about 72 hours before the show.
Spilling her diet secrets, she ensures that she has some protein in every meal.
Her breakfasts usually include some Greek yogurt or eggs.
In lunch, she enjoys sushi.
Her dinner usually consists of salmon or chicken or meat with vegetables as well as a few healthy carbs.
When feeling hungry between the meals, she snacks on peanut butter or almond butter.
Workout Routine
If you are thinking she eats more calories than necessary during her meals, then you should know that the extra calories help in keeping her energy up during intense workouts. Before the show, her workout routine consists of exercising 5 times a week for a span of 3 weeks.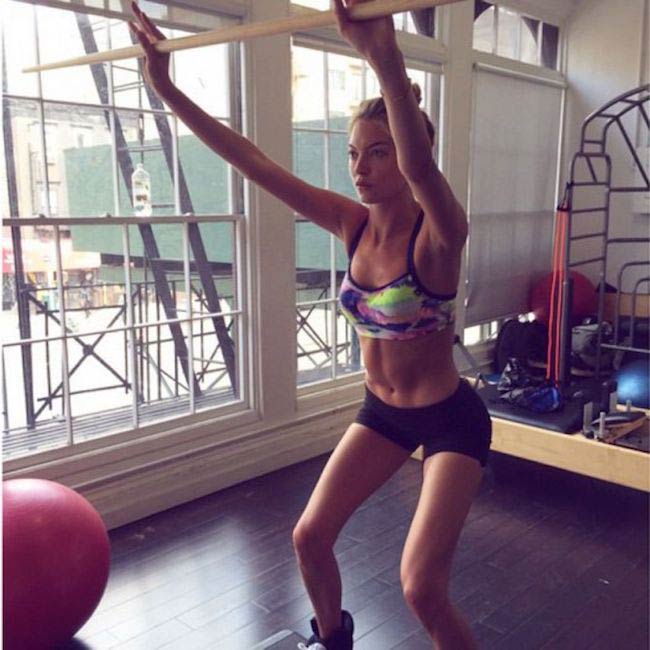 Workout Motivation
The biggest workout motivator of the diva is the fact that she will be going on stage in just lingerie. The hardest part for her is the first 10 minutes of every workout. Post that, she gets a new energy boost thanks to the endorphins. Workout also helps her to let go of the stresses of life and makes her feel good. So, the effort she puts in the gym is worth it for her.
The Unexpected Benefit
The aforementioned eating plan had given her an unexpected benefit. Her nails and hair were growing at a rapid pace than usual before the show. It was probably due to the fact that she was eating more protein and healthier foods at that time.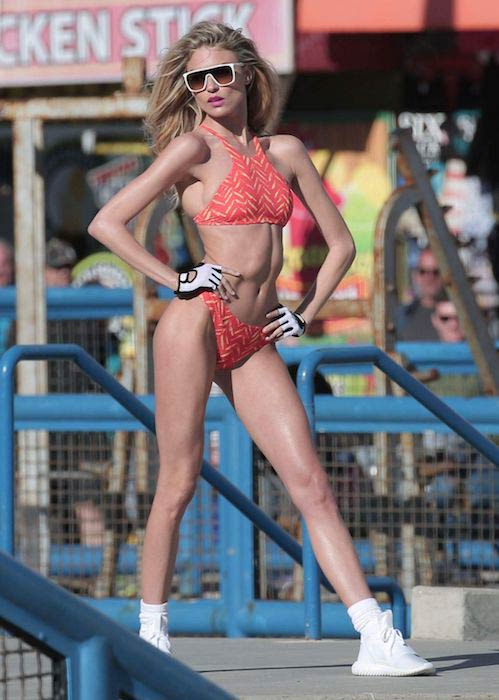 More Food Preferences
When the blonde bombshell is not preparing for the VS show, her breakfast usually includes a smoothie that is made with coconut oil, Greek yogurt, berries, flax, banana, almond butter and almond milk.
If she is working in the mornings, she opts for an omelet. If she is traveling, she buys an egg and cheese bagel from Blackseed Bagel. While cooking at home, she likes having Ina Garten's roast chicken with veggies.
Diet Indulgence
The American fashion model has some cheat days in which she enjoys some Dominos pepperoni pizza with extra sauce every once in a while. She also indulges in love Chick-fil-a. Talenti salted caramel ice cream and baked Cheetos are a weakness too. According to her, comfort foods are very important.
Post Show Celebration
As per InStyle, the hottie likes to join a traditional pizza party right after the VS show.
Self Confidence Advice
The star in the video of Taylor Swift's song 'Bad Blood' advises people to not focus on their insecurities. She wants you to know that your self-worth has nothing to do with your body shape. All female bodies are unique and beautiful. Your mind is more powerful than the body you have, so you should focus on it.
Be Proud of Who You Are
The ambassador for Free People has been dealing with scoliosis since last 13 years and it has given her a scar on her back and another on her lower right abdomen. Hunt says that she wouldn't be who she is without the scars, so she is proud of them. Furthermore, she urges her fans to be proud of who they are and should never feel embarrassed by the scars as they make you who you are. Imperfection is beautiful.