One of the most hottest and confident models of the Victoria's Secret 2015 show was Monica "Jac" Jagaciak. She hit the runway for the third time this year and she still worked out a lot and took some diet control measures to look great in the show. We think that she succeeded in stupefying her fans because the way she looked in the white feathers and furry earmuffs simply took our breath away and the colorful look was equally awesome too.
Now, if you are curious about how she prepared for those amazingly awesome looks, then here are all the details you might have wished for. Do enjoy reading them.
On Being an Angel
Fashion Weekly reported that Monica loves the challenge of being among the 10 famous angels. She was happy to be chosen and given the opportunity to be a role model for a lot of women spread across the world who watch the show. She also thinks that the role is a compliment and a responsibility at the same time. (Hmm…interesting thoughts, we must say)
Workout Routine
Vogue had earlier reported the usual workout routine of the star. Her fitness session begins in the morning when she does stretching, sprinting and running for 30 to 40 minutes on a daily basis. She thinks this habit will go on for her entire life as she adopted it early because she was born into a family of athletes and she spent a lot of her childhood inside a gym and a stadium.
You should know that her mother is a physical education teacher and her father is a jumping and sprinting coach in Poland. Even her older sister, Anna is a professional long and triple jumper. So, the diva also knows her body very well due to her background and she mostly decides what type of exercises will help her to stay in shape and what workout changes will suit her body.
She even takes help of her father to get fitness advice and spends a lot of time running with her family when she is at home. She likes doing jumps and sprints with her father and sister. (Aww…that's so cute)
Apart from running, the sexy model works out at least three times a week and mixes it up with exercises like yoga, cardio and Pilates. She recently started boxing after being inspired from her co-angel Elsa Hosk.
Travel and Workouts
As the celebrity has to travel a lot and she doesn't even know her future schedules, she only works out three times a week. However, when she has a day off, she definitely finds some classes to keep in shape and calls her trainer if he is free.
Too Lazy to Work Out?
When asked about whether she sometimes feels too lazy to workout, the stunner told Daily Mail that it does happen with everyone. But she has to work out no matter how lazy she is feeling because she is a Victoria's Secret model. (That's tough and we totally sympathize with her)
Diet Plan
The diet plan of the Chanel face is clearly defined. She likes to eat three proper meals in a day and eats some snacks in between too. (No starving.. we guess)
Diet Restrictions
She doesn't like having a lot of dairy products because she believes these products make her bloat and thinks these are not good for her body too.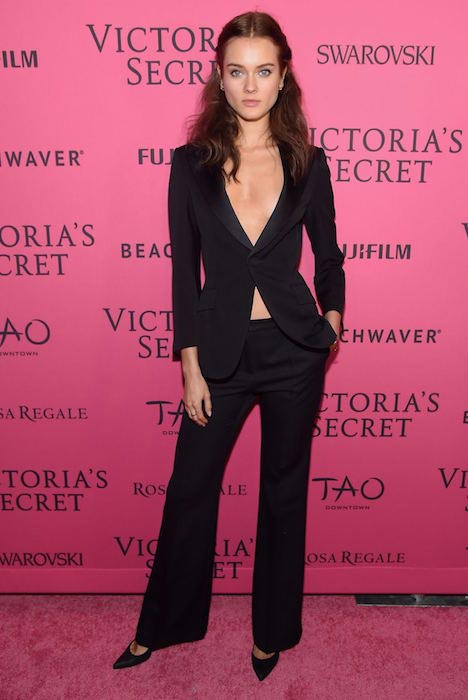 Diet Indulgence
The green eyed beauty loves having Italian foods like pizza and pasta. In fact, she enjoyed it this summer with other angels. She then worked out like an athlete to balance the scales. (Keep it up Jac!!!)
Stepping Up the Workouts
The brunette thinks that almost all the models that have contracts with Victoria's Secret like to keep in shape the entire year as they need to show their bodies off more often. But the actual hard work for the show starts just a month before the show (generally in October). That is when they realize that the show is coming and they have to step up their efforts a little bit.
Jac Jagaciak Workout for Victoria's Secret 2015
In an exclusive interview with Hollywood Life, the polish-born revealed that boxing helped her to prepare for the show. Though, she started it a long time ago, but the results she got for the show were amazing. Just before the show, she boxed every second day and added in Pilates in the days between because she likes working out every day.
Jac Jagaciak Diet for Victoria's Secret 2015
The gorgeous model always watches her diet but she doesn't starve herself as she always compensates her diet indulgences with extra fitness sessions. For the show, she stuck to eating a lot of healthy small sized meals.
Wish for more? Learn Victoria's Secrets Models' Diet for 2015 show or Victoria's Secret Models' Workout Routine 2015 as they also contain loads of secrets too.