Quick Fix Snack Plate
"The Hills" star Lauren Conrad swears by this quick, easy and delicious recipe. She says that it is just the right amount of proteins to get a little push and get energized.
Ingredients –
3 tbsp, red pepper hummus or any flavor of your choice
1 oz. sliced turkey (about 2 pieces)
½ cup sliced cucumbers
½ apple, sliced
Directions:
Prepare the turkey according to your choice, shredded or sliced. Arrange the other ingredients on the plate and serve! You can try different and delicious things like, stuff the turkey in between two apple or cucumber slices and spread some hummus in between. Round two, guaranteed! If you wish to keep it a low-fat snack, skin the turkey before consumption as most of the fat is stored in it.
Hummus is known to help better the functionalities of bones, muscle, skin and blood levels. Hummus helps lower cholesterol levels as well. It is known as one of the ingredients that help you lose weight, making it a great dish for foodies who are looking to lose weight.
Turkey is a good source of vitamin B6 and niacin, both of which are very good for a body's energy production. Turkey also helps lower cholesterol levels and keep insulin levels stable.
Apple is known to help to get a healthier heart, decrease the risk of diabetes and control your weight. Cucumbers are cooling, helps fight inflammation, manage stress and maintain a healthy weight.
Considering all the benefits of each ingredient, this dish is not only power packed with healthy goodness, but also helps in reducing and controlling body weight.
Healthy Rice Salad
Actress, singer and dancer Zendaya Coleman revealed her favorite go-to dish for the summers. She suggests that when you're having food from the grill, like BBQ chicken, swap the regular macaroni or potato salad with this yummy dish. It not only helps lose tons of unwanted and unhealthy fat, but also helps gain fiber and vitamins from the vegetables and brown rice.
Ingredients –
Required quantity of dry brown rice (approx 2 cups)
Vegetable broth (2 cups)
1 tbsp, olive oil
1 small diced zucchini
1, 8-oz package sliced mushrooms
1 small sliced onion
2 cleaned carrots
2 tsp lemon juice
Salt & Pepper
Directions:
Start with cooking the rice and use the vegetable broth instead of water. The flavors of the broth gets soaked in by rice, leaving a lovely taste to it. Set the rice aside for a while. Next, heat olive oil in a skillet on medium flame and add all the vegetables. Saute the veggies for about 3-4 minutes (over sauteing it could kill its potency). Add the rice and cook on medium heat for at least 5 minutes. Switch to low heat and let the rice cook until it is thoroughly heated through. Add the lemon juice, salt and pepper for taste. Let the preparation cool down for approximately 30 minutes, add the BBQ chicken steak on the side and serve!
The health benefits of brown rice are mind-blowing. As it is rich in fiber, it helps reduce high cholesterol level drastically. The fiber also helps in keeping blood sugar level under control, making brown rice the perfect for people with diabetes. As it is very low in fat, it also helps reduce, control and manage weight in a right and healthy manner.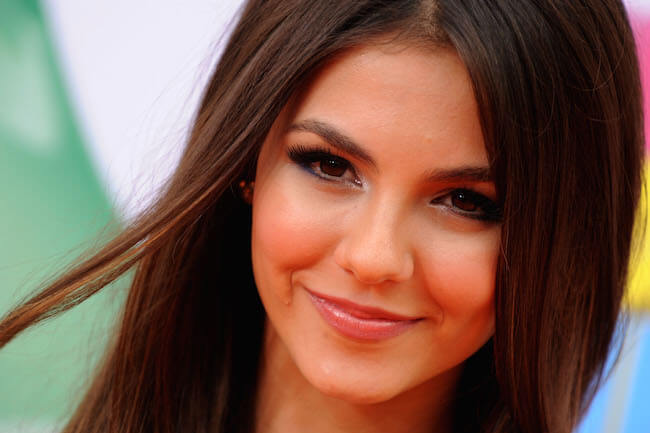 Peanut Butter and Banana Power Shake
Victoria Justice takes extra pride when talking about her favorite shake that she experimented with and tried to create herself. Although, there are many versions of this power shake, a secret ingredient in this particular one will blow your mind.
Ingredients –
8 oz. skim milk
2 tablespoon, peanut butter
1 sliced banana
¼ cup vanilla ice cream
Directions:
Peanut butter is healthy, filling and can become a dieter's new best friend. Peanut butter is full of heart healthy fat and is packed with nutrition. As it has a great combination of fiber and protein, it fills you up faster and keeps you feeling full longer!
Toss all the ingredients, except the ice cream into a blender for about 30 seconds. Then, proceed to add the ice cream and continue blending for another 30 seconds. Limit the duration of blending to about 1 minute and not more as the shake tastes better when creamy. Serve cold and sprinkle some chocolate shavings, if desired.
Miley's Favorite Mexican Dinner
As not many of you may know, Miley Cyrus is an ardent foodie. She confesses about feasting on anything that is delicious, however also makes it a point to eat healthy every alternate days. She works out on a regular basis which allows her to feast on not-so-healthy food eventually. Her favorite go-to cuisine is Mexican and she loves Quesadillas. To make this recipe less unhealthy, she switches a few ingredients with leaner stuff. Read more to find out how!
Ingredients –
2 whole grain tortillas
4 oz. baked or grilled skinless chicken
1 cup salsa
2 tablespoon non-fat sour cream
¼ cup corn
⅓ cup bell peppers, chopped
¾ cup low fat cheese
Directions:
One thing you need to understand is that any kind of meat with skin is fatty. Skinless meats are lean and full of proteins. Substituting flour tortillas with wheat tortillas will turn this entire meal around and make it healthy.
Start with pre-heating the oven to 350 degrees. Add the skinless chicken, corn, bell peppers and cheese to the top on one tortilla. Make a sandwich by setting the other tortilla on top of the ingredients. Bake this preparation for 15-17 minutes. Cut this into quarters or slices of your choice. Take out the top half of the tortilla and add the sour cream and salsa to it. Your delicious dish is ready to be feasted upon!
Dawn to Dusk Salsa
The vampire diaries actress, Candice Accola loves to eat light and when she does decide to do so, she turns to her favorite, dawn to dusk salsa. Unlike tomato salsa, this one derives its flavor from beans and cheese. The proteins from these ingredients will surprise you with its edgy and tangy taste while also making sure, you are full before you know it. Feasting on protein filled substitutes will keep you from devouring an entire bag of chips and your stomach will be full for a while. She also recommends using boiled eggs, sliced into little pieces that will convert this dish into a yummy Mexican-ish meal.
Ingredients –
8 oz. reduced-fat crumbled feta cheese
4 oz. jar roasted red peppers, diced
One 8 oz. package cherry tomatoes, diced
One 15 oz. can kernel corn
One 15 oz. can low sodium black beans
1 lime
Cilantro, for taste
Directions:
Take a large bowl and mix the beans, tomatoes, corn, cheese, peppers and cilantro with a thick, wooden spoon. Next, squeeze a lime to add the tangy and sour taste to the mix. Stir thoroughly for a minute amount to make sure all the ingredients are well mixed.
Pre heat the oven to 300 degrees and bake the tortilla chips for about 15 min. Bake up to 1 serving of the chips which is approximately about 15 pieces of it. Remove the chips from the oven and let it cool. Place the chips around your bowl for scooping and enjoy your healthy, fat free salsa!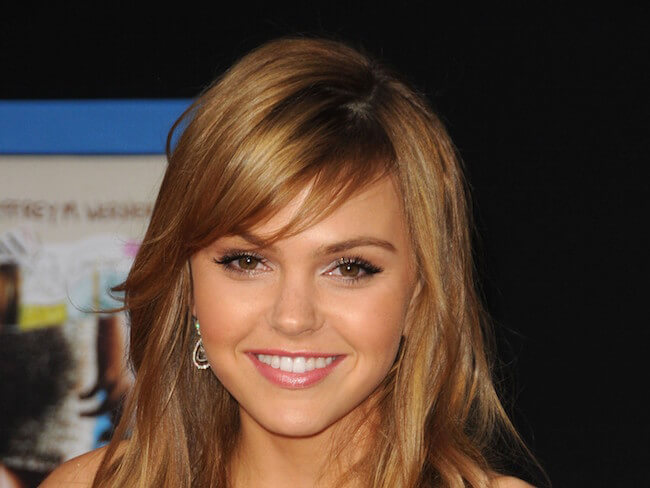 Vegetarian Hummus Wrap
Actress Aimee Teegarden's swears by this meal to be a great hunger buster. It is light and yet gives you proteins, you need from the vegetables. If you are looking for a quick and light lunch, 1 of these vegetarian wraps will be great in every way. She loves adding hummus and cheese to almost all her meals, thus giving her proteins that one could get from meat. Substituting meat with this wrap at least thrice a week will make sure you stay fit and keep the extra fat pounds away.
Ingredients –
One 8-inch whole wheat wrap
¼ cup low fat mozzarella cheese
¼ cup hummus
¼ cup sun dried tomatoes
¼ avocado, grated
1 cup fresh spinach
Directions:
As mentioned earlier, hummus is a great way to cater to both, cravings and health. It is fat free and filling at the same time. Low fat mozzarella cheese will make add the oomph factor to this dish while keeping fat intake on the low.
Spread the hummus on the wrap equally. If you love hummus, add another layer to it. The cheese can be prepared according to your choice, so slice or grate it. Add the cheese on top of the hummus (keeping it a little less would be better). Arrange the spinach, avocado and sun-dried tomatoes in the middle. Fold the bottom up on top of the fillings, fold the sides in and roll up from the bottom. This wrap tastes better when hot, however you can consume it cold, if desired. Heat the wrap for about 30 seconds in the microwave and slice it in half. Relish away!
That brings us to the end of all the delicious recipes that celebrities enjoy. As every individual has their own taste preferences, feel free to add or remove ingredients that you want. Eating healthy yet delicious food will make sure that you not only receive your proteins but pamper those taste buds as well.