If a simple housewife feels the pressure of getting back into pre-baby shape after having a kid, imagine the kind of pressure an international model would feel. A renowned Australian model, Nicole Trunfio who is known for her association with brands like Versace and Gucci also felt a lot of pressure to get her pre-baby body back, but she never bowed to it.
She became fit again to lead a happy and fulfilling life and has set an ideal example for women from all over the world. To know her fitness aims and secrets, simply scroll down.
Australian Model Nicole Trunfio 2018 Post Pregnancy Workout Secrets
No Pressure
The diva waited for 6 months after the birth of her little princess Gia to get back to work. She also didn't work out for 4 months.
Workout Secrets
The workouts that have helped Nicole, the wife of musician Gary Clark Jr. to get back in shape are walking, yoga and barre.
Workout Aim
The beauty says that her workout aim was not to be fit to be able to start modeling again. She worked out because she wanted to be a mentally healthy, physically strong person who can take care of her daughter.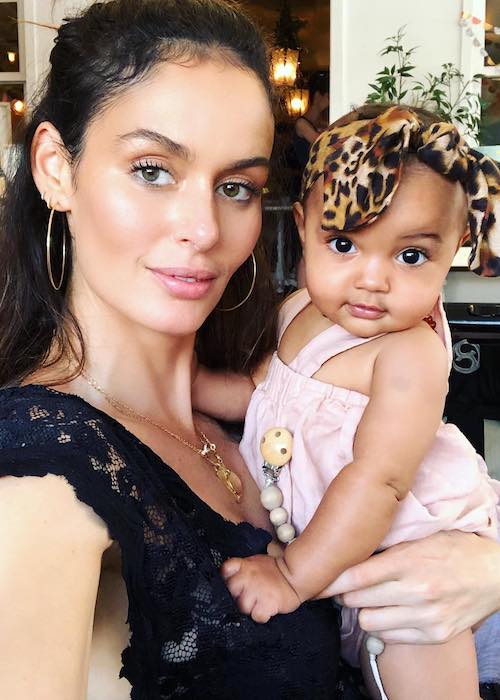 She agrees that getting back to workouts after birthing can be a challenge and asks all the women to support each other if someone is in that situation.
Working with the Baby
The mother of two is shooting for Chadstone these days, and her little munchkin accompanies her to the sets. She has been breastfeeding between the shoots and says that she is proud to be a woman and a working mother.
Proud of Breastfeeding
This is not the first time that the brunette has shown a liking for breastfeeding. She made headlines in 2015 when she was seen breastfeeding her son Zion during a shoot for Elle magazine.
Balancing Work and Family Life
Trunfio says that her approach to her career has changed since becoming a mother because she is planning for the future and working smarter rather than working more.
Fitness in LA
The stunner splits her time between LA and Texas (where she lives on a ranch). She says that living in LA is better from the fitness point of view as she can go to a gym easily and order food from Postmates.
Baring it All
Nicole who is also the CEO of Erth Jewelry celebrated her latest pregnancy in style as she agreed to semi n*de pregnancy photos. In the pictures, she was just wearing jeans and is cradling her bare baby bump. This shoot clearly says that the gorgeous woman has no self-confidence issues and is comfortable in her skin (which we should all aim for).
Penning Down Her Thoughts
To help all the expecting mothers, she is writing a book about pregnancy and childbirth which we hope will provide more details on how she manages to be so fit even after having two kids.
Featured Image by Nicole Trunfio / Instagram