Nikki Blackketter Quick Info
Height
5 ft 0.75 in
Weight
51 kg
Date of Birth
February 23, 1990
Zodiac Sign
Pisces
Eye Color
Dark Brown
Nikki Blackketter is an American social media influencer who gained online fame first as a Fitness YouTuber in 2014. She is a Gymshark sponsored athlete who transitioned to vlogging and gaming content in 2019. Her gym selfies on Instagram has gained her millions of followers. She has a huge social media fan base with more than 2 million followers on Instagram, more than 200k followers on Twitter, and more than 800k subscribers on YouTube.
Born Name
Michelle Nicole Blackketter
Nick Name
Nikki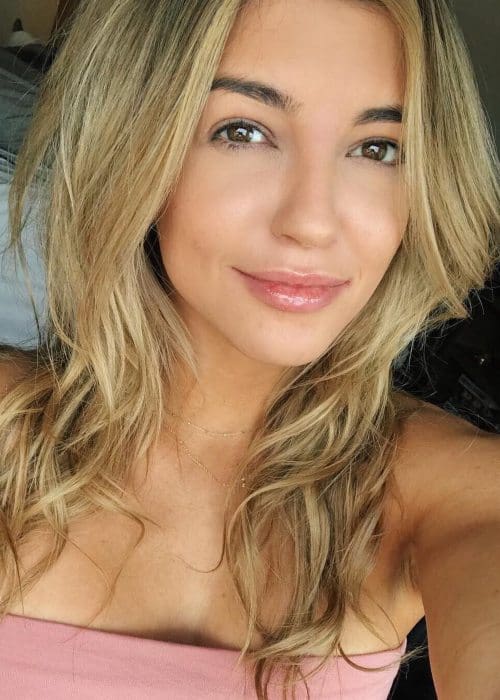 Sun Sign
Pisces
Born Place
Houston, Texas, United States
Residence 
Los Angeles, California, United States
Texas, United States
During her childhood, she resided in Alaska, North Carolina, and Illinois.
Nationality
Education
Till her high school graduation, Nikki lived in a small country town. She usually scored in the top ten of her class. She graduated in 2008.
Nikki moved to San Antonio, Texas at the age of 18 to enroll in community college. Nikki applied to creative writing courses in a few colleges and got accepted. Her grades were high enough to enroll at any good public university. But, she did not have a lot of money to spare and could not justify the cost of studying a course without a clear professional aim in her mind.
While studying at community college, Nikki started bartending, waiting tables, and participating in promotional events and eventually dropped out as the demands of her job increased.
Occupation
Fitness YouTuber, Vlogger, Sponsored Athlete, Social Media Influencer, Entrepreneur
Family
Father – Nikki has never met her biological father and only knows him by his details on her birth certificate.
Mother – Robin Denise Dickey née Syfrett (Operating Room Registered Nurse at Guadalupe Regional Medical Center)
Siblings – Russell Blackketter (Older Brother) (Studied Aerospace Ground Equipment Technology at Community college of the Air Force and formerly worked as a Technician)
Others – William Troy Dickey (Stepfather) (Works at Zachary Group Construction company in Texas), Joe Syfrett (Maternal Grandfather), Patricia Ann Syfrett (Maternal Grandmother), Kelly Syfrett (Maternal Uncle), Shelby Dicky (Half-Sister), Cheyenne Dickey (Half-Sister), Savannah Dickey (Half-Sister), Sydney Ann Dicky (Half-Sister, Savannah's Twin) (Expired in 2013 at the age of 8)
Manager
Nikki is represented by Gleam Futures Digital Talent management agency.
Build
Athletic
Height
5 ft 0.75 in or 154.5 cm
Weight
51 kg or 112.5 lbs
Boyfriend / Spouse
Nikki has dated –
Nathan – In a July 2016 video, Nikki talked about relationship baggage where she admitted dating an English guy named Nathan for 2 years. She did not give away information about his last name or profession. Nikki shared that she bought her ex-boyfriend, a white Ford Fiesta in her name while they were still dating. After they broke up, her ex-boyfriend was caught driving under the influence of alcohol (DUI) that eventually got him deported to his country. She later found out that Nathan had not made payments on his car in 8 months that radically ruined Nikki's credit score.
Christian Guzman (2014–2016) – Nikki and fitness YouTuber Christian first got to know of each other when they participated in the same bodybuilding competition. Christian later found Nikki online, and the two became friends. They started dating in 2014 when Nikki also started her YouTube channel. Christian was often spotted in her videos in the background. The couple first showed signs of drifting apart for a brief period in 2015 that blew over quickly. They broke up a few days before each other's birthdays in February 2016. Since Christian was the one to initiate the break-up, Nikki was left blindsided. The two ran into each other again at the Los Angeles YouTubers Retreat in August 2016. They posted pictures together at a beach in Hawaii on their Instagram accounts in September 2016 to announce they were officially back together as a couple. Merely a month after renewing their relationship, Christian created a YouTube video accusing Nikki of betraying his trust and hence confirmed the end of their association. To give her side of the story, Nikki created a (now deleted) video in which she spoke about one night of drunken fooling around with another guy in May 2016. The person she got involved with was possibly one of Christian's close friends. Although Nikki withheld that information from Christian initially, she later came clean, but Guzman did not handle this information very well.
Miles Sullivan (2017–2018) – Nikki was introduced to Miles at a nightclub in Los Angeles by their mutual friend Sterling just a few days after she moved to Los Angeles. They first met in February 2017, at the club and went out on their first date on March 6, 2017. Although Nikki was hesitant to get into a serious relationship, the two started spending so much time together that becoming an exclusive couple was inevitable. Professionally, Miles runs a digital and affiliate marketing agency in Venice Beach, California as well as creates rap music on SoundCloud. The two even got matching tattoos on their wrist. They did not move in together but started living in the same apartment complex. The couple broke up in June 2018. Since their break-up was amicable, they continue to see each other because as of 2019 they were still residents of the same building.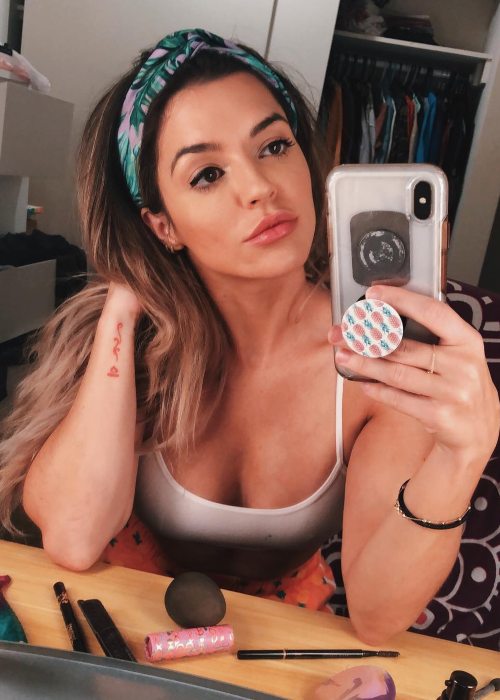 Race / Ethnicity
White
She has American, German, Scottish, and English ancestry.
Hair Color
Dark Brown
She often tends to dye her hair 'blonde'.
Eye Color
Dark Brown
Sexual Orientation
Straight
Distinctive Features
Short, Curvaceous and athletic build
Measurements
As of 2018 after Breast Augmentation surgery and another Breast Augmentation revision procedure, her measurements are 35-25-35 in or 89-63.5-89 cm.
Shoe Size
5.5 (US) or 36 (EU) or 3 (UK)
Brand Endorsements
She was a former business partner in Alphalete Athletics when she was still dating Christian Guzman.
She is the first female to become Gymshark brand ambassador.
Nikki promotes Alani Nu nutritional supplements, a sub-category of GNC.
She is a Cellucor sponsored athlete.
She also sells athleisure merchandise with her name's logo.
Nikki is an affiliate marketer for MVMT on Instagram.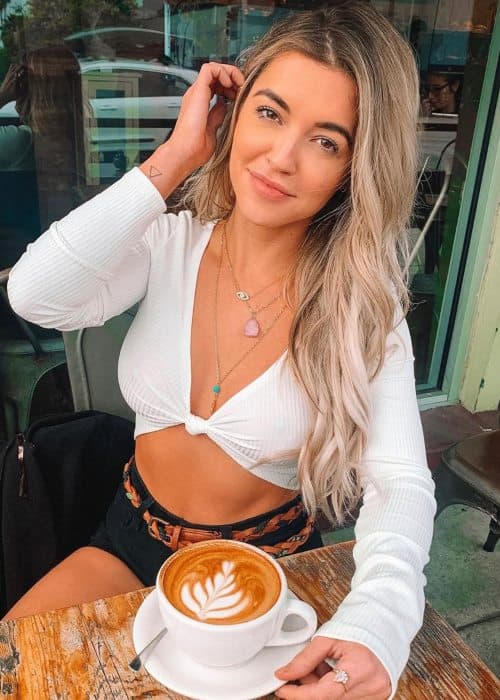 Religion
She comes from a Christian family.
However, as an adult, the YouTuber has not discussed her religious views.
Best Known For
Creating Fitness related content on YouTube since 2014
Her career as a Vlogger and gaining a massive following on Instagram, Twitter, and Facebook
Personal Trainer
Nikki frequently shares that she played no sports in high school. She never participated in school sports like volleyball, basketball, soccer, gymnastics or dance and never even ran until the age of 21. Her high school PE credit was participation in the school marching band. She justifies lack of early physical activity as the reason behind her clumsiness while performing some exercises even as a Fitness Youtuber.
She was typically a party girl who liked to drink a lot in her teens. Tired of frequent hangovers and the way her body felt, Nikki was inspired by the sight of new age fitness models in the late 2000s because they were lean, feminine, and muscular.
She started lifting weights at the age of 22 and started competing in shows to train for specific goals within an end time in mind. In the early years of her training, she used to train legs 3 times a week and upper body 2 times a week.
After her breast augmentation surgery, her doctor advised her to stop training her chest because she felt uncomfortable whenever she attempted to train that body part. Once her YouTube career gained traction, Nikki took time off from competing and hired another YouTuber Omar Isuf to create a powerlifting plan for her so she could gain more strength on compound lifts.
Between bulking and cutting, Nikki's heaviest weight has been 120 lbs. Although she went through a phase of being skinny fat in her teens, she never really underwent a radical physical change in terms of body weight. Her weight usually fluctuates within a 10 lb range. Her leanest body fat percentage was 18% while competing. After she stopped competing, Nikki was happy to maintain around 25% body fat. When she gains weight, the Youtuber tends to hold fat around her love handles, back, and hips.
Most days, Nikki likes to plan her own workouts and trains the body parts she feels like training. She primarily focuses on her lower body. Occasionally Nikki takes to High-Intensity Interval training but prefers steady state cardio on most days. Her preferred cardio machine is either the Stair master or the Treadmill on a steep incline.
Nikki has been through phases of extreme dieting while competing and hence prefers to eat intuitively ever since she stopped participating in fitness competitions. She understands how to estimate portion sizes keeping in mind the macro requirements and corresponding calories.
She usually adds Splenda or Stevia to her coffee. Carbonated drinks help her curb cravings. While residing in North Hollywood, Los Angeles, she usually trains at No Limit Training Facility.
Nikki Blackketter Favorite Things
Starbucks Drink – Iced Triple Shot non-fat latte
Sneakers – Nike Air Max
Quote – "You can be the ripest, juiciest peach in the world and there's still going to be somebody who hates peaches" – Dita Von Teese
Soft Drink – Sprite Zero, Sparkling Ice Black Raspberry
Fruits – Pineapple, Blueberries
Post Workout Meal – Rice and chicken
Vacation Spot – Hawaii
Movie Snacks – Reese's Big Cups, Peanut Butter Snickers, Chips and Salsa
Alcoholic Drink – Tito's Vodka mixed in Sprite, Red Bull or any other soft drink, Red Sangria
Pokemon Character – Vulpix
Pizza Toppings – Pineapple, Red Onions
Harry Potter Book – Harry Potter and the Prisoner of Azkaban
Color – Red, Teal, Deep Blue
Holiday Places – Any place with a good beach
Swimsuit Brand – White Fox
Weapon In Fortnight Game – Blue Tab
TV Shows – Arrow, Flash, Game of Thrones, Law & Order: Special Victims Unit
TV Channel – HGTV
Workout Music – Dubstep, Gangsta Rap
Meal Of The Day – Breakfast
Breakfast Foods – Waffles, Eggs, Oats, Bacon
Playstation RPG Game – Final Fantasy 7 or 10
YouTubers – Philip Defranco, PewDiePie, Whitney Simmons, Patricia Bright
Gym Shoe Brand – APL Techbloom
Workout Resistance Bands – Grace Fit UK
Pre-Workout Flavor – Rainbow Candy (Alani Nu Pre workout)
Gadget To Accompany Steady State Cardio – Nintendo Switch
Face Wipes Brand – Simple
Sports Bra Brand – Gymshark
Hair Accessory – Pony-O hair band
Source – YouTube, Simplyshredded.com, Gymshark, YouTube, YouTube, YouTube, blondevsworld.tumblr.com, YouTube, YouTube, YouTube
Nikki Blackketter Facts
She does not get addressed by her birth name Michelle, anywhere. Nikki became her official name because her mom always addressed her with that name.
She had buck teeth in high school and had to lose 8 adult teeth to get braces and even them out.
She is a natural brunette who likes to color her hair blonde even though she claims it is a very high maintenance process.
In 3rd grade, she wanted to be an Egyptologist because she loved the movie The Mummy (1999). She wanted to be a Zoologist in 5th grade because, at that time, she was obsessed with animals. In 8th grade, she wanted to be a writer which remained a professional inspiration for a long time until the end of her teens.
Her first job was as a bartender at Olive Garden where she worked for a year and a half. While attending college, she was a waitress at Grimaldi's for 4 years.
She had a nose piercing and a lip piercing in her teenage years. From the age of 16 to 21, she also used to wear a belly button ring. Nikki labels that period as her rebellious phase.
She used to have deep forehead wrinkles, crow's feet and laugh lines around her mouth at the beginning of her fitness career. Later, she started using Botox and under eye fillers since the age of 24 to mitigate the appearance of what Nikki shared was a hyper-expressive face. She has also admitted to using lip fillers.
Nikki has 6 tattoos on her body. Other than the two on her wrist, she got all her other tattoos from the age of 18 to 20. She has a wolf with wings below her left rear deltoid and a quote on her midriff that says, "all that we see or seem is but a dream within a dream." Nikki has Japanese calligraphy drawn on her lower back, which means, "each moment only once, respect the past, create the new and live in the moment." Nikki later got a dragon drawn around that calligraphy. She has a miniature world map drawn on the inside of her wrist. Nikki got a fire tattoo in red at a Balinese ritual while on holiday in Bali. Her then boyfriend Miles also got the same tattoo on his wrist.
The fitness YouTuber's Pineapple obsession started when she joked about her bun, looking like a pineapple in one of her videos. Christian Guzman gifted her pineapple stuffed animal after they got back together in the perpetuation of that inside joke. Once their relationship ended for good, that same stuffed toy appeared in the background of another video of Nikki's, hanging from a noose. After that, her followers continued associating her with that fruit. Hence, Nikki eventually made it a part of her logo.
She owns a pet cat named Maximus Prime.
If she ever stopped creating YouTube videos, she would like to turn manager for other content creators.
To view her merchandise and products visit @ itsnikkib.com and nikkiblackketter.com.
 Featured Image by Nikki Blackketter / Instagram