Novak Djokovic is one of the most iconic players who has been making history on the tennis court for a long time now. He ruled the tennis courts from 2011 to 2016 and held the credit of winning 3 out of 4 Grand slams in 2011. Though he is an internationally renowned player who had to take care of his fitness to be able to play well, Novak has had some physical and mental health issues in the past. What were the issues and how he solved them? Read on to know.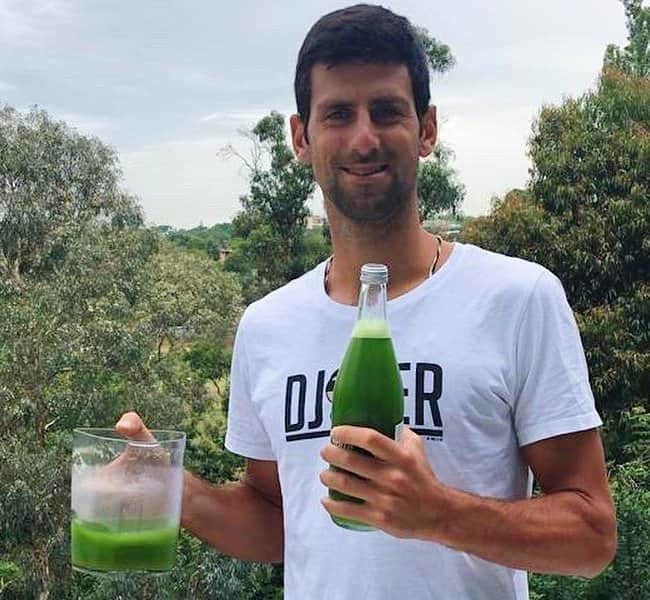 The Health Issues
During the 2010 Australian Open quarter-final, the health issues faced by the star player became apparent because he faced a fiscal crisis, was drained of strength and had trouble breathing. He also vomited violently during a toilet break and lost almost all his energy. As a result, he lost the match to Jo-Wilfried Tsonga.
The Diagnosis
Novak was lucky because a nutritionist, Dr. Igor Cetojevic was present at the match and suspected that the breathing difficulties faced by the player were a result of an imbalance in the digestive system. He consulted with the player later on and found out that Djokovic had gluten sensitivity. More blood tests showed that he was also wheat and dairy intolerant while being mildly sensitive to tomatoes. The results motivated the star player to eliminate cheese and bread from his diet while reducing his tomato intake too.
Diet Secrets
Within 2 weeks of going gluten-free, Djokovic saw the benefits of the change as he felt lighter, more full of energy, and had a better sleep pattern. Within 12 months of the change, he felt mentally sharper, more energetic, and healthier. Now, he follows a dairy and gluten-free diet and has reduced his sugar intake. His diet consists of beans, white meat, nuts, fruits, fish, seeds, lentils, chickpeas, and healthy oils.
The Dedication
The sports star's dedication to health is quite as commendable as his performance on the tennis court. He has some great control over himself and doesn't overindulge. This was proved in 2012 when Novak was playing against Rafael Nadal in the Australian Open and craved chocolate that he hadn't eaten 18 months before that. When his physiotherapist brought him some, he just had 1 square and left the rest of it.
Sample Diet Plan
Most of the diet changes made by the international celebrity are mentioned in his book, Serve To Win. He has also shared a sample diet plan for 3 days in the book that's mentioned right here for your benefit.
Day 1
Breakfast – Water followed by two tablespoons of honey and some muesli that has gluten-free rolled oats, raisins, cranberries, almonds, and sunflower or pumpkin seeds
Morning Snack – Crackers or gluten-free bread with tuna and avocado
Lunch – Gluten-free pasta primavera with a mixed greens salad. The Pasta Primavera includes rice pasta, sun-dried tomatoes, summer squash, courgettes, vegan cheese (optional), and asparagus.
Afternoon Snack – Apple with some cashew butter or melon
Dinner – Kale Caesar salad that includes quinoa, kale, fennel, and pine nuts. The dressing was sardines or anchovies. It also includes salmon fillet with skin on with marinade and roasted tomatoes.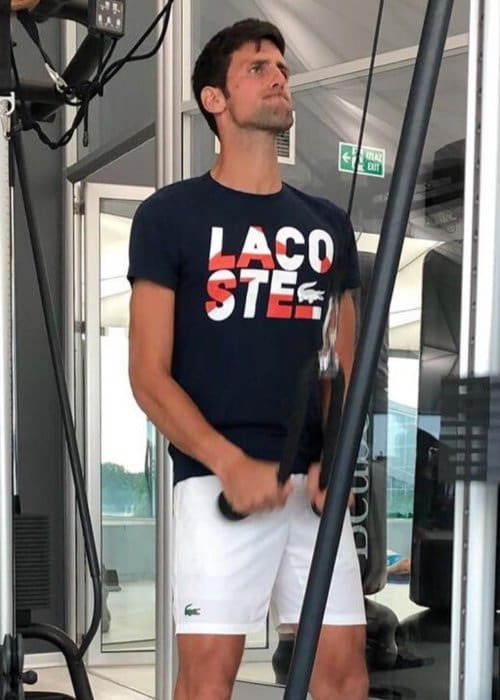 Day 2
Breakfast – Water followed by two tablespoons of honey and banana with cashew butter and some extra fruit
Morning Snack – Gluten-free toast with honey and almond butter
Lunch – Spicy soba noodles salad with gluten-free soba noodles, rocket, cashews, red bell pepper, basil leaves, and some spicy vinaigrette. He also has some mixed green salad.
Afternoon Snack – Fruit and nut bar
Dinner – Tuna niçoise salad with tomato soup, and roasted tomatoes. The salad includes red pepper, green beans, cannellini beans, rocket, tomatoes, and canned chickpeas.
Day 3
Breakfast – Water followed by two tablespoons of honey with gluten-free oats with bananas and cashew butter or some fruit
Morning Snack – Home-made hummus with crudites or apple and home-made hummus (made with gluten-free soy sauce and chickpeas)
Lunch – Gluten-free pasta with power pesto that includes basil leaves, rice pasta, walnuts, and mixed greens salad
Afternoon Snack – Fruit or gluten-free crackers with avocado
Dinner – Mixed green salad with home-made dressing and avocado or carrot and ginger soup or whole lemon roasted chicken
Combating Extreme Stress
Gebhard Gritsch who works as Novak's trainer has shared that the player has a clear mind and knows what he wants. He has found motivation and love for tennis and competition. In 2016, he had a mental hole that was a result of taking extreme mental stress over the past few years. His dedication and thirst for a win helped him to beat extreme stress and be a mentally strong player again.
Featured Image by Novak Djokovic / Instagram