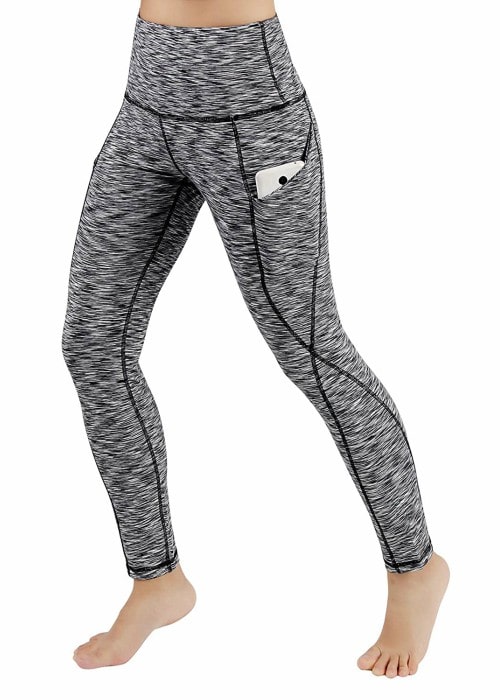 Yoga is one of the best ways to stay fit and healthy. Many people prefer doing yoga over other exercises because it gives lots of physical and mental health benefits. Yoga not only keeps you in shape but it also helps to burn calories, increase your flexibility, improves posture, and mental well being. To do yoga, you need to know the right positions. Whether you are going to the gym or doing yoga watching videos at home, you need the right attire to exercise comfortably. A good yoga pant is necessary for doing yoga. It should be breathable, stretchable, and comfortable. You should be able to do any pose easily wearing it. There are lots of yoga pants in the market that are both stylish and functional. Here, we are going to review the Ododos Yoga Pant for women and find out why it is one of the top-selling yoga pants in the market today.
Design
You can choose from more than 40 designs and 21 different colors like white, black, blue, pink, red, and more. Some have solid color; whereas, others are textured. You can choose between solid, heather, and space dye designs. You can select between full-length and quarter-length pants too. You can get these pants for all sizes. It has a high waist design, so you will be comfortable lowering your body for any yoga pose, without showing your skin.
The pant is very affordable and if you want you can buy a couple of them. The pant will fit you perfectly and it feels very comfortable on the waist. You will be able to do any kind of movement wearing it as the pant is easily stretchable. It has an outer pocket where you can keep your mobile phone, keys or other important accessories while working out. You can wear these pants when going to the gym or studio, and even when going to a restaurant. The design is such that you can wear it anywhere and still look stylish.
Build Quality
This super stylish and durable pant is made of 87% polyester and 13% spandex blend. It has an elastic closure which makes it convenient to wear the pant and also comfortable to wear. It is made of 4-way stretch and non-see-through fabric. It is a perfect outfit for yoga and any exercise and is suitable for everyday use. The fabric removes moisture from the body, thus providing maximum comfort. The pant is extremely durable and it won't tear or rip easily.
Size
You can get the pant in various sizes from extra small to XXX-large. The pant fits the body perfectly, giving you a streamlined look. You can have a great time doing yoga as the pant allows flexible movements.
Comfort
The pant is made of fabric that feels comfortable to the skin and you can exercise for a long time wearing it. It is a high-rise, so it won't show off your skin while stretching your hand or lowering arms to perform various yoga movements. Overall, you get maximum coverage while stretching or bending. It has a wide waistband that won't show off your muffin top.
Ease of Use
The pant has an elastic waistband, so it's very comfortable and easy to wear. The pant will fit you perfectly and allow various movements comfortably. You can wear pants for yoga and other exercises as well. You can also wear them as casual wear to dinner or other places. The pant is high in the waist which ensures that you won't have to hesitate to bend anymore. You can bend perfectly without showing any skin.
Effectiveness
These pants are not only something you wear to look good while doing yoga in the gym or at home. It also compresses, shapes, and lifts the body which helps to keep the muscles warm and so the person wearing it can perform at her best. You can do any type of yoga pose with it whether it's bending, stretching, or other difficult movements. As it is high in the waist, you will feel very comfortable wearing it while doing the difficult yoga poses. The pant is suitable for doing other exercises also. You can wear them as casual wear anywhere. As the pant comes with pockets, you can keep your smartphone inside the pocket while working out. So, you can listen to music when doing yoga or other exercises. You can also call or receive text messages in between your exercise sessions.
Pros
You can find it in many colors and designs.
The fabric contours to the body perfectly, providing a streamlined and attractive look.
It has 2 side pockets and 2 easy-access leg pockets to keep your smartphone and other accessories.
It is made of a durable material that won't tear or rip easily.
It feels soft to the skin, so you will be able to work out comfortably for a long time.
The material is breathable, so you won't sweat.
The pant is stretchy, so you can do any movement conveniently.
As it is high in the waist, you can bend comfortably without showing off your skin.
The elastic waistband ensures that you have a snug fit.
It is affordable.
You can get it in different sizes and so the pant is perfect for anyone.
You get a 100% money-back guarantee.
Cons
The material may be see-through when it is stretched tight.
Some people think that it's too high in the waist.
Final Verdict
You can perform various yoga poses comfortably wearing these pants. This yoga pant comes in various colors and styles. It is made of high-quality materials. So, you won't have to worry that the pant might tear after some time. You can use it comfortably for a long time without any complaints. The material of the pant is stretchable, so you can bend your body comfortably wearing it. The pant has received a lot of positive reviews and it is undoubtedly one of the best yoga pants you will find in the market today.