Crowned with Miss Universe 2012, Olivia Culpo indeed is blessed with angelic and captivating beauty. 5 ft 5½ inch supermodel has perfectly svelte and bikini-embracing figure. Owning to her ingrained love for music, the brunette could also be seen performing at Carnegie Hall in New York City and Symphony Hall in Boston.
The stunner shares, she was not always slender, in-fact; she used to be chubby in her childhood. And she faced several humiliating situations due to being plump. It was later while growing up, when she acquired all the sexiness and panache. Her regular workouts and healthy diet regime certainly aided her in attaining the world-class beauty.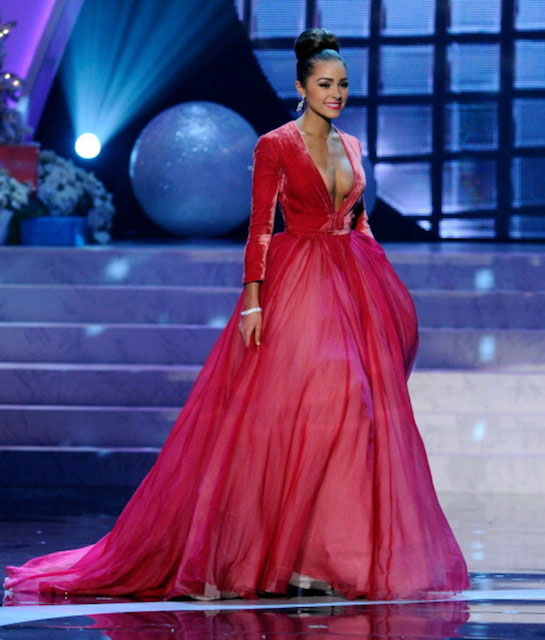 Olivia Culpo Diet Plan
Unlike numerous other celebs who comprehended the significance of foods in their late twenties, Olivia embarked on a sensible diet regime very early in her life. Tanya Zuckerbrot, nutrition expert orchestrated diet plan for her, when Olivia was grooming her to win Miss America title.
Her nutrition expert devised her diet plan very meticulously while maintaining balanced nutrition as her supreme priority. Low carb, high protein, and healthy fat foods are the parts of her diet regime. The sizzling model keeps having small meals after every three hours. Granola bars, pistachios, almonds, walnuts, sesame seeds etc. are some of her adored snacks.
She also counts on high fiber foods such as fruits, vegetables, whole grains etc. High fiber foods have a great capacity to keeps you gratified for a longer duration. The insoluble fiber of fibrous foods keeps your metabolism busy for five to six hours. As a result of which, you don't experience appetite. Besides that, insoluble fiber imbibes all the toxins and fats from your body and detoxifies your body.
Among the list of low-calorie food items, the supermodel chooses antioxidant food items and incorporates plenty of them in her diet regime. Antioxidant food items such as Spinach, broccoli etc. are parts of her diet regime, which she prefers having in steamed form in her lunch or dinner.
She also relishes microwave-baked sweet potatoes with Greek yogurt and cayenne pepper. For protein nourishment, she relies on hard-boiled eggs, lean meat, green beans etc. She steers clean from sugary and high-calorie beverages.
Olivia Culpo Workout Routine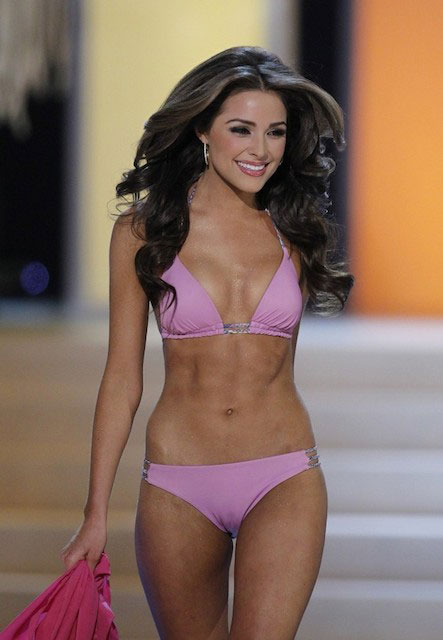 The elegant beauty practices grueling workouts to tone her body parts. She spends six days in a week on workouts and practices cardio workouts and strength training. Her toned arms, legs, flat stomach are the testimonies of toning exercises practiced by her.
While three days of her week are reserved for cardio workouts, she practices strength training for remaining three days. Running, swimming, and dancing are her favorite cardio workouts for which the exquisite beauty is always ready. Among dances, she is in love with zumba dance.
Olivia shares, although she is regular in her workouts, but she seldom pushes her too hard to practice them. When her body is too fatigued to do them, she allows it to have rest. However, after dedicating one complete day to rest, she engages her in workouts with doubled zeal and fervor from the very next day.
Healthy Recommendation For Olivia Culpo Fans
Are you one of the fans of Olivia Culpo and wish to have poised and elegant look like her?
Well, you can create radical difference in your look by working on your posture. The first thing supermodels are supposed to do is practice abundant posture exercises. You might have noticed one thing. Some people are extremely beautiful, but still, they fail to look appealing, because there are flaws in their walk or posture.
You indeed can imprison the eyes of people by having an erect and graceful posture. Here are two exercises, which you can practice to improve your posture.
Stability Ball – Sit on a stability ball and then lean in the backward direction. Your back should thoroughly touch the stability ball. Now, endeavor to touch the floor with both your hands while lying on the ball. This exercise will straighten your spinal cord without making it susceptible of being injured. You can make ten to twenty reps in a day to create an impact.
Arch Rock – Lie flat on your stomach. Take your arms straight in the forward direction. Now, raise both your legs and arms in the backward direction. Repeat the exercise twenty to thirty times.