Olivia Munn 2014 Workout and Diet
Hazel eyes, sassy style, Olivia Munn is an American model, comedian, actress, author, and TV personality. Credited with the curvaceous and lean body, Olivia has figured out the secret of being in shape. The gorgeous star never fails to look sizzling hot.
However, not being belonging to the category of naturally slender celebs, the stunner discreetly eats her meals and performs workouts to be in curvy shape. Just like all other celebs, Olivia too has been through an array of makeovers. She, in particular, clutched the gaze of Hollywood when she shed 16 pounds from her body in mere 60 days.
Olivia Munn Diet Plan
For abiding by healthy eating habits, Olivia figured out her own principle "If I can't see it, I don't eat it", which means she opted out of the food items, and ingredients, which were indefinite to her. For instance, had she watched some healthy looking food item such as baked chicken in the grocery store, but its ingredients were not mentioned on the packaging, she better skipped the food item.
She only ate foods, which she knew were actually healthy and nutritious to eat. The diet belief followed by Olivia is practical as well as realistic to abide by. To her, health is paramount, and she seldom succumbs to any fad diet program just to melt a few pounds from her body. She rather adheres to far more committed as well as rewarding approach and that is consumption of wholesome foods. Let's have a look at one of the typical day diet regime of Olivia Munn.
Breakfast – Olivia consumes grapefruit juice, two sliced tomatoes, one mango, and four boiled eggs in her breakfast.
Lunch – She prefers having chicken salad, burger with lettuce etc. in her lunch.
Snacks – Her choice of healthy snacks include green olives with seeds, jellybeans, almonds, peanuts etc.
Dinner – She likes having organic turkey with chopped veggies, pinto beans, Greek yogurt, celery stick etc. in her dinner
Olivia not only drinks tremendous water in a day but also stays discreet about the timing of drinking water. Since one glass of water prior to meals lessens your tendency to consume foods, she drinks one glass of water before both her lunch and dinner. Drinking water at first place in the morning is a superb tool to detoxify your body and rev up your metabolism.
Olivia Munn Workout Routine
Olivia admits, she doesn't adore workouts and exercises are like compelling factors to her, which have to be practiced because they promise you to have a great sculpted body. To keep her inspired and in high spirit, the brunette has lately hired a personal trainer and executes her workouts under his supervision.
She mostly counts on Pilates, which actually is superb workout meant to build up your core strength. Unlike other tall female celebs of Hollywood, the stunner being not very tall pays surplus attention on improving her posture. And Pilates not only improves her core, but also makes her body look erect and elegant.
Besides that, she adores dancing and practices tough dance moves in the company of her friends. To make the dance more alluring and thrilling, she does weird dance steps and imitates boys. The stunner practices dance twice or thrice in a week for forty-five minutes and feels breezy and wonderful after it.
Apart from the aerobic workout, the pretty star is averse to cardio workouts such as running, hiking, cycling etc. She has ingrained contempt for these workouts and doesn't wish to practice them even when there is a strong need to practice them.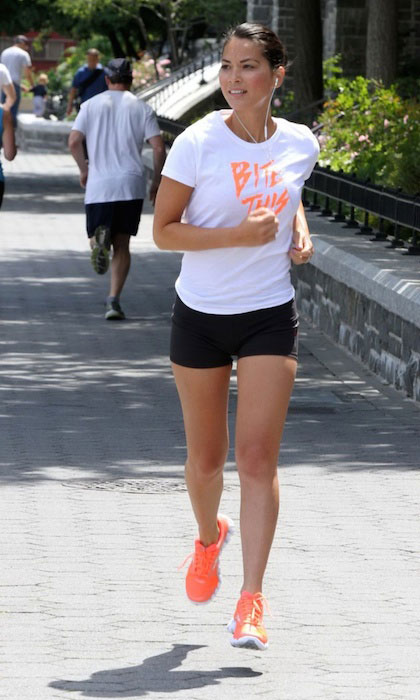 Healthy Recommendation For Olivia Munn Fans
Do you seek to have a sexy shaped up body like Olivia Munn?
Well, since workouts need one to have strong willpower and dedication to manifest pleasing results, try to do your workouts while being accompanied by your friends. Weight loss being contagious in nature spreads faster than fire and can have you swifter results than you normally would have not been able to get.
Research also braces the fact that when you perform workouts in the group, the weight-loss made by team members not only inspires them, it also motivates rest of the team members to scorch pounds. Besides that, when you get appreciation after shedding pounds, it doubles your zeal and aids you in acquiring your sought after cellulite-free figure faster.