Paulina Gretzky, the blooming model, daughter of renowned hockey player, Wayne Gretzky and fiancee of famous golfer Dustin Johnson has joined the list of new moms who shed off their post pregnancy weight pretty quickly. She is very forthcoming with her experience as a new mommy and explains how her fitness routine has changed after experiencing motherhood. Her fiance, Dustin Johnson who dotes on both the mother and their son, Tatum Gretzky Johnson inspires her to stay fit too.
Feeling Relaxed
If the story published in Inquistr is to be believed, the super hot model is totally relaxed after six months of delivering a baby. She posted a picture in which she was holding a green juice and wrote "lounging" as a caption. Well, we must say, it's great to see her this much relaxed and fit because every new mom can't manage to achieve this feat. Good Going Gal!!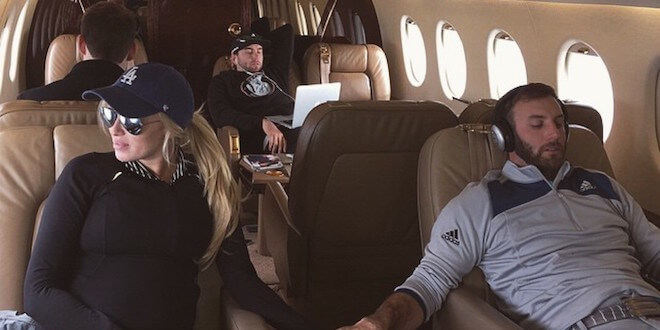 Getting Inspired
The stunner has admitted that she gets a lot of inspiration from people around her as everyone who matters in her life is so fit. She also gets a lot of motivation from the love of her life and follows some of his fitness fundas. The fitness technique of Dustin, she loves the most is his dedication to stretching. She insists that stretching is a vital part of workout for both, men and women, so she follows Dustin's lead there.
Crediting the Genes
Earlier, Gretzky has also admitted to Golf Digest that she is genetically blessed, which plays a key role in her great looks. She tells people to look at her parents before asking about her splendor as their magnificent looks are gifted to her from her birth and she seems proud of that.
Exercise a Lot
The beauty believes that everyone should learn the art of fitting in some exercise in their routines, no matter where they are or how busy they are.
New Exercise Approach
The new mom has stated that being a mom changed her exercise approach a lot. She clarifies by saying that she used to spend a lot of time in running and kickboxing, which played a significant role in maintaining her figure. But now, she is so busy that she rarely finds time for both the exercise methodologies. So, her new exercise methodology is to do workout videos on a daily basis.
Everyone Should Find a Workout Video
The dazzling model is also very keen on promoting the workout videos. She thinks that every person who can't go to a gym on a regular basis should just open up YouTube and find a workout video that's suitable for them. It's just that simple. We must add that she is not promoting a specific fitness guru, which is pretty impressive.
The Pregnancy Routine
The new dad, Dustin Johnson had shared the daily routine of their new life with Golf.com. He said that they are focusing on living an uncomplicated and happy life. When Paulina was pregnant, their daily routine included having breakfast and dinner with the Gretzky clan. They also enjoyed many quiet nights where he and Paulina curled up in front of the TV and Paulina munched on celery sticks which was her most loved pregnancy craving.
We think that the couple is succeeding in making a good life for themselves and we really wish them luck.
If you want to explore the previous workout routine and diet secrets of the blonde bombshell, then you don't have to go anywhere else. Just click here to refresh your memory on how Paulina maintained her great looks before she became a new mommy and had to change her fitness routine a bit.