Abdul Rashid Salim Salman Khan or more commonly known as Salman Khan (sallu) is an Indian film actor, who got success with the blockbuster "Maine Pyar Kiya" in 1989. Salman Khan is 46 and still a bachelor. He is very generous and kind-hearted too and runs a foundation "Being Human" to help the underprivileged.
Salman Khan Workout Routine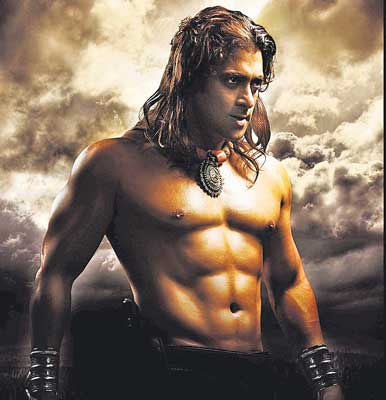 Salman Khan has very intense workout routine. He sometimes have to workout at 2 am or so, due to his busy schedule. He never misses it. His body also shows his dedication and discipline, which are the two pillars of his success. Khan works out for atleast 3 hours daily. Due to his best body in Bollywood, he has been seen in opening ceremonies of the gyms and other body-building advertisements. He recently inaugurated NITRO Pure Fitness in Thane, Mumbai.
Salman is a fitness freak who focusses on his biceps, triceps and abs, while in gym. People may think that this is the steroids' effect but this is not the case with him. Salman Khan does unbelievable stuff like 1000 push-ups a day or 2000 sit-ups a day, says his fitness trainer, who has trained Salman for over 6 weeks.
He is a very tough guy and to keep his abs in shape, he does 500 crunches, chin-ups and pull-ups. Really, he is not a normal guy. I mean, his stamina and endurance have reached the other level. So, it is not recommended to imitate him blindly. If you are a beginner and want to have a body like him, do these exercises but starting from a small figure (For example, 10 push-ups a day).
This is called `old body-building style`. He also has a great love for cycling, which is his the main cardio-vascular exercise. He cycles for atleast 10 km a day.
Salman has now become a great instructor also in Bollywood. He trained Katrina Kaif for "Dhoom 3" movie. He suggested Kaif to focus on cycling and swimming. He has also transformed Arjun Kapoor (from 140 kg to 72 kg; Arjun is the son of film producer Boney Kapoor. Arjun did his debut as an actor from the 2012 movie "Ishaqzaade") from fat to fab. There are not only two, but other instances as well, where Salman proved himself as a good trainer.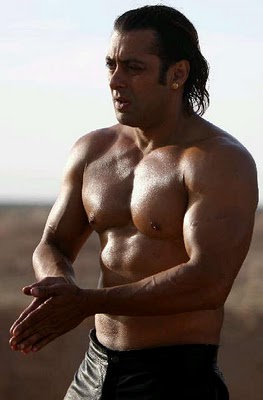 A great care has been taken to prepare Salman's workout schedule, which is as:
Monday/Wednesday/Friday
He focus on Weight Training.
Salman warms up first by doing jumping, squat thrusts and push ups.
Then, he moves to dead-lifts to develop leg and back muscles.
He does Bench Press – both (flat and inclined) for developing chest and triceps area.
Next, shoulder push press.
Perform 10 -15 reps, 6 sets for large muscles like the chest and generally 6 to 8 reps, 5 sets for smaller muscles like the arms.
End with a cool down by slow running on treadmill.
Tuesday/Thursday/Saturday
Cardio and abs exercises are also important and this is what he does in these 3 days and Sunday is meant for just cardio.
He starts with running on a treadmill for 15 minutes.
Next, he does a abs circuit with crunches, reverse crunches, back extensions and side planks. These are done 25 time each in a circuit. Do 3 circuit with a gap of 5 minutes in each circuit.
Next comes the sit-ups, as already told he does 1000 times.
He does cardio for 1 hour.