Shruti Haasan is the daughter of veteran film actor Kamal Haasan and prominent actress Sarika. Despite being a star kid, she has successfully created her own fan base in a very short timespan. She first tasted success with Telugu Film Gabbar Singh (2012), which was followed by a series of hit Telugu films such as Balupu (2013), Yevadu (2014) and Race Gurram (2014).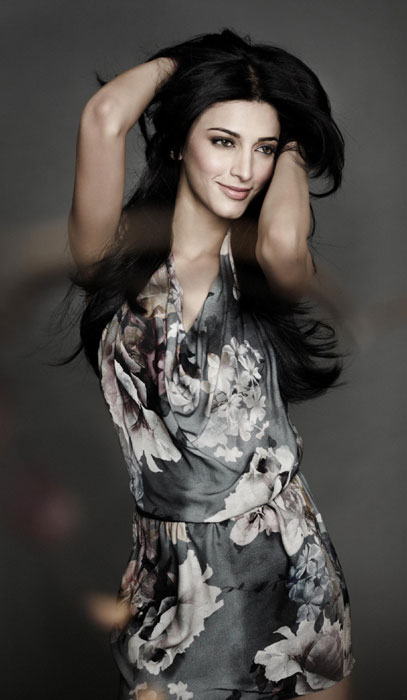 Before shining bright in Telugu films, she acted in Bollywood movie Luck (2009) with actor Imran Khan, which unfortunately tanked at the Box Office. Currently, she is trying to establish a foothold in Bollywood with upcoming films like Main Gabbar, Welcome Back and Rocky Handsome.
Apart from being an actress, this gorgeous lady is also a singer, lyricist and musician. Chennai Times Most Desirable Woman 2013 was bagged by Shruti Haasan. You must have noticed how awesome she looks? Read on and know the reason behind her fitness and health.
Shruti Haasan Workout Routine
Treadmill: The good looking actress does not like to spend time in a gym, but she still goes to a gym regularly to keep her body in shape. She is very fond of running on a treadmill and does so as often as she can. Running on a treadmill will give you the opportunity to map your own progress towards fitness. A treadmill is also recommended for people who have just started off with their workout routine, as it is quite easy to manage alone too. Have a look at some cool tips that will make your workout on the treadmill a piece of cake.
Cardio Exercises: The talented actress also admitted doing some cardio exercises to stay fit and active apart from running and dancing (mentioned below). We have collected information on 3 simple cardio exercises that anyone can do at home and enhance his or her fitness levels. Do watch this interesting video to know more about these simple cardio exercises that can work wonders for your body, if done regularly.
Dancing: Shruti feels that dancing is one of the best exercises. You should dance on your favorite song numbers and do your favorite steps. After all, you dance to keep happy, right? There's no point in dancing mechanically just for namesake. Just remember to take it as a pleasure activity and not a monotonous task that needs to be ticked off. The stunning actress spends at least 45 minutes (4 days a week) and loves every moment of it. If she can manage it, surely you can too. Do read the health benefits of dancing mentioned by everydayhealth.com to get a little more motivation.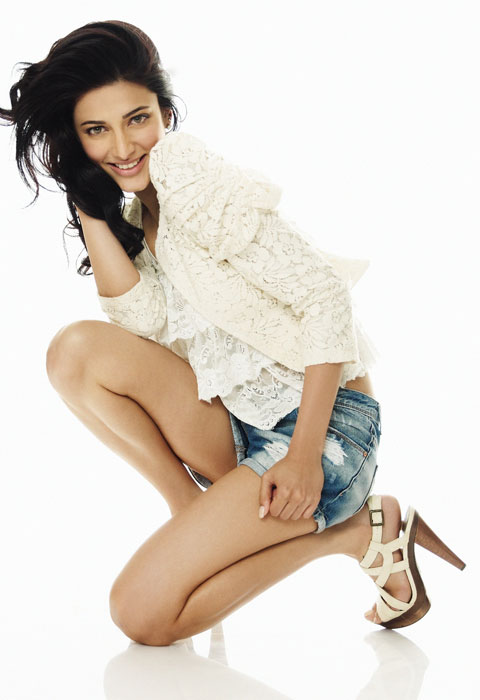 Shruti's Diet
Like most of us, the Kolaveri Girl has tried her luck with ideas like crash dieting in order to lose weight. But, she believes that she understands her body now and accordingly controls her diet. She had taken assistance of an expert nutritionist in the past to get an idea about what suits her body.
As of now, she is just working out and consuming food items as per her own understanding and has been doing great with it (Keeping in mind her gorgeous figure, we surely agree). Here are some of the diet habits of this star that you can implement in your own plan.
The versatile actress believes that skipping breakfast is a big mistake. She used to do it in the past, but has gotten over this bad habit.
She has a weakness for ghee-laden sambar and potato curries.
Egg, muesli, fruit or idli are her breakfast preferences.
The favorite drinks of this actress are coconut water and watermelon juice, which she prefers specially in the summers.
Keeping a balance between protein and carbohydrates intake always works. So its time that you start noticing the nutritional value of everything you consume.
Words of Wisdom by Shruti
She believes that we all should eat well and workout regularly to get rid of the excess fat and calories. She suggests that we all should understand the needs of our body, in terms of diet and workout and fulfill these needs accordingly.
So, the secret revealed by this breathtaking actress is to understand what works for you and then you just need to follow it thoroughly.