American beauty, Sophia Bush indeed is one of the sexiest actresses of Hollywood. Bush portrays the image of gorgeous woman who is also blessed with amazing intellect. Apart from being a talented actress, she is also a social activist, and an active member of numerous social campaigns.
After being in marriage with Chad Michael Murray for a year or so, the couple split in 2006. Even after going through so much so in life, her zeal for life is nowhere down. Problems and snags of life have been unable to defy her love for life. She thoroughly enjoys her life the way it comes.
Sophia Bush Diet Plan
Having very explicit views about diet, Bush is hundred percent for healthy and balanced diet. She is among the actresses who despise the idea of starving their body to acquire lean figure. Bush being mainly vegan inculcates plenty of green and leafy vegetables in her diet.
Simply in love with foods, Bush relishes all kinds of foods. That being said, she doesn't go wild and eat like a beast. Comprehending the fact that refined foods do no good to your health, the fabulous actress refrains from them. Besides that, restricting the number of calories is no more than a crap to her. She is a follower of five-factor diet plan.
Five-factor diet plan is actually a superb diet program. Reason being, instead of restricting myriad foods from your diet, the diet solution allows you to eat great array of foods. Besides that, there is also provision of two cheat days in a week. Cheat days have been sufficed by the plan to keep check on your cravings and drill your taste buds to develop your penchant for healthy foods. Let's have a look at one of typical diet regimes of Bush.
Breakfast – Bush begins her day with oatmeal, skimmed milk, and yogurt with apples, strawberries, blueberries etc. dipped into it.
Snacks – She prefers having fresh fruits such as grapefruit, pear, peach etc. in her snacks.
Lunch – Her lunch contains steamed brown rice with curry paste, spinach, coriander powder, black pepper used as ingredients.
Dinner – She prefers having broiled chicken breast, tuna, salmon, sugar-free orange juice, steamed green beans etc. in her dinner.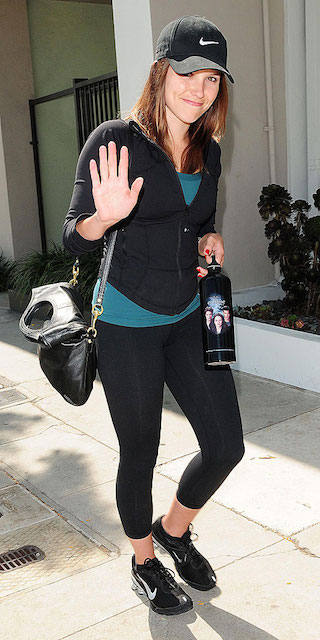 Sophia Bush Workout Regime
Being very concrete about workouts, Bush pays special attention to her workouts. She believes in bringing her body in curvy shape through workouts. The brunette hates running. And there is very convincing reason behind her contempt for running, and that is her asthma. The gorgeous actress is victim of asthma right from her childhood.
However, despite that, she participated in half-marathon in 2011 for a noble reason, which was to collect funds to conserve nature. She had to work pretty hard for that. She started running with fifteen minutes and eventually built strength and stamina to run for longer duration.
Instead of working out in gym on diverse equipment, Bush prefers doing outdoor workouts. She practices diverse outdoor exercises to burn calories. Her personal trainer, Jason Walsh tells about her passion for kickboxing. In addition to that, she also practices resistance training with the use of dumbbells.
Owning perfect feminine figure with supple body, attractive actress bestows the credit to yoga and Pilates. Both these exercises have immensely assisted her in making her body flexible.
Healthy Recommendation for Sophia Bush Fans
Are you one of the fans of Sophia Bush and wish to acquire fascinating sculpted figure like her?
Well, you can certainly do that by developing judicious eating and exercise habits like her. You can embark on five-factor diet plan, which is her all time favorite diet solution. The diet program is low in carb, low in fats and high in proteins. Flexibility of the diet program will prompt you to abide by it forever.
The best part of diet solution is, the recipes recommended in it are easy to prepare and are not very time consuming. Without dedicating much time on cooking, you can conveniently adhere to it. As far as exercises are concerned, just like Bush, you too can opt to abide by weight training. Weight lifting tones your muscles and amplifies their number. More the number of muscles you will have, faster the calorie burning process shall be in your body. Moreover, you don't have to make several arrangements to execute them. All you need is buy a set of dumbbells and get started.