Tiffiny Hall 2018 Spring Diet Plan and Fitness Advice
Tiffiny Hall likes spring season a lot because the supermarkets have loads of bright and beautiful looking fruits and vegetables. She thinks that eating what's in the season is very cheap and healthy because you get what's in demand and what will be good for your body.
For her, having a healthy meal is all about having foods that nourish her body and meet her cravings. Have a look at her exact diet plan right here to learn how to eat well. You should also scroll down further to know her fitness advice on how to reduce bloating. Believe us, it's certainly worth a few minutes you spend on this article.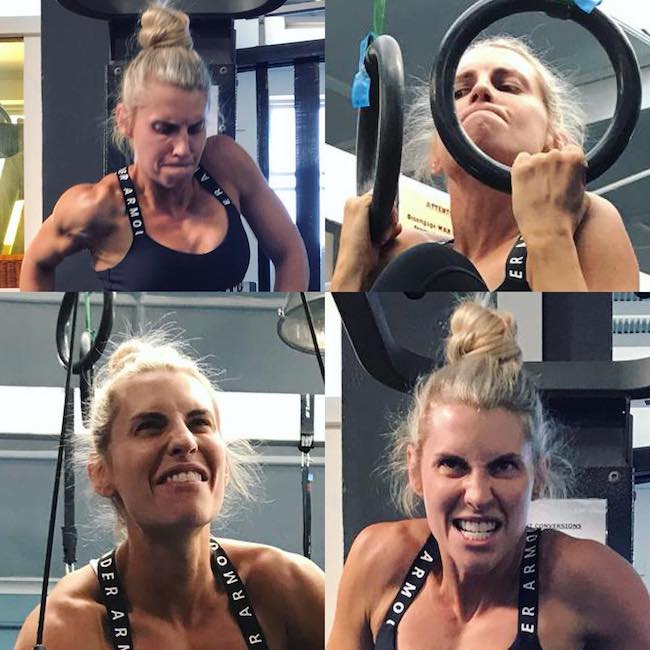 Diet Plan
Breakfast
The stunner starts her day with fresh vegetables by adding loads of green veggies to a morning smoothie. The smoothie is loaded with protein to ensure she keeps going all day. She drinks it in reusable vintage glass and adds a straw to make the smoothie look more appealing.
Lunch
Contrary to the popular beliefs, the fit mom doesn't like boring salads in lunch that would probably make her reach for unhealthy snacks a bit later. Instead, she prefers to have an avocado and hot smoked salmon bowl. It's not only super tasty but is also rich in healthy fats that make your skin and hair look amazing.
Dinner
During dinner, Hall likes to have a meal that includes a lot of veggies, healthy carbs, and protein. When she invites her family for dinner during the cold winter nights, she makes and enjoys a Middle Eastern Spiced Lamb with Quinoa & Asparagus Tabbouleh. She often cooks quinoa in advance to make things easier when the guests arrive.
Snack
When in a mood to munch, Hall likes to have a healthy banana split that's naughty and nice at the same time. She often has it with some herbal tea to end her day on a perfect note.
Hydration
She likes to keep hydrated by drinking plenty of water every day. She creates a jug full of water, mint, lemon, and ice to motivate herself to keep sipping throughout the day.
Tips to Reduce Bloating
Bloating is one of the most common stomach issues faced by people and if you are one of them, then do try these tips shared by Tiffiny to keep bloating at bay.
A common reason for bloating is the presence of unnecessary gases in your system. If you want to get rid of them, you need to start exercising constantly. The exercises could be as simple as a Pilates workout to even some self-guided stretches. Just make sure that you move.
PMS is not a laughing matter, especially for women who suffer a lot of pain or discomfort due to it. If you are a woman who bloats before or during the period, you need to ensure that you get the right amount of calcium or magnesium in your diet.
Drinking water is one of the simplest things you can do for bloating. When your body is dehydrated because you don't drink enough water, it starts to store water which often leads to bloating. So, make sure that you drink two liters a day at least.
Water will also flush out unnecessary toxins. If you can't drink plain water enough, add a bit of lemon for taste and stimulating your digestive process. You can also try water loaded fruits and veggies like watermelon, cucumber, celery, eggplants, etc.
Include ginger in almost every meal because it prevents bloating, reduces gas levels in your tummy and boosts your digestive juices so that they break down food easily. If you can't include ginger in your diet, you can go for ginger supplements.
Another simple method is to add ginger to a cup of hot water with lemon and honey and let it steep for about 10 minutes. You can have it three times a day.
Having potassium-rich foods like bananas would help prevent water retention in your body. It will also prevent or help get relief from constipation as bananas are rich in fiber. Some other potassium-rich foods except bananas are nuts, spinach, mangoes, cantaloupe, and asparagus.
If you want a quick solution for neutralizing stomach acids and helping to digest foods easily, then you can trust apple cider vinegar. Add a tablespoon of it to a glass of hot water and mix some lemon and honey to it. You can also add it to the regular meals and salads. It is a natural digestive remedy that works wonders.
Yes, you read it right. You should learn to enjoy your food and eat it slowly. If you eat too fast and don't chew it right, you will end up swallowing more, and it will lead to bloating. It is also a fact that you can reduce bloating if you mindfully eat the food and don't be hasty.
Though many of you will admit that caffeine is the only thing that keeps your engines running, you should know that an excess of caffeine can lead to bloating. Try shifting your focus on teas, and you'll do fine. Also, limit alcohol intake as alcohol can also lead to bloating.
People who often have an imbalance of good and bad bacteria because they take too many antibiotics can prevent bloating by having a good quality probiotic that will restore the balance between the good and bad bacteria. You can have a probiotic in raw form or mix it to the smoothies.
Avoid Foods that Cause Bloating
Avoid foods that can lead to bloating like processed foods, legumes, and cruciferous vegetables like sprouts, broccoli, cabbage, brussels sprouts, and carbonated drinks.
Last but certainly not the least, you can beat bloating by living a happier life and avoiding stress and anxiety as they upset the balance of hormones in your body that might affect the digestive process. Also, when you are anxious, you will eat fast and swallow more air than needed. Make the time to calm your mind and try to be positive and happy in life.