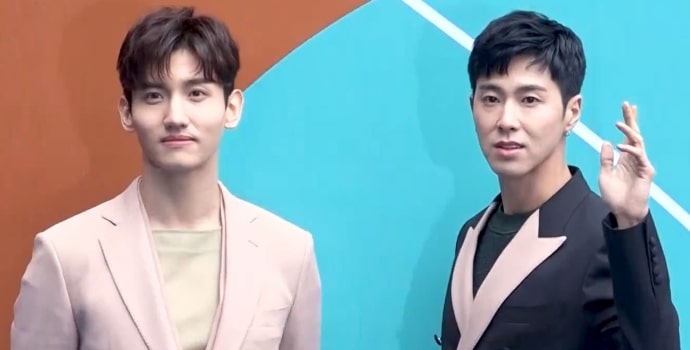 TVXQ, short for Tong Vfang Xien Qi is a South Korean pop duo band that was formed by S.M. Entertainment in 2003. They are also popularly known as 'DBSK' that is an abbreviation for their Korean name Dong Bang Shin Ki. TVXQ has released various well-known tracks including Hug, Show Me Your Love, Mirotic, Keep Yor Head Down, Before U Go, and Catch Me. Initially, they were a 5 member band, however, due to legal disputes, members Hero Jaejoong, Micky Yoochun, and Xiah Junsu decided to quit, eventually, leaving Jung Yun-ho and Shim Chang-min to continue with TVXQ as a duo.
Members
Past Members
Micky Yoochun
Xiah Junsu
Origin
Seoul, South Korea
Genres
Pop, Dance, R&B, Electronic, Rock, Ballad
Labels
SM Entertainment Co., Ltd.
Formation Date
2003
Singing Portfolio
TVXQ released their debut Korean studio album titled Tri-Angle on October 11, 2004. The album was originally comprised of 14 tracks that included the hit songs Hug and My Little Princess.
On March 22, 2006, TVXQ released its first Japanese studio album that consisted of a total of 17 tracks in total. It consisted of several well-perceived tracks that include Stay with Me Tonight, Somebody to Love, My Destiny, Asu wa Kuru Kara, and Rising Sun / Heart, Mind and Soul.
They have addressed their music as a mix of orchestral pop, rock, hip hop, and contemporary R&B, with harmonizing vocals and high notes.
TVXQ Facts
"DBSK" which is an abbreviation for "Dong Bang Shin Ki" translates to "Rising Gods of the East".
TVXQ released their debut single Hug on January 14, 2004, which peaked at #4 on the Music Industry of Korea list.
TVXQ members Jaejoong, Yoochun, and Junsu made headlines in July 2009, after they had announced that they would be leaving TVXQ due to unfair conduct in the profits that they were earning. They had also stated the contract that they were presented with for 13 years was just too long.
As a duo, TVXQ members Shim Chang-min and Jung Yun-ho released their first album Keep Your Head Down on January 5, 2011.
Featured Image By Korea Dispatch / YouTube / CC BY 3.0