If you want to get your abdomen into shape, then using a waist trimmer will give you fast results. You will get a flat belly with much effort and feel good about yourself. These belts are made of a special fabric that makes you sweat a lot and helps in burning calories and getting into shape.
A waist trainer belt has been proven to be a very effective tool for shedding fat in the midsection of the body. For the best results, it is suggested that you maintain a good diet and exercise while wearing the belt. One thing you must remember that you cannot wear a belt all the time. Just wear it when walking, cycling, or doing any type of exercise at home or in the gym. From the various types of fitness trainer belts available in the market, we have picked up the Venuzor Waist Trainer Belt that is made particularly for women. We will look into the various features of this belt and let you know why so many people are buying this belt.
Design
You can get the belt in different colors like black, blue, purple and pink. The size options are also many; you can choose from S size to XXL. The belt is made of adjustable and comfortable stretchy fabric which makes it flexible. It has a hook and loop closure that ensures that the belt is fastened tightly around the abdominal region. The belt is designed to be worn easily and taking it out after exercise is also very convenient. It is wide, so it covers the entire abdominal region.
It has an ergonomic design and provides the perfect size to get the best results. It will cover the entire abdominal region while doing exercise. As the belt is thick, it generates enough heat to burn fats and remove toxins as well. 
Build Quality
In the past, the shapewear that was created used to constrict movement and the users found it difficult to breathe. But, the fitness trainer belts that we find today are adjustable and breathable. They are flexible so that users can move easily wearing it. The same is true for the Venuzor Waist Trainer Belt. It is made of 100% latex-free neoprene material that is comfortable and durable. The material is soft and it won't hurt your skin or cause any skin irritation. The belt is thick, so it will produce enough heat to burn calories. With a double-adjustment hook and loop, you can make sure that the belt fits you perfectly and doesn't slide or shift during exercise. The boning stripes around the waist keep your back in the right position.
The belt can stretch when required and provides extra support to your body. It also provides abdominal compression for supporting the lumbar. This feature makes this belt ideal for those who are suffering from back pain. The extra support helps to relieve back pain and make you feel batter. The belt won't cause any strain on the skin because of the extra support it provides.
Size
You can get this belt in different sizes and adjust the belt to fit you perfectly. The belt won't slide during exercise, making it very effective as it will be burning fat in the right regions. 
Comfort
The belt is made of soft material, so it feels very comfortable. It has a mesh backing that improves the comfort level. You won't have any allergic reactions by wearing the belt. As it is latex-free, it is easy to wash as well. It has four reinforced bones that support the lower back. It helps to improve posture and reduce the chances of injuries during intense exercise sessions. It has pierced fabric that increases breathability, so you will feel comfortable wearing it. 
Ease of Use
The belt is easy to put on and take off. You will feel comfortable wearing it for 2 to 3 hours. You can easily wash it off with soap and water. 
Effectiveness
This belt is recommended as a postpartum belly abdomen corset. It will smooth your post-baby tummy flab and make you look slimmer. You will get your abdomen back into shape within a short time. The belt is stretchy in different places that provide great support on the sides and back. It provides abdominal compression and lumbar support. The belt is very effective for providing lower back support. So, if you have any lower back issues, you will feel better by wearing this belt. If you wear this belt every day, it will improve your posture as well.
You can wear them when running, doing yoga, going to the gym or working out at home. You can wear them every day even when you are going on any special occasion. Unlike the previous shapewear or corsets that focused on making you look slimmer rather than losing belly fat, this belt will cut off flat and you will be slimmer in real.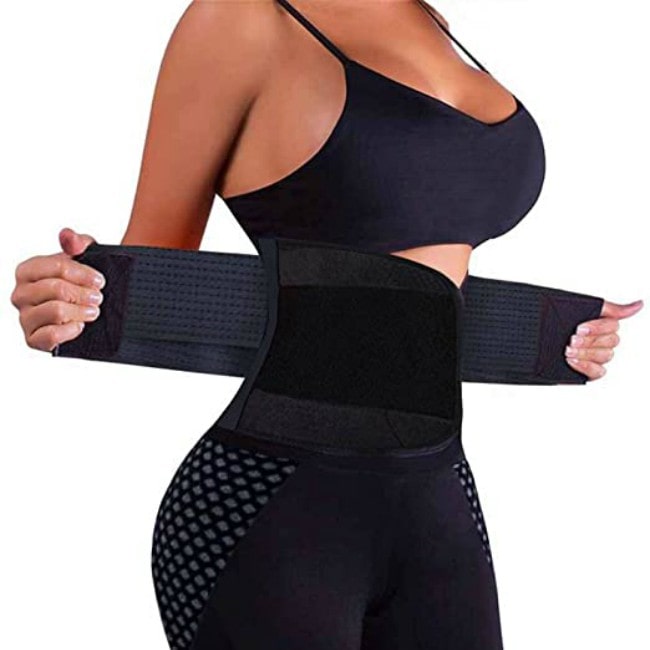 Pros
You can get it in different colors and sizes.

The belt is made from latex-free neoprene and polyester that contours to the body shape.

It has Velcro fastenings that provide a better fit.

It is adjustable and flexible.

It is very comfortable to use.

It can help to relieve your back pain.

It will improve your posture.

You will get curvy and get a flat stomach.

You can lose weight faster.

It is made of skin-friendly materials, so it won't cause any skin irritation.

It is easy to clean; all you need to use is just soap and water.

Great customer service
Cons
Some people find the size of the belt too small.

The belt may develop bad odor with use due to sweat.
Final Verdict
Who doesn't dream of a flat tummy? But many of us find it very difficult to get one and the truth is that it is quite hard to get in shape once you are out of shape. After birth, especially, it seems to be almost impossible to get rid of the loose skin in the tummy. The Venuzor Waist Trainer Belt can help you to get a flat tummy even after pregnancy. This belt is specially designed to define your waistline and shape your tummy. You can enhance your curves and get an hourglass figure by wearing the belt regularly.