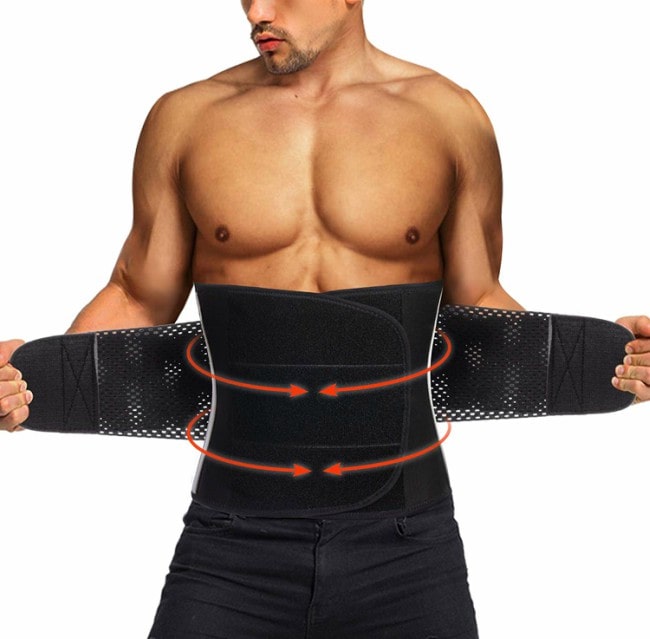 Are you worried because you are having too much tummy fat? Well, most people are like you; they are very body cautious and want to get a fit body. A good fitness trainer belt can help you in this respect. This belt can retain body heat and speed up calorie burning, so you lose weight fast and get your abs in shape. It also supports the abdomen and back well which helps to prevent muscle injuries and improve posture. If you want to buy a fitness trainer belt, then you need to consider a few things.
You need to make sure that the belt is found in various sizes so that you can choose one that will be appropriate for your waist. As you will be wearing it often, you much make sure that the belt is comfortable and safe to wear. The quality of the belt must be one of the prime deciding factors about the belt. A quality belt will last for a long time. Here we are going to review the Tailong Men Waist Trainer Belt and find out the unique features that make it stand out from the pack. 
Design
This black stylish waist trimmer belt is ideal for men. It has a band that makes it elastic and flexible. It will fit any waist size perfectly. The belt has 3 adjustable hooks which allow you to control the amount of compression. As it is made of stretchable fabric, it allows easy and flexible movement. The belt has a wide design, so it covers the entire abdominal region. It will give you a good posture all the time and can provide great back support. It is comfortable to wear every day, but you shouldn't wear them for more than 2 to 3 hours at a time.
Build Quality
This belt is made of neoprene material which is very soft and durable. The belt helps to concentrate the body heat on the midsection. It will increase the amount of sweating and help to lose more calories and get a trimmed waist. It has 9 steel bones that provide extra support for your abdomen and lower back. So, this relieves pressure on the waist and improves muscle mobility. This strong structure helps to tighten the tummy region and gives a toning effect. The belt helps in relieving back pain. The 3 adjustable hooks on the belt lets you have control of the compression, so you can wear it comfortably all the time.
Size
You can get it in different sizes from small to XXX. So, it is appropriate for larger waist sizes as well. You can adjust the belt to fit the perfect size. The fabric is stretchable, so you will feel comfortable wearing it and there will be room for breathing.
Comfort
You will feel and look good wearing this belt. It is super comfortable to wear and you will find that your posture is correct when you walk wearing it. The fit is perfect and as the belt is made of high-quality material, it will give great back support as well. The belt is very supportive and it provides better posture all the time. You won't feel any skin irritation, so you can wear it directly over your skin comfortably to get the best results. The fabric holds moisture, so you will feel cool while working out.
Ease of Use
This belt is very convenient to put on. It will fit properly. It has the zipper zip to make sure that the belt is easy to put on and take out. It has an adjustable hook system to control the level of compression. The body temperature will increase when the belt comes in contact with your skin and help you burn calories in the mid-section. 
Effectiveness
It will help to remove sweat and harmful fat from the body. The result is that you will lose weight and get a trimmer waist. The belt is also very effective in maintaining a good posture. If you are suffering from back pain, then you will get relief from the pain as well by wearing this belt regularly. However, you need to know that the belt gives the best results when you wear it during exercise. So, whether you are doing cardio exercise at home, going to the gym for strength training, running in the park or cycling, you should wear this belt. The belt stays in the right place all the time no matter how vigorously you work out. Even if you do crunches or jumping, it won't come off. You will be able to shrink your waistline and get a flatter stomach.
Pros
It is made of neoprene materials that are soft and durable.

It has 9 steel bones that make it sturdy.

It has an outstanding fit and finishes.

It is ideal for men.

It can get rid of harmful toxins from the body by making your body sweat during activities.

It is appropriate to wear it over the skin or a garment.

The belt is adjustable, so as you workout and lose belly fat, you can adjust the size of the belt accordingly to fit your abdomen perfectly.

It has adjustable hooks for compression control, so you will feel comfortable wearing the belt.

The stretchable fabric ensures that most of the abdomen is covered.

It helps to smoothen the bumps and lumps on the waist.

The belt absorbs are sweat and keeps bacteria away.

To clean it, you only need to use a mild detergent.

It is affordable.

It provides great back support and helps to relieve back pain.

It improves your posture.
Cons
 The zip is not durable.

 You can experience bad odor with constant use.
Final Verdict
Once you wear it, you will find it very supportive. It will correct your posture while sitting, standing, and walking. The belt is easily adjustable and it will mold your body well. It will create the right amount of heat necessary to burn fat in the abdomen region. It holds up perfectly during exercise, so you won't feel any obstacle during workouts. It has a hooking closure that makes it easy to fit it to the right size. It also makes it easy to wear the belt and take it off. You won't get such a sturdy belt in the market at such a reasonable price. This belt can help you to lose weight, shape your tummy, and relieve back pain.