No matter how hard we work out, the midsection seems to be the hardest region to tone up. We tend to accumulate more fat here and it takes a long time for the fat to burn as well. So, many people are worried about how they can get into shape. One of the most effective and easy ways to lose tummy fat is by using a fitness trainer belt. This belt is made of special material that makes you sweat more and get rid of the water weight of the body. You will get effective results within a short time. There are many kinds of fitness trainer belts available in the market. When buying these belts, you should consider the materials with which it is made of, the size, and the price. Here, we are going to review the Yianna Waist Trainer Belt and tell you why you should buy it. 
Design
This belt is very effective for flatting belly and is ideal for women of any waist size. You can find it in different colors such as black, blue, rose, purple, and more. You can also get it in different sizes. It has 2 sets of adjustable Velcro straps that provide strong support. The belt increases the core temperature when you exercise and helps to flatten your stomach by making you sweat a lot. The belt won't dig into your skin; it will lay flat around your waist making you feel comfortable. 
Build Quality
It is made of 100% latex-free neoprene material that is stretchy and will fit any waist size. The neoprene increases the thermal temperature and makes you sweat more. The fabric is very comfortable and you will be able to use it for long hours. It won't cause any skin irritation. The belt is easy to clean, so you will be able to use it over and over again. This belt is flexible and durable, that's why many people prefer it. 
Size
The manufacturer provides a size chart so that the customers can get a perfect size. The belt is available in 4 different sizes: the small one will fit up to 36 inches, the medium one 39 inches, large one 42 inches, and the XL one 46 inches of waist length. It has an adjustable Velcro strap which will ensure that you get a snug fit. The material with which the belt is made of is stretchy and so provides the right support on the sides and back.
Comfort
The neoprene material feels very comfortable. You can wear the belt for a long time without experiencing any skin problem. As the material is stretchable, you will get a good fit and workout without any hassle. The belt won't slide off or shift during exercise.
Ease of Use
This belt is slim and you can wear it in public either on to of your dress or directly on the skin. As the belt is stylish, you will look great even if you wear it on top of your clothes, particularly if you wear it with form-fitting tops or dresses. It is very easy to use; all you need to do is wrap it around your tummy and strap up. You are ready to do any kind of exercise or activity by wearing it. The belt provides outstanding lumbar support as well. 
Effectiveness
The belt's adjustable Velcro strap keeps the belt in place without letting it shift its position or slipping off. It increases the core temperature during workouts, thus reducing the size of your waist. It also provides strong support to your back. If you are suffering from lower back problems, then you can get relief from pain by using this belt. Over time the belt will help to define curves and correct posture. You can use it while working out at home, gym or even doing yoga. The best thing about this belt is that it can smooth your post-baby tummy as well. It provides the support necessary for postpartum recovery.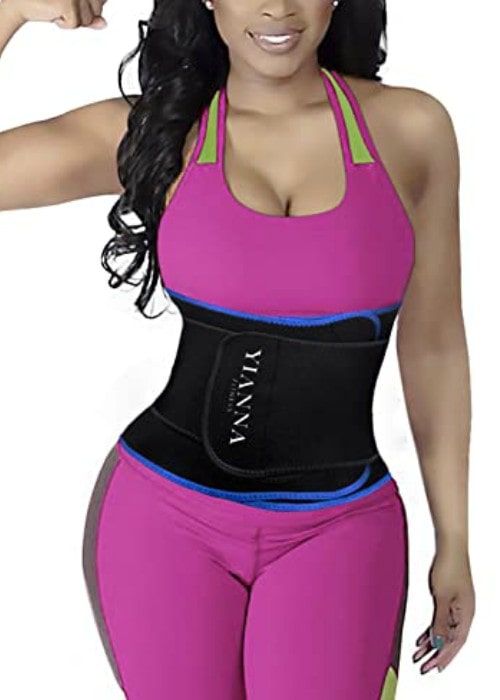 Pros
It is a stylish belt that you can wear it on top of your form-fitting dress.

You can find it in different colors and sizes.

The belt is made of high-quality materials; so it won't cause any skin irritation even if you wear it for a long time. 

It has a Velcro strap that will make sure that it fits properly. 

It will reduce and shape your waistline and define curves. 

The belt can correct your posture as well. 

It accelerates metabolism, increases sweating, and flattens the abdomen. 

It won't slide off or shift during exercise.

If you have back pain, then you will get relieved from the pain by wearing this belt. 

You can find it in different sizes making it appropriate for different users. 

It is a great belt for postpartum recovery as it will flatten your tummy and provide the back support you need.

It is affordable.

It is easy to clean the belt; you can handwash it with soap and water. 
Cons
This belt is meant for women only.

There is no warranty for the belt.

Final Verdict
If you wear this belt during exercise every day, it will flatten your tummy and give you the desired body you have always wanted. It is made of high-quality neoprene material that makes in flexible and durable. The belt provides great lumbar support and helps to relieve back pain as well. You should use this belt while exercising to stimulate thermal activity in the core so that it increases sweating. Your midsection will look much slimmer after a few days of use and you will be able to show your womanly curves proudly. So, if you have tried everything and never got a satisfactory result, then you should buy this belt and wear it for a few months while exercising. You will see outstanding visible results soon.