Vicky Justiz Quick Info
Height
5 ft 3 in
Weight
57 kg
Date of Birth
February 9, 1995
Zodiac Sign
Aquarius
Boyfriend
Jonathan Urra
Vicky Justiz is a Russian social media star, fitness model, dancer, and blogger, best known for her fitness, lifestyle, and traveling YouTube channel of the same name, which has garnered more than 1 million subscribers and more than 80 million views. She started the channel on May 23, 2014, but it was only to support her dreams of being a wedding/event designer and earn extra revenue. For the first 3 years, Vicky posted easy-to-do, at-home workouts that were fit for beginners, and around 2017, decided to become a full-time YouTuber. She then expanded her content to include fashion hauls, lookbooks, fitness challenges and focused on the nutrition part of working out, such as recipes for losing weight or gaining quality muscle mass.
On July 31, 2018, she also created a 2nd YouTube channel titled "Vicky Justiz VLOGS" due to high demand from her audience to see product recommendations, day-in-the-life videos, discussions, Q&As, skincare routines, and just have heart-to-heart chats with her outside her fitness persona. Vicky also created a few specific 8-week workout routines and nutrition plans and began selling them through her website. They were in the form of easy-to-digest e-books, and a product of people asking similar questions over private messages, and a way to help her massive fanbase reach their personal goals. To further discuss her strategies and healthy lifestyle, she has appeared in an episode of the talk show The Doctors in early 2016. She has also amassed a large fanbase online with more than 200k followers on her personal Instagram and more than 100k followers on Facebook.
Born Name
Vicky Justiz
Nick Name
Vicky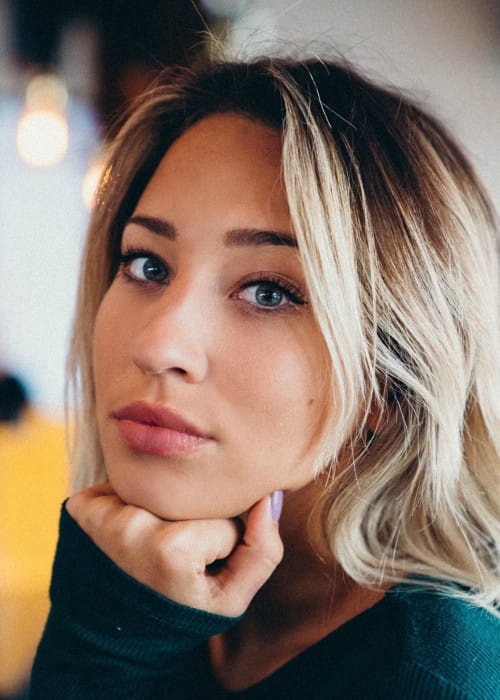 Sun Sign
Aquarius
Born Place
Moscow, Russia
Residence
Miami, Florida, United States
Nationality

Education
Vicky has attended a university and studied hospitality management with a minor in graphic design, but dropped out to pursue YouTube and travel blogging full-time.
Occupation
Social Media Star, Blogger, Fitness Model, Dancer
Manager
Vicky Justiz self-manages her career.
Build
Athletic
Height
5 ft 3 in or 160 cm
Weight
57 kg or 125.5 lbs
Boyfriend / Spouse
Vicky Justiz has dated –
Jonathan Urra (2015-Present) – In early 2015, she began dating the traveling vlogger, photographer, and social media star, better known as "Johnny Urra" online. They met while studying abroad in Italy in the same program, even though they were both from Miami, Florida, United States. According to Vicky, it was love at 1st sight for both of them, and they quickly took to traveling the world together and shared their experiences on both Instagram and YouTube. To further promote the hidden gems of the world, they also started an Instagram account under the handle "bottleofwinefortwo," as well as a YouTube channel of the same name, which was converted to Jonathan's personal channel in around 2018. They used to spend time in each other's parents' houses but decided to get an apartment together in May 2018. Vicky stated that they rarely fight and that even if a problem happens due to them spending 24/7 together, they use the "call a timeout" tactic to calm down. Johnny proposed to her in late June 2019 and stated that he made plans back in March 2019 but claimed he knew he would marry her right away. He organized a romantic getaway, and they drove a rented Vespa and sat by the side of the road for a picnic while watching the sunset in a little town named Greve in Chianti, located in Italy. Vicky stated that he prepared a camera across the road to film the whole thing, but kept delaying the proposal because he had to wait for cars to pass so that they don't obstruct the exact moment he got on one knee.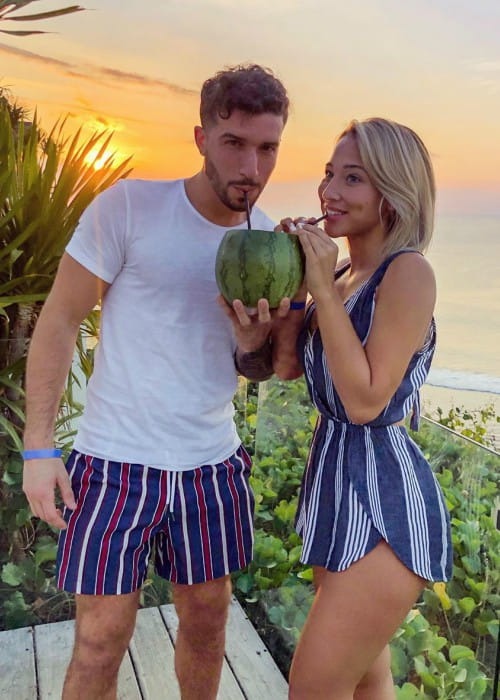 Race / Ethnicity
Mixed (White and Hispanic)
She is of Russian descent on her maternal side, and of Cuban descent on her paternal side.
Hair Color
Blonde
She has also dyed her hair 'Platinum Blonde,' 'Dark Brown,' and 'Ombre' with 'Dark Brown' hair roots.
Eye Color
Blue
Sexual Orientation
Straight
Distinctive Features
Athletic physique
Foot and back tattoos
Brand Endorsements
Vicky Justiz has endorsed brands such as –
Best Fiends App (2016)
Zaful (2017)
Cupshe (2017)
Fit Tea (2017)
Women's Best (2018)
Outdoor Voices (2018)
Women's Best Wear (2019)
FEEL byVASO (2019)
Zumba Wear (2019)
Bondi Sands (2019)
Swarovski for Professionals (2019)
Pull&Bear (2019)
1 Hotels (2019)
StarKistCharlie (2019)
Head & Shoulders (2019)
bioClarity (2019)
Colgate (2019)
Number 31 Dublin Guesthouse (2019)
MESHKI (2019)
Stradivarius (2019)
ZARA (2019)
Diesel (2019)
Litter-Robot (2019)
White Fox Boutique (2019)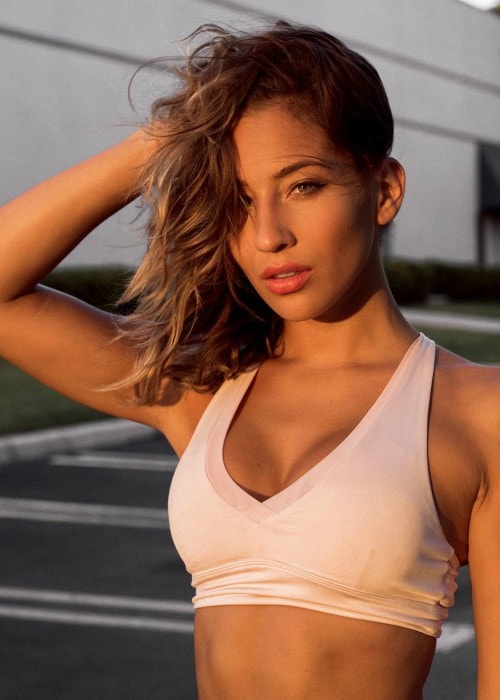 Best Known For
Being a well-known fitness model and blogger
Appearing in an episode of the talk-show series The Doctors (2016)
Her social media fanbase with more than 1 million subscribers on YouTube, more than 200k followers on her personal Instagram, and more than 100k followers on Facebook
First TV Show
Vicky Justiz made her first TV show appearance as 'Fitness Model' in an episode titled Hot Topics with Carmen Electra!/Build a Booty Without Surgery?/Miracle Eye Lift Put to the Test of the talk-show series The Doctors in February 2016.
Personal Trainer
Vicky started dancing when she was 11 years old. According to her, her butt was much smaller but still "cute" because she did around 16 hours of cardio a week. In 2016, Vicky stated that she didn't count calories because it distracted her from enjoying food and her daily routine in general. She has also stated that strawberries, blueberries, or raspberries are her favorite thing to eat, often mixed in a bowl because they can soothe sugar cravings and be eaten in place of snacks.
Vicky, due to her passion for traveling, performs at-home workouts most of the time. As such, most of the workout routines that she recommends to her fanbase can be done outside of the gym, with limited equipment such as resistance bands, ankle weights, and a pair of dumbbells and kettlebells.
Here's what she does to maintain her physique –
Her home workout routine targets all parts of the gluteus and hamstrings, giving a complete look to her backside. All of these are done with a resistance band of choice, and with 8-15 reps, depending on the person and the band chosen.
Side To Side Crab Walks – Stay low and don't fully extend your knees. It should feel like a regular squat, with tension to the muscles at all times.
Straight Leg Kicks-Backs
Squat With A Sidekick
Hip Bridge – Find the position that provides the biggest load on the muscles. Try and find something to grab onto, pull by clenching your gluteus muscle while keeping your arms as close to the ground.
Vicky has a separate workout regime for the outer part of her booty, which consists of exercises such as –
Fire Hydrants With A Dumbbell – She does 15 to 20 reps with a 20 lb dumbbell, but the weight is individual.
Side To Side Lunges With A Dumbbell – 30 reps, keep the weight in your heels and sit back
Side-Kicks With A Dumbbell – 15 reps per side, letting the dumbbell rest on your legs while bringing it up
In & Out Hopping Squats With A Bounce – 30 repetitions in total, keeping the weight in the hells and staying low
Vicky's home back workout is done using supersets of the same exercises for as many times as possible, and ideally with 15 repetitions per exercise. The rest period should approximately be 3-5 minutes in-between cycles.
Standing Dumbbell Rows – In case the person has no access to dumbbells, she recommends using anything else available, such as bottles filled with liquid or sand.
Lying Dumbbell Lat Pullovers
Standing Or Bent-Over Arm-Wide Raises – She finds a comfortable position that allows her to hold the balance so that she doesn't tip over.
Back Flies – Vicky finds that sandbags make the best dumbbells for this exercise, but anything that's comfortable to use can be utilized.
Push-Up To A Sit-Back – A combined movement that targets both her triceps and back at once. Elbows should flare diagonally, and not to the side.
Lying Side Plank-Crunch – Vicky combines 2 exercises into one to maximize results and reduce time wasted. Ideally, there should be 7 to 8 repetitions on each side.
Lying Leg Raises-Kicks – Doing leg raises only is recommended for beginners or people recovering from an injury. The legs should not touch the floor at any point. Advanced people should add the "criss-cross" movement during leg kicks as a way to make the exercise a bit tougher and target side abdominals more intensely. A rest of 1-3 minutes is recommended before moving on to the next exercise
Donkey Kicks And Knee To Chest – Beginners should focus on the knee to the chest in the plank position only. Advanced people can add the donkey kick as a way to target butt and hamstrings and make the exercise more challenging, with 15 repetitions in total.
Windshield Wipers With A 90-Degree Angle In The Legs – Arms to the side and keeping her body still, she focuses mentally on using only abs to move legs from side to side, with 10 to 15 repetitions per side as a finisher exercise.
Vicky admitted that she was very bad at push-ups, and couldn't even do 1 repetition in April 2019, because she never worked the muscles at all. The reason was that she was convinced that doing chest exercises would change the way her breast implants look by altering their position. However, it hit her that she's a fitness influencer and that she should at least give it a try to challenge herself. On May 13, 2019, Vicky admitted that she can already do 4 push-ups, and continues to get stronger by the week.
Vicky Justiz Favorite Things
Fitness Retreat – Active Escapes
Food – Butter, Mayonnaise, Pasta
Drink – Limoncello
Princess – Anastasia
Shopping Places – T.J. Maxx, HomeGoods, Marshalls
Animal – Cat
Song (In December 2018) – Above the Clouds by SŸDE ft. Olivia Reid
TV Shows – The Office (2005-2013), Black Sails (2014-2017), Vikings, Friends (1994-2004), Gossip Girl (2007-2012), Law & Order: Special Victims Unit
Quote – "It has long come to my attention that people of accomplishment rarely sat back and let things happen to them. They went out and happened to things." – Leonardo Da Vinci
Source – Instagram Bio, YouTube, YouTube About, www.vickyjustiz.co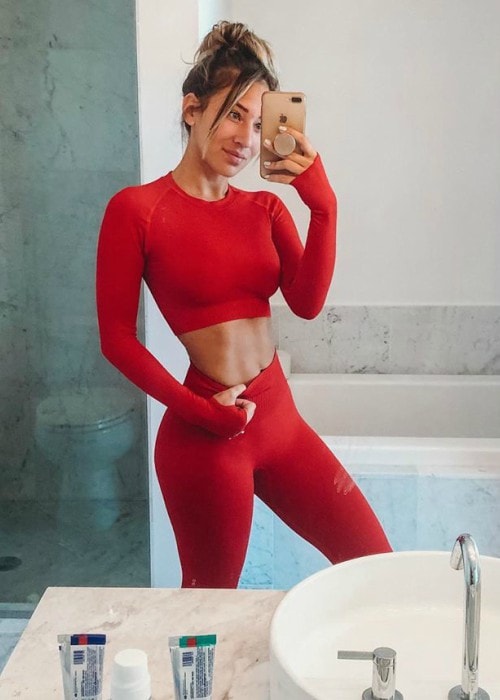 Vicky Justiz Facts
As a kid, she used to be on the swingset for 4-5 hours at once. Her record was about 6 hours of constant swinging while thinking about life. Vicky admitted that she still did it occasionally in her early 20s.
She was born in Russia, but moved to the United States in 2001, and spent her childhood and teenage years in Miami, Florida.
Her dad met her mom while he was studying in Moscow, Russia.
She played varsity soccer in high school.
Modeling was never a dream of hers and she spontaneously started going on photoshoots when she was 18 years old.
Vicky is a cat person because she has to work hard to gain their love, while dogs automatically love almost everyone.
According to her, pineapple doesn't belong on pizza.
She has a Bengal cat named Freya, and a white Siamese cat named Loki, both of whom she brought home in late August 2018.
Vicky considers carbs being bad for you to be the biggest myth in the fitness industry because it's all about caloric intake.
She is a proponent of measuring your progress by taking precise measurements, and also taking pictures or checking your physique in the mirror instead of weighing yourself.
If she could have a superpower, it would be the one of probability, so that she could fix the odds in her favor.
She stated that she's always thinking about what's on schedule even in her free time. If she could change anything about herself, it would be to disconnect from work and enjoy the time off properly.
If she had to live in one place for the rest of her life, Vicky would pick the Amalfi coast in Italy.
Vicky believes aliens exist and also that there are different dimensions in our universe.
The book that had the biggest impact on her life was Sophie's World by Jostein Gaarder. She read it in the 7th grade, and it sparked her curiosity about life and philosophy. The close 2nd was Paulo Coelho's The Alchemist.
Vicky has wings tattooed on her left and right shoulder blade.
If Vicky were on death row and was to pick her final meal, it would be a 3-course one. For appetizers, she would go for a salmon-avocado tartare drizzled with honey balsamic, while the main course would consist of 4-cheese gnocchi. The dessert would be crepes with sugar and lemon, as well as about 5 bottles of wine so that she wouldn't die sober.
She drank champagne to celebrate 1 million subscribers on YouTube in May 2019.
Visit her official website @ vickyjustiz.co.
Follow her on Instagram, 2nd Instagram, Facebook, Patreon, YouTube, and 2nd YouTube.
Featured Image by Vicky Justiz / Instagram