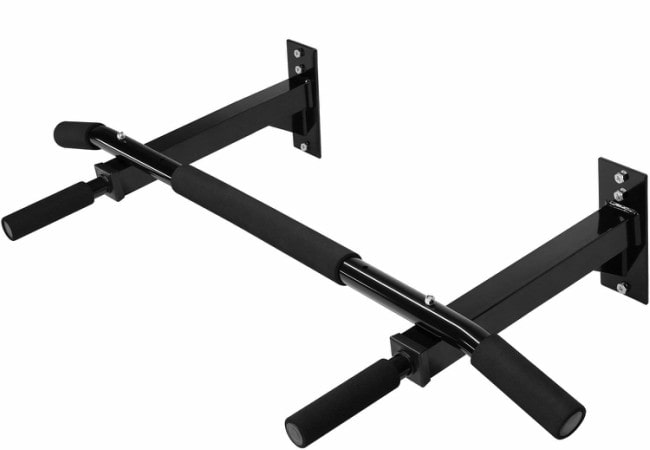 Many people find pull-ups to be very challenging. It requires strength and focus. Pull-ups are one of the best exercises for developing the upper body. Pull up bar can be a great tool for your home gym. You can easily install it on your door, wall or ceiling. It won't take up much space and so you will be able to workout comfortably at home. Before you decide to buy a pull-up bar for your home or garage, you must do thorough market research. This is because there are many different brands available and it can be quite difficult to choose one. If you are looking for something durable and cost-effective, then you should consider buying the Yes4All Pull Up Bar. Here we are going to find out the details about this highly rated pull up bar.
Design
It is a one-piece solid steel bar that is black powder-coated for protecting it from corrosion and rust. You have 3 options here. You can choose the one-piece bar, the wall-mount chin-up bar and ab strap, and wall-mount chin-up bar and 25 lbs orange-colored resistance bad.
It has a lightweight design and doesn't need any permanent fixings. It is designed to fit 16'' and 24'' stud space. It provides multi-grip positions that are padded with soft foam. The different grip positions include narrow grips, wide grips, and neutral grips. Due to the multiple grip positions, you will be able to change your grips to vary resistance. You will be able to target your different muscle groups and get a toned body by exercising with this pull-up bar.  
It is very easy to install this pull up bar as it comes with full instructions and the necessary mounting hardware. It is designed for different types of upper body exercises like wide-narrow grip pull-ups, hanging leg raises chin-ups and more.
Build Quality
It is made of a heavy-duty steel frame that ensures durability and stability. As a result, you will be able to use it for vigorous exercises. It is a cross between the ceiling-mounted and doorway pull up bars. 
You won't find any rough edges on the bar like the other bars in the market, so it won't hurt your skin while exercising. The load is better distributed in this bar and so it provides stability. It has a padded flat section that will protect your wall from any damage. It has a maximum weight capacity of 300 lbs. It provides compound workouts for shoulder, arms, backs, and core. You will get a one-year warranty for the product. 
Size
It fits doorways that are 30 to 37 inches wide. The door thickness should be 4.75'' to 6.25 inches. It will fit 16'' and 25'' stud face. You will be able to mount it on the wall to perform various exercises comfortably. It has dimensions 40.2 x 7.2 x 3.2 inches and it weighs 8.29 pounds.
Comfort
The grip positions are padded using soft foam to provide comfort and preventing any slip due to sweat. So, you will be able to work out harder and longer using this bar. 
Effectiveness
It is perfect for working out your shoulder, chest, backs, biceps, triceps, and other parts of the upper body. You will use only your weight for resistance. You also have the option to choose the combo options; one provides ab strap and the other provides resistance band. If you exercise with this pull-up bar regularly, you will be able to burn calories and tone your muscles. In particular, it will strengthen your shoulders, biceps, and back muscles. 
Overall, it is great for strength training and upper back development. Other than pull-ups, you can use this bar for push-ups, chin-ups, and crunches as well. For performing a chin-up, you can place the bar at the top of the door frame and for crunches, you can place it at the base of the frame. You can perform hanging leg raises to target your obliques and abs muscles. So, you will be able to strengthen your core and improve your posture as well. 
Pros
It is made of high-quality materials which makes it strong and durable.

It can support up to 300 lbs, so even heavy users will be able to use it.

It is easy to install and assemble; all the necessary hardware is provided for installation.

It doesn't need any permanent fixings, and so won't cause any damage to your door frame.

It provides excellent stability, so you will feel secure while exercising.

It won't rust or corrode, so it will last a long time.

It provides various grip positions that allow flexibility in exercises.

It has foam padding that improves grip and prevents slipping.

It can be used to perform various upper body exercises and chins, push-ups, crunches as well. 

It is reasonably priced.

It provides 60 days return policy, which will give you peace of mind.

You get a one-year warranty for it.
Cons
The bar ends can leave marks on the door.

Many people find the instructions difficult to follow.

The foam padding is not for the entire bar.
Final Verdict
This pull-up bar is made of 100% stainless steel which makes it durable and strong. It will be able to withstand the weight of heavy users as well. It ensures strength and provides more security and stability. With different grip positions, you will be able to vary your exercises and target your specific muscle groups. It is great for working out your arms, chest, shoulder, biceps, triceps, abs, and more.
It is cheap but it doesn't sacrifice on quality. Its steel frame is powder-coated which makes it ideal for use indoors and outdoors. It is also resistant to rust and corrosion. This pull-up bar is much better than the other pull up bars you will find in the market in terms of features and price. With the bar, you will be able to lose a lot of calories and get a toned body. You can exercise comfortably at home without the need to go to a gym.